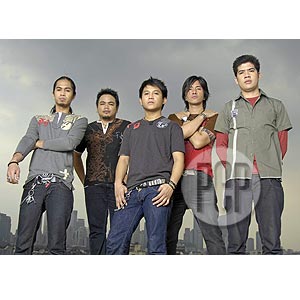 ---
Pop alternative band 6cyclemindis back with a new single "Dinamayan" and its music video was shown for thefirst time on MYX last July 23. Directed by Treb Monteras, this project comeson the heels of their hits "Prinsesa" and "Upside Down," which both peaked atNo. 1 at the same music channel.
This track is a remake of theCoco Jam original off their third album Home. The album is a collectionof songs that struck a chord in their lives and some are personal favoritesthrough the years. Different from the usual 6cyclemind sound, it possesses avery "unplugged" and relaxed feel.
Members of the band 6cyclemindhave been busy endorsing various products including one for a leading alcoholicdrink and a denim clothing line. Their debut album Permission To Shineproduced noteworthy "barkada" hits such as "Biglaan," "Sige," and "Pa Ba." Thiswas followed up by their sophomore album Panorama, which is certifiedGold and spawned the singles "Sandalan," "I" and "Trip." 6cyclemind is composedof Ney Dimaculangan (vocals), Rye Sarmiento (rhythm guitars), Chuck Isidro(lead guitars), Bob Canamo (bass) and Tutti Caringal (drums).
Home is still out in CDs nationwide under Sony BMG MusicEntertainment. For more information on 6cyclemind, log on to www.sonybmg.com.ph.