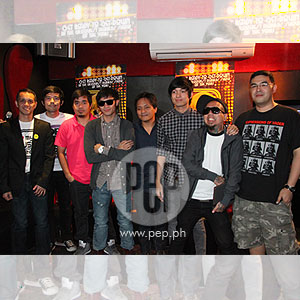 ---
"Ang magandang kanta ay magandang kanta, may trophy o wala basta magandang kanta."
In most cases rock musician Jay Contreras' punch lines never fail to make anyone guffaw. This among his side-splitting remarks, however, capture the very atmosphere of the MYX Music Awards 2012— stripped of competition, rather a mere celebration of passion for Filipino music and talent.
At the announcement of MYX's nominees yesterday, February 8, at the Red Box Karaoke in Eastwood Mall, Quezon City, the Kamikazee front man was present alongside OPM artists including rapper Gloc-9, Ebe Dancel, Callalily vocalist Kean Cipriano, Pinoy poprock artist Yeng Constantino, also 2011's new breed of musicians, Zia Quizon and Somedaydream.
Aired live on the Filipino music channel's online platform, www.myxph.com, the nominees for the 18 categories were revealed. Five artists were nominated for each of the categories that include Favorite Music Video, Favorite Song, Favorite Male Artist, Favorite Female Artist, Favorite Group, Favorite New Artist, etc.
Garnering the most number of nominations is Gloc-9 with 7, including 3 of his music videos— "One Hit Combo" (with Parokya ni Edgar), "Sari-Saring Kuwento" (with Noel Cabangon), and "Walang Natira" (with Sheng Belmonte)— nominated for the Favorite Collaboration Category. Gloc-9 is also nominated for Favorite Artist, Favorite Male Artist, likewise his single "Walang Natira" is selected for Favorite Song, Favorite Music Video, and Favorite Music Collaboration. His other single "Elmer" is short-listed for Favorite Urban Video.
2011 proved to be the year when fresh and young OPM artists emerged. This fact materialized in synthpop artist Rez Toledo, more popularly known as Somedaydream, and in the sultry-voiced Zia Quizon.
Nominated in 6 categories including Favorite Male Artist, Favorite Artist, and Favorite Music Video for his hit single "Hey Daydreamer," Rez Toledo is even more inspired to keep his music evolving. The 21-year-old Rez whose producer is former Hale front man Champ Lui Pio, says that his nominations are "hard to imagine." The young artist is "grateful" for the recognition that his music is gaining.
ADVERTISEMENT - CONTINUE READING BELOW
Somedaydream is nominated alongside Zia Quizon for Favorite New Artist. Zia's single "Ako Na Lang" is likewise included in the Favorite Song category.
Among the Pinoy rocks bands, Parokya ni Edgar reaped the most nominations. These include Favorite Music Video and Favorite Song for their single "Pangarap Lang Kita," also categories as Favorite Group, Favorite MYX Live Performance, and Favorite Collaboration for "One Hit Combo" (with Gloc-9).
MYX Channel Head Andre Allan Alvarez explains that the artists were selected based on who topped the daily and weekly charts in 2011.
He elaborates, "Basically kung sino sa maraming votes na na-garner from the past year. So yung mga nagta-top sa MYX Daily Top Ten, Pinoy MYX Countdown, MYX International Top 20, and MYX Hit Charts.
"Yun yung pinaka-una naming roster tapos we put them on the list," He adds in jest, "Tapos we get in a room tapos mag-aaway-away kami!"
The task of coming up with a list of nominees is trying but Andre states that they make it a point to represent what the viewers really want.
"Basically we give it to our viewers. It's their choice. So talagang representative of kung ano yung mga gustong iboto ng mga tao.
"So now especially that we're using the website para bumoto yung mga tao... ngayon everyone's free to vote..."
The online voting started yesterday and will end on March 9, 2012. The fans' online voting will comprise 60 percent of the nominees total innings. The remaining 40 percent will be obtained from the artists' poll.
This year, the OPM artists will be given the chance to participate in the 2012 MYX Music Awards more than campaigning and pushing for their own music.
To relive the said Golden Age of OPM, MYX's awards night will incorporate a '70s-inspired theme to be held on March 13, 2012 at the Music Museum.
ADVERTISEMENT - CONTINUE READING BELOW
2012 MYX Music Awards Nominees List:
Favorite Music Video:
20/20- Pupil (Director: Jason Tan)
Gaano Ko Ikaw Kamahal - Itchyworms (Director: King Palisoc)
Hey Daydreamer- Somedaydream (Director: Bianca King and Envo Valdez)
Pangarap Lang Kita- Parokya ni Edgar feat. Happee Sy
Walang Natira- Gloc-9 feat. Sheng Belmonte
Favorite Artist:
Christian Bautista
Gloc-9
Parokya ni Edgar
Somedaydream
Yeng Constantino
Favorite Female Artist:
Karylle
Kyla
Sarah Geronimo
Yeng Constantino
Zia Quizon
Favorite Male Artist:
Bamboo
Christian Bautista
Gloc-9
Sam Concepcion
Somedaydream
Favorite Group:
Itchyworms
Parokya ni Edgar
Pupil
Slapshock
Spongecola
Favorite Mellow Video:
Hindi Kita Iiwan- Sam Milby (Director: Treb Monteras)
Kay Tagal Kitang Hinintay- Sponge Cola (Director: Yan Yuzon)
Lagi- Kiss Jane (Director: J. Pacena)
Wag Mo Na Munang Sabihin- Sitti (Director: Rember Gelera)
Wala Na Tayo- BBS feat. Kean Cipriano (Director: J. Pacena)
Favorite Rock Video:
20/20- Pupil (Director: Jason Tan)
Halik- Kamikazee (Director: Avid Liongoren)
Ngayon Na- Slapshock (Director: Team Manila)
Pera Pera- Sandwich (Director: Marie Jamora)
Unbelievable- Chicosci (Director: Tower of Doom. Paolo Ruiz)
Favorite Urban Video:
Ain't a Crime- Amber Davis (Director: Luis Daniel Tabuena)
Connection- Chelo A, Q-York & Jay R (Director: Treb Monteras)
Elmer- Gloc-9 feat. Jaq Dionisio & Jomal Linao (Director: J. Pacena)
Heartbreaker- Mobbstarr (Director: Ace Villena)
Kaibigan Lang (Remix)- Young JV
Favorite New Artist:
Angeline Quinto
Ebe Dancel
Solenn
Somedaydream
Zia Quizon
Favorite Collaboration:
Meron Akong Ano- Kamikazee feat. Chito Miranda, Reg Rubio, & Ian Tayao
One Hit Combo- Parokya ni Edgar feat. Gloc-9
Pawiin- BBS feat. Kean Cipriano & Jay Durias
Sari-Saring Kuwento- Champ feat. Noel Cabangon & Gloc-9
Walang Natira- Gloc-9 feat. Sheng Belmonte
Favorite Remake:
Fire- Solenn
Forever Young- Sam Concepcion
Gaano Ko Ikaw Kamahal- Itchyworms
Love Moves in Mysterious Ways- Christian Bautista feat. Kris Aquino
Unbelievable- Chicosci
Favorite Media Soundtrack:
Bumuhos Man ang mga Ulan- Jericho Rosales (Green Rose)
Fallin'- Sarah Geronimo (Catch Me I'm in Love)
ADVERTISEMENT - CONTINUE READING BELOW
I'm Already King- Christian Bautista (A Special Symphony)
Kahit Walang Sabihin- Rico Blanco (Imortal)
Where do I Begin- Gary Valenciano (In the Name of Love)
Favorite Guest Apperance in a Music Video:
Alodia Gosengfiao (All That's Left- Christian Bautista)
Enrique Gil (Ako na Lang- Zia Quizon)
Jasmine Curtis Smith (Hey Daydreamer- Somedaydream)
JM De Guzman (Pangarap Lang Kita- Parokya ni Edgar feat. Happee Sy)
Kuya Kim & Eugene Domingo (Wala Na Tayo- BBS feat. Kean Cipriano)
Favorite MYX Celebrity VJ:
Enchong Dee
Kean Cipriano
Rocksteddy
Sam Concepcion
Somedaydream
Favorite MYX Live Performance:
Ebe Dancel
Juris
Kyla
Parokya ni Edgar
Pupil
Favorite International Video:
Born This Way- Lady Gaga
Firework- Katy Perry
Moves Like Jagger- Maroon 5 feat. Christina Aguilera
The Lazy Song- Bruno Mars
What Makes You Beautiful- One Direction
Favorite K-Pop Video:
Breakdown- Kim Hyun Joong
Lonely- 2NE1
Mr. Simple- Super Junior
The Boys- Girls' Generation
Tonight- Big Bang