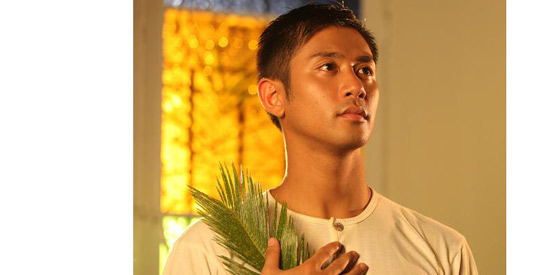 ---

PRESS STATEMENT FROM GMA NEWS TV 11:



"The Philippines gains a new Saint this October 21 in Pedro Calungsod.


"Calungsod will only be the second Filipino officially declared a Saint after Pope John Paul II canonized Lorenzo Ruiz de Manila in 1987.


"Very little is known about Pedro Calungsod. GMA News TV Channel 11 sets out to introduce him to the audience--with a television special dramatizing his life.


"Pedro Calungsod was born in 1655 in what was then the Diocese of Cebu, which covered the islands of Panay and Mindanao, as well as the Pacific island of Guam. An assistant lay catechist, he was killed "in hatred of the faith" by Chamorro natives while trying to defend his fellow missionary Jesuit priest Diego Luis de San Vitores.


"Through historical reenactments interspersed with interviews with Church experts and followers, GMA News TV's provides the audience with a deeper understanding and appreciation of Calungsod's life. Young actor Rocco Nacino portrays the title role with much sensitivity.


"San Pedro Calungsod will air on Sunday, October 21, at 8:40 PM, the day Calungsod is canonized.


"The canonization is a big event for the over 80% Catholics in the Philippines. At least 5000 Filipinos are flying to the Vatican for Calungsod's canonization, including Jiggy Manicad – who will be reporting live for GMA News and Public Affairs."

Ed's Note: When content falls under "Press Statement," this means that the material is fully and directly from the company issuing the press release. The use of open-and-close quotation marks to envelope the entire text shows as much. This also means that PEP is not the author of the statement being read. PEP is simply providing the information for readers who may be interested.



ADVERTISEMENT - CONTINUE READING BELOW