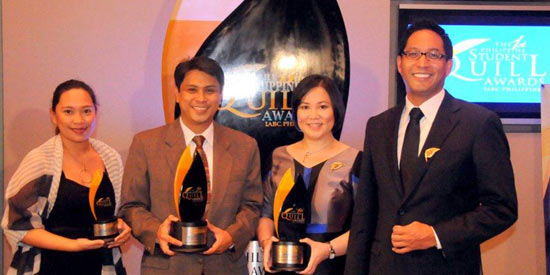 ---

PRESS STATEMENT FROM TV5:


"NEWS5 was given the most number of recognitions among other news organizations awarded at the recently concluded 11th Philippine Quill Awards. TV5's news arm received two Awards of Excellence for online news portal InterAksyon.com and emergency response unit RESCUE5, as well as an Award of Merit for its "Higit sa Balita, Aksyon" campaign. According to its website, the Philippine Quill is "the country's most prestigious and relevant award for business communicators, given annually by the International Association of Business Communicators (IABC) Philippines."


"Regarding these recent awards, NEWS5 chief Luchi Cruz-Valdes said the news organization is even more committed to public service via responsible and truthful journalism. "More than a validation of what NEWS5 has been striving for these past years, we are truly thankful to IABC Philippines for recognizing how we as an organization have helped empower our fellow Filipinos. We take these awards as a continued sign of faith from the Filipino people that we are on the right, honorable path."


"Leading online news portal InterAksyon.com clinched an Award of Excellence for Communication Skills division (Electronic and Digital Communication category) for the second consecutive year. Editor-in-chief Roby Alampay, managing editor Chuchay Fernandez, InterAKTV editor Jaemark Tordecilla and web production and social media manager Jino Nicolas were on hand to receive the award. InterAksyon was also a finalist for the Top Award in Communication Skills at the said award-giving body.


"Furthermore, NEWS5 Public Service head Sherryl Yao and news anchor Paolo Bediones led the RESCUE5 team in receiving an Award of Excellence for Communication Management (Multi-audience Communication category) for the internationally-recognized emergency response unit. This week, RESCUE5 will also head to Melbourne, Australia to present its efforts and best practices at the World Public Relations Forum 2012.


"Last and certainly not the least, NEWS5's overall campaign "Higit sa Balita, Aksyon" bagged an Award of Merit for Communication Management (Marketing Communication category) at this year's Philippine Quill Awards. The same marketing campaign also won bronze for Best Media-initiated Campaign at the Tambuli Awards organized by the University of Asia and the Pacific."


Ed's Note: When content falls under "Press Statement," this means that the material is fully and directly from the company issuing the press release. The use of open-and-close quotation marks to envelope the entire text shows as much. This also means that PEP is not the author of the statement being read. PEP is simply providing the information for readers who may be interested.



ADVERTISEMENT - CONTINUE READING BELOW