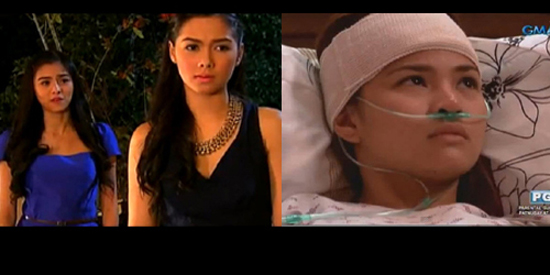 ---
Soap opera, telenovela, teleserye—through the years, the Filipino TV drama has been called by many names. It has greatly evolved too. From being just afternoon staples that can last on air for several years, the teleserye has become a fast-paced primetime fare. From shooting in plywood studios, production has become grander, as seen in the locations, costumes and overall technical advancement.
But as the craft of making teleseryes progressed, there remain some elements that keep popping up, turning out to be almost tiresome clichés. Here are some of the most used devices and formulaic plots that plague Filipino teleseryes:


1. Rich Lad, Poor Girl. "Langit ka, lupa ako. Magkaiba ang mundo natin!" "Pero mahal kita!" What's a Pinoy teleserye without love trying to surpass social classes? When the rich señorito falls in love with the poor maid or hacienda worker, expect them to fight against all odds for their love. Another variation of this is the city boy falling for a provincial lass.
2. Amnesia Plot. Just when everything's going well for the bida, a head bump or a traumatic incident ruins everything, resulting in a complete memory wipeout. This is a convenient way to create additional tension and drama in an already convoluted storyline. Sometimes, a surgical face-copy works too.
3. Kidnapping, Car Chase, Warehouse Scenes. Drama princesses should be action stars too. When your favorite TV drama series is about to reach its conclusion, expect a character to be kidnapped and rescued in an explosive and gun-loaded sequence. The explosives, guns and car crashes are also effective ways of killing off villains.
ADVERTISEMENT - CONTINUE READING BELOW
4. Baby Switching. "Sinong nanay mo?" "Ikaw ako ngayon at ako'y ikaw." The case of swapped, stolen and misplaced babies/kids is a norm in the teleserye world. The tunay na ina/ama/anak angle has worked a million times in keeping viewers glued throughout a series' run. When the bida goes from rags-to-riches, this is an effective way for him/her to exact revenge on those who did him wrong in the past.


5. The Childhood Beginning. Is your favorite actress' teleserye premiering today and you cannot wait to see her? Better tune in next week because this week is going to be about her character's childhood. More often than not, the couple in the story already met when they were young kids. As young as they are, they already know that they are are soulmates and they promise to love each other when they grow up. The guy usually gives a necklace or bracelet to his beloved. However, circumstances separate the two. When their paths cross again, the boy recognizes the item that he gave to the girl. Don't worry, it will all come to a…
6. Wedding Ending. All the problems in the world vanish once the bida wears her wedding gown and walks down the aisle. This is the end for most teleseryes and if the bride's mom has a loveteam partner of her own, expect a double wedding.
7. The Kontrabida Delivery. Every kontrabida, especially female ones, has a manner of speaking that's loaded with stressed syllables or words, almost like joining a declamation or oration contest. Of course, they deliver their lines always with their chins up and eyes squinted. Kontrabidas of yore also had a signature laugh that can strike fear among viewers.
ADVERTISEMENT - CONTINUE READING BELOW
In line with this, why do teleserye characters often talk with their backs to each other? In real life, do people actually talk this way?
8. Bida Suffering. Pinoys love underdogs whom they can root for. Often, the bida is meek and docile and endures the brunt of the villain's ire. The protagonist usually gets slapped or her hair is pulled by the kontrabida. There will come a point when the bida gains the courage to fight back, much to the delight of her supportive fans.
9. The Boy Shortage. In the teleserye world there is an extreme shortage of eligible bachelors, which is why the bida and kontrabida are always fighting over the same guy.
10. The Missing Link. A diary, last will and testament, DNA test, a video, a photo – there is always that one item that holds the truth about the protagonist. The person/s who know the truth must remain secretive within the series (or the thing should remain hidden), otherwise, there will be no TV series. Some versions tap an identifying lullaby that will jog the memory of the protagonist and remind him/her of childhood.
These are just 10 popular teleserye clichés that we've seen through the years. What are the others? Let us know in the comments section, PEPsters.