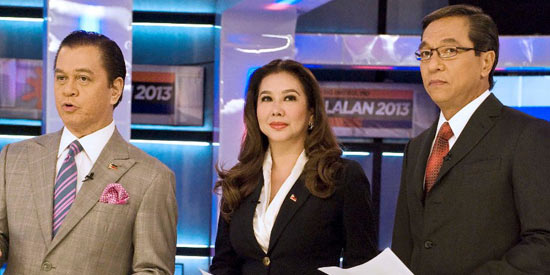 ---


PRESS STATEMENT FROM ABS-CBN:


"Most Filipinos nationwide got their latest election news from ABS-CBN on Monday (May 13) and went online to send their thoughts via Twitter that made ABS-CBN's "Halalan 2013" coverage a trending topic on the social networking site.

"Based on Kantar Media data covering national urban and rural homes, ABS-CBN's Bayan Mo, iPatrol Mo: Tayo Na Halalan 2013 coverage drew a cumulative average of national TV rating of 13.7% from 6 am to 12 midnight vs. GMA's Eleksyon 2013's 10%.

"ABS-CBN's flagship newscast TV Patrol, anchored by Noli De Castro, Korina Sanchez, and Ted Failon, hit a 27% national TV rating or nine points higher than rival program 24 Oras that only recorded 18.4%.

"Filipino netizens also kept track of election news on Twitter where ABS-CBN's "Halalan 2013" coverage became a trending topic. The hashtag #Halalan2013 was the only election coverage-based hashtag of a news organization to have landed among the social networking site's trending topics.

"ABS-CBN also highlighted the results in the hotly contested local races featured in its "KampanyaSerye" documentaries in areas like Manila, Masbate, Cavite, Cebu, Pampanga, Zamboanga, and Laguna to contextualize what the results mean to the electorate.

"Aside from focusing on local election rivalries, ABS-CBN also delivered fresh updates on the results in overseas absentee voting through its international news bureaus stationed all around the world.

"With the help of about half a million Bayan Patrollers and 221 reporters in the Philippines and key global cities scattered in 45 live points, ABS-CBN was not only able to deliver the most comprehensive news coverage on the elections but also report election irregularities in different localities through its different media platforms. It also had the most credible and authoritative analysts dissecting the issues and results on "Halalan 2013."

"Halalan 2013 also marked the uninterrupted 48-hour election coverage for ANC and DZMM TeleRadyo for both cable TV and AM radio audiences. ABS-CBNNews.com provided the latest news, analysis of results, and as well as a social media tracker, launched in partnership with IBM Philippines, to monitor the social media buzz on the positive and negative commentaries and conversations about the candidates.

"ABS-CBN also empowered citizens with its Comelec-Halalan 2013 mobile app for smartphones and tablets that helped them find their precinct on election day, provided a list and profiles of candidates and partylists, as well as the latest aggragated, partial and unofficial election results in national and local polls.

"Also featured in ABS-CBN's "Halalan 2013" coverage were the celebrity patrollers for "Bayan Mo, iPatrol Mo: Tayo Na" including Bianca Gonzalez, Valerie Concepcion, Melai Cantiveros, the Philippine Azkals' Chieffy Caligdong, John Lapus, Sam Concepcion, and Jed Madela, who received inquiries and concerns on the elections via their personal Twitter accounts.

"Moreover, ABS-CBN set up BMPM stations in key areas in the country to assist voters in finding their precincts, receive complaints and reports regarding the polls, and respond to medical emergencies.

"ABS-CBN's "Halalan 2013" coverage was launched a year before the May elections to provide information to voters so they can make informed choices based on their vision for the country.


"ABS-CBN's "Halalan 2013" was the most responsive to the needs of the people in terms of information delivered through its various media platforms and in public service through its BMPM stations, making it the most trusted broadcast news organization that covered the national elections."



Ed's Note: When content falls under "Press Statement," this means that the material is fully and directly from the company issuing the press release. The use of open-and-close quotation marks to envelope the entire text shows as much. This also means that PEP is not the author of the statement being read. PEP is simply providing the information for readers who may be interested.
ADVERTISEMENT - CONTINUE READING BELOW