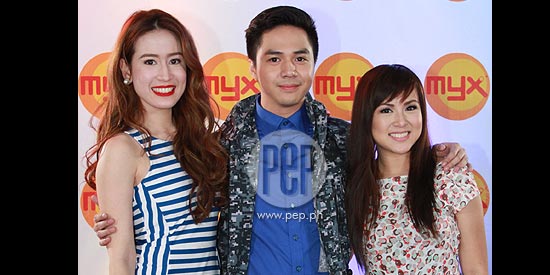 ---

For the past 13 years, MYX has been providing viewers with news, updates and the latest buzz about music and the music industry.
Now MYX gives viewers more reasons to get excited through their newly formatted shows and channel.
"MYX was, is, and will always be open to everything. We change based on what our viewers are looking for," says Andre Allan Alvarez, Channel head of MYX at the launch of the newly formatted MYX channel.
NEW MYX. During the launch, they showed the new logos of shows, new sets, new program schedule and new VJs.
Alvarez admitted that they administered change to make the channel more youthful. "It took a lot of work and effort in changing the channel fresh for all our viewers so I think aabangan 'to ng maraming taga suporta ng MYX. Masiyado silang magkakaroon ng bagong kabarkada at kaibigan.
"We always keep it fresh para naman laging nag-e-evolve yung audience and para mag-evolve din yung kanilang mga interests. That's how the channel copes with all these new trends, new technology and other exciting stuff that is happening all over the world and it has to be reflected on the channel."
ADVERTISEMENT - CONTINUE READING BELOW
How did they reformat the channel?
"As you can see we used music that is more electrifying, there's more color, it's more vibrant so there really is a new trust to make it more energetic and invigorating," says Alavrez.
He revealed that reformatting has been ongoing for a month now and they have been receiving good feedback. "We started last May 1 and we were overwhelmed by the reaction of the viewers and for our online viewers who have seen the new personalities, the new look sobrang nakakatuwa."
NEW FACES OF MYX. In the past,MYX chose its new hosts by launching a VJ Search. This time, the management of MYX decided to hold private auditions.
Alvares explained, "Sa background I think for the past five years we've been conducting the MYX VJ Search so this time around we decided to take a break because nakakapagod gawin yung MYX VJ Search—it takes like four or five months of our lives.
ADVERTISEMENT - CONTINUE READING BELOW
"Two months of auditions, two to three months of challenges and tasks putting them to test so this time around we did private auditions and we talked to our friends from different agencies, from different management groups and we're happy with the results.
"We did it early this year but the last time we did it was like six years ago."
VJ Ai Dela Cruz (pronounced as AH-yee) is a basketball fanatic, a former NCAA & PBA courtside reporter and a fresh graduate of Broadcast Communication from the University of the Philippines-Diliman. She is also the vocalist of an acoustic duo.
"Actually hindi pa nagsi-sink in," says VJ Ai about being chosen as the new MYX VJ.
She continued, "I just take it one day at a time. Like I go to the tapings, I say what's on the script then I go home. Pero hindi pa talaga nagsi-sink in na I am a VJ."
ADVERTISEMENT - CONTINUE READING BELOW
What is her most challenging experience so far?


"The MYX Forum kasi it's live, e.
"There's a live audience. You can't commit a mistake, I mean, you can and just laugh about it but of course that's not your goal.
"As much as possible you want to be perfect."
She revealed that it's a challenge for her to go out of her comfort zone in terms of dressing up, "And yung wearing medyo revealing clothes for me kasi conservative ako manamit talaga."
VJ Karla Aguas is a blogger and a graduate of the Ateneo de Manila University.
Fast talker VJ Karla said, "I've always wanted to be a VJ because I am so daldal.
"Like sa house they are so sawang-sawa na so I wanted a broader audience so ngayon nasa TV na ako people got no choice but to listen to my kuwento."
ADVERTISEMENT - CONTINUE READING BELOW
Karla shared that she experienced hosting back in college, "Back in college I get to host in events."
She narrates an experience in the past, "I actually tried out for the MYX VJ Search in 2008 but the line was so long and my kasama was like, 'Let's just go. You're not gonna get it anyway.' I will never forget that."
Before she went into hosting, Karla was an accountant. She shares, "I was really part of the marketing team of a really good accounting firm.
"They are very strict and conservative and somewhat old school. I am the type of person that if I don't believe in something I don't gonna speak about it.
"Not rudely but, you know?
"So I figured out that it's not the job for me.
"I told myself, 'You know what? I am too young to feel this worn out.' So I transferred to becoming a pre-school teacher.
ADVERTISEMENT - CONTINUE READING BELOW
"I've always wanted to become a VJ ever since I was a kid. Like I would pretend to have my own cooking show when I bake brownies. I would pretend that I am looking to different cameras and I'll speak in British...
"So talking to a crowd has always been a dream."
VJ Sam Concepcion is not new to TV but he is a newbie when it comes to hosting. He has been performing in theater productions and starred in movies such as I Do Bidoo Bidoo, Shake Rattle and Roll 13, and Way Back Home. He has also appeared in ABS-CBN shows such as Angelito and Super Inggo. Sam is also a recording artist with a brand new digital single titled "No Limitations."
"It feels amazing. It really is great to be here," says singer-turned-VJ Sam.
"The best give that you can receive is something you don't expect and this is one of them.
ADVERTISEMENT - CONTINUE READING BELOW
"Being part of MYX is not part of the plan but it is just so amazing to be able to working with such great family and this is where I get to be comfortable, no stress, just meeting people's expectations.
"You just give you, what you have and what you can offer.
"That's what so great about it."
Was it something you really wanted?
He answers, "Well siyempre hosting is something I enjoy doing it's something I enjoy and I have a lot of fun doing and MYX gives me the opportunity to do that.


"I'm not sure if this is for me. There must be a mistake? You think I can handle being a host?
"Well I am just really glad that they give me this job and entrusted me to do this huge responsibility.
Get to know VJ Ai, VJ Karla and VJ Sam by watching their shows on MYX. Catch them at MYX Daily 10, Wer U At?, MYX Take 5, Pop MYX, Pinoy MYX and My MYX.


The three new VJs will get to work with current VJs Nikki Gil, Chino Lui Pio and Iya Villania.
ADVERTISEMENT - CONTINUE READING BELOW
MYX is available 24/7 on Sky Cable (Channel 23) in Metro Manila and many quality cable companies all over the Philippines. MYX is also on UHF via Studio 23 during choice hours every day.