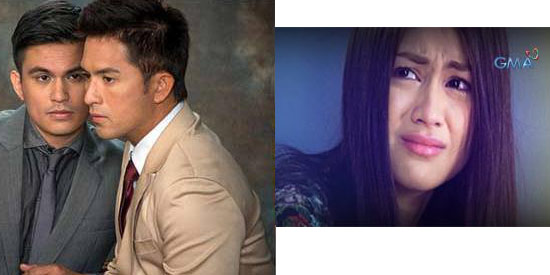 ---
My Husband's Lover is a breath of fresh air in the often stale and boorish telenovelas of the last two decades. Never has Philippine television engaged viewers in a unique love triangle—a married man caught between his loving wife and his openly gay lover. Although we may be modern users of the Internet and cell phones—by the way, devices integral to MHL—our level of tolerance for stories on the boob tube is always limited to heterosexual relationships and issues. Gays may be part of a TV drama series but they are never the lead characters. They are always the comic relief or the best friend in a supporting role.
In My Husband's Lover, the gay characters and the wife are the protagonists. Carla Abellana essays her biggest role ever on TV as the clueless wife, Lally Agatep-Soriano. Tom Rodriguez plays Vincent Soriano, Lally's husband who is a closet gay still pining for his high school lover Eric Del Mundo (Dennis Trillo).
Director Dominic Zapata dares to take on issues that conservatives would rather sweep under the rug such as homosexuality, infidelity and extended family dynamics. Suzette Doctolero's story/script faces the issues head-on without resorting to histrionics and uber melodramatic monologues.
The story unfolds initially from Lally's point of view. But the conflict revolves around Vincent's denial of his true gender identity and its repercussions once he gives in to his secret desires.
ENSEMBLE ACTING. Dennis Trillo is very effective as the openly-gay architect still in love with his best friend. His body language, its nuances and gestures, mark him not only as an actor but as a true artist. Handsome, bedimpled Tom Rodriguez is a revelation—he can act after all! You can feel Vincent's pain, confusion and inner struggles all at the same time, without his uttering a single word.
ADVERTISEMENT - CONTINUE READING BELOW
Through the lead actors' rapport, the chemistry between Vincent and Eric is palpable. When they gaze at each other and hold hands you can feel the love emanating from them. In spite of Vincent being a family man, we can't help rooting for the lovers whose emotions are genuine and pure. Romantic strings tug at the heart each time they meet, accidentally hold hands, gaze into each other's eyes.
Their intimate scenes are performed with utmost care and decency. You can feel their yearning for each other without bed scenes, indecent exposure or torrid kissing scenes. Dennis and Tom, aside from being good actors, are pleasant to the eyes as well, making their characters even more appealing.
On the other hand, you also feel for the wife. She is a victim here. Her marriage is a sham; she's clueless about her husband being gay. Carla Abellana is brilliant in her role. As the naïve wife and obedient daughter-in-law, she seamlessly fits into the role. Her acting is subdued throughout the series, even when she catches her husband with his gay lover. Her eyes speak volumes of her pent-up frustration and resentment.
To our surprise, Kuh Ledesma (Elaine Soriano) and Roi Vinzon (Armando Soriano) have chemistry, too. Elaine may be your typical "halimaw na biyenan" but she still empathizes with Lally. She does not tolerate Vincent coming home late and forgetting his marital duties. Her character is real, not one-dimensional.
As Vincent's homophobic dad, Roi plays his role to the hilt, yet Armando's bantering with his wife and other family members lightens the story. Armando is hateful and charming at the same time.
ADVERTISEMENT - CONTINUE READING BELOW
Chanda Romero as the visual artist Sinag Del Mundo is the compassionate yet down-to-earth mother of Eric. Sinag represents modern parental values laced with social norms and mores. In Freud's psychosexual theory of development, she is the super ego, the conscience. She accepts her son unconditionally but she intervenes and never fails to mince words when telling him off for his affair with a married closet gay.
Eric's BFF Danny (Kevin Santos) and Vince's friend/former lover David (Victor Basa), though gay themselves, do not tolerate the Eric-Vince shenanigans. The Soriano kids Diego (Antone Limgenco) and Hannah (Elijah Alejo), always cute and adorable, complete the picture of a "happy" family, making you want to shield them from pain.
PRODUCTION. Editing is fast-paced, gritty and innovative in this TV series. No dull moment. Not a second wasted. Flashbacks and present action are frequently interspersed, making the story more dynamic and reinforcing character development.
Visually, My Husband's Lover is appealing to the eyes. Camera angles lure the viewers into the deepest emotions of the characters without overpowering them. Transition shots blend one scene with the next smoothly. The Soriano mansion may be everyone's dream, but for Lally, particularly in the first few weeks of married life, it is a gilded cage.
Initially, the downside of the show was the music. Kuh Ledesma's "One More Try" drowned out every dramatic scene, being played during opening and closing credits and every scene in between, much to the chagrin of viewers like me. This is saying a lot because I'm an avid Kuh Ledesma fan.
ADVERTISEMENT - CONTINUE READING BELOW
But netizens were able to send their message across; during the last two weeks of the show the musical scoring was more subtle. It even now has Jonalyn Viray's "Help Me Get Over" which alternates with Kuh's song and makes the scenes more poignant. Music is now used effectively, as in the breakup scene of Eric and Vincent, heightening emotions so that you almost feel your own heart break.
Symbols and metaphors are significant in My Husband's Lover. For instance, the rain pouring heavily during Vincent and Lally's wedding seems a pouring of blessings; metaphorically, it forecasts the heartaches and trials that would befall the marriage.
Lally's suspicion that her husband has a mistress ends with a key that opens a Pandora's box of lies and deceptions far worse than she ever thought. Her shoe that falls as she lies unconscious in shock evokes the Cinderella fairy tale, but for her there's no happy ending in store. As for the lovers, the wine glass that Eric drops when Vincent breaks up with him, lacerating his feet as it shatters, symbolizes their world gone to pieces.
Kudos to team MHL and GMA-7 for coming up with a series that encourages viewers to question their belief system and core values. To say that I love this show is an understatement. It is one of the best TV shows in 2013.


Ed's Note: The "PEP Review" section carries the views of individual reviewers, and does not necessarily reflect the views of the PEP editorial staff.


ADVERTISEMENT - CONTINUE READING BELOW