PRESS STATEMENT FROM GMA-7:


"This October, Kapuso Primetime King Dingdong Dantes topbills Genesis, an original and groundbreaking series that will take the audience on an emotional and inspiring journey towards a new beginning. It gives a glimpse of the triumph of the human spirit despite the looming destruction—that when hope falters, love is the greatest refuge. Dingdong portrays the role of Isaak Macalintal a morally upright military detail entrusted with the welfare and safety of the Vice President, Edgardo Sebastian.


"Kapuso leading lady Rhian Ramos will prove that love sees no end as she breathes life to Isaak's childhood sweetheart and fiancée Raquel, whom he will save and protect until the very end.


"And to show that in the midst of destruction, love is the greatest salvation, grand-slam best actress Ms. Lorna Tolentino plays the role of Sandra Sebastian-Trinidad, the principled president who will sacrifice anything for the sake of the country and its people just like her father, Edgardo.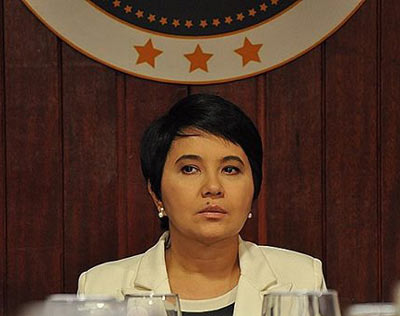 Lorna Tolentino as President Sandra in Genesis


"Playing equally vital roles are versatile actor TJ Trinidad as Paolo de Guzman, the controlling and almost tyrannical husband of Raquel and seasoned actress Jackielou Blanco as Ramona Escalabre, the cruel, manipulative and dishonest former President.


"Completing the powerhouse cast are Irma Adlawan as Tiya Fely, Raquel's auntie who plays a second mom to Raquel; Ronnie Henares as Emil Trinidad, Sandra's supportive and committed husband; Carlo Gonzalez as Waldo, the warden that will make Isaak's life miserable; Betong Sumaya as Tolits Dimagiba, an ex-convict who will be Isaak's friend; Luane Dy as Jill Galvez, a resilient, audacious and persistent journalist who will investigate everything about Operation: Genesis; Sasha Baldoza as Osie de Guzman, the smart, charming and loveable love child of Raquel and Isaak; Rainier Gison as MJ Trinidad, the eldest son of Sandra and Emil; and Annette Samin as Summer Trinidad the daughter of Sandra and Emil who has Down Syndrome.


"Aside from the stellar ensemble, there will also be special participation of respected TV and movie stars: Robert Arevalo (as the Vice President and Sandra's father), Bembol Roco, Gardo Versoza, Snooky Serna, Shamaine Centenera, Mark Anthony Fernandez, Angel Aquino, Pauleen Luna, Lauren Young, Lito Legaspi and Laurice Guillen (as Isaak's parents) among others.


"In 2007, a series of catastrophic events happened during the Panagbengga Festival. The festive occasion becomes a catastrophe as earthquakes and landslides follow after fragments of an asteroid hit the area.


"Isaak is quick to protect the vice president and his daughter Sandra who is with him in the occasion. He is also quick in bringing Sandra to the presidential chopper. Unbeknownst to Isaak, President Ramona ordered the helicopter to immediately pull out leaving the Vice President in peril.


"Isaak tries to save the vice president from falling in a pit caused by the earthquake but it was too late and Edgardo dies. Isaak is devastated as he feels dishonored for failing to save the vice president.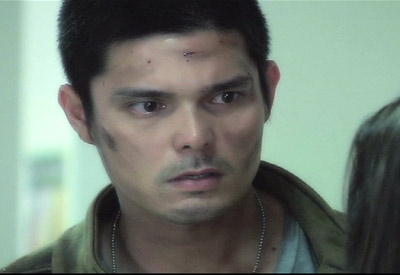 Dingdong Dantes as military man Isaak


"Meanwhile, at his hometown, he finds out that his parents died too and it was only Raquel who survived. As days go by, Isaak continues to mourn the death of the people dear to him. Raquel tries to convince Isaak to leave his job, start all over again in their hometown, get married and live a quiet life.


"Sandra, on the other hand, has no idea on what President Ramona did and she doesn't question Isaak's loyalty to his father especially Isaak saved her life. Sandra and Isaak are both unaware of Ramona's plot to kill the Vice President. Before everyone finds out about what she did and how she abandoned the vice president during the disaster, she puts the blame on Isaak over the death of the vice president. Thus, he was sentenced to life imprisonment and he was even proclaimed dead by Ramona.


"As Raquel thought Isaak is dead, she is pushed to marry Paolo who promises her a better life for her and the baby she's carrying. Meanwhile, Isaak serves his time in jail, growing more cynical with each passing day.


"Seven years later, Sandra is a strong candidate for the presidency and eventually, became the president of the country. After her inauguration, Sandra is called into an emergency caucus and discovers that the world is about to end and realizes that what happened 7 years ago in Baguio has something to do on the imminent destruction. However, the world government has been preparing for this all along through "Operation: Genesis." It is like a modern-day Noah's Ark wherein there are pre-selected people from all countries who will be saved in order to preserve the human race; and to be selected, one must be in perfect health condition.


"Sandra knows exactly who to give the mission to. She discovers that Isaak is still alive, and immediately gives Isaak the presidential pardon because she believes that he is the only person who can be relied on and be trusted on this mission. In return, he will be given the chance to find Raquel and bring her along. He starts his journey in searching for these selected people.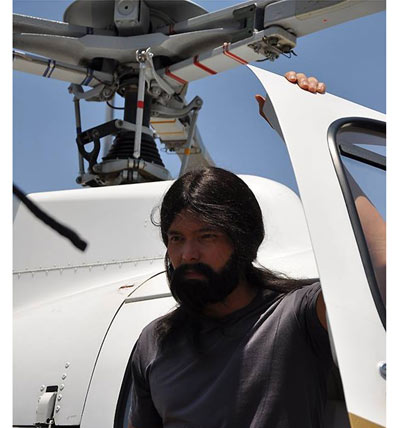 Dingdong Dantes as Isaak in Genesis


"In his search, he will once again cross path with Raquel who is now married to Paolo. Isaak will also meet Raquel's 7-year old daughter, Osie, who will teach him how to live life once again and hope despite the impending global catastrophe. And later on, he finds out that Osie is his daughter.


"All throughout his journey, Isaak will meet different people from different parts of the country. And in trying to offer them a choice by saving them and by providing hope for others; he will come to realize that in the midst of destruction, love is the greatest salvation. And when chaos strikes, love will be their greatest strength.


"Will Operation: Genesis be successful? Will Isaak be able to find all the people who are part of the list? Will he be able to save himself, Raquel and their daughter Osie not only from the impending apocalypse but from Paolo who will do everything to keep Raquel away from Isaak?


"As the President who has compassion for her people, can Sandra be able to save as many people as possible? Can she even save her own family amidst Ramona's plans of bringing her down?


"Under the helm of superb directors Bb. Joyce Bernal and Mark Reyes, Genesis is a journey that will showcase the basic goodness of mankind: that we are all capable of love, hope, faith, forgiveness and sacrifice. The show will draw viewers to believe that no matter what adversities that would come along the way, there is hope for the future and that love sees no end.


"Don't miss the much awaited premiere of Genesis beginning October 14, Monday to Friday on GMA Telebabad."


Ed's Note: When content falls under "Press Statement," this means that the material is fully and directly from the company issuing the press release. The use of open-and-close quotation marks to envelope the entire text shows as much. This also means that PEP is not the author of the statement being read. PEP is simply providing the information for readers who may be interested.