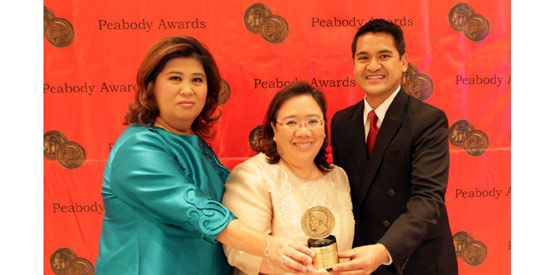 ---

GMA Network formally accepted the prestigious George Foster Peabody Award in New York City on Monday, May 19, for its coverage of supertyphoon Yolanda (Haiyan) in November 2013.

GMA News and Public Affairs Senior Vice President Marissa L. Flores received the Peabody Award on behalf of the network at a ceremony at the Waldorf-Astoria in New York. Also in attendance were First Vice President for News Programs Jessica A. Soho and news anchor/reporter Jiggy Manicad, who represented the GMA News teams who covered Yolanda.

"This is for the survivors, the Filipinos and our unsinkable spirit. Philippines, Mabuhay!" Flores was quoted as saying after accepting the award. "Receiving this award is bittersweet for us at GMA Network because it is on the account of the suffering of Filipinos from Typhoon Haiyan or Yolanda, the strongest typhoon to have made landfall," she added in a statement provided by GMA Network.

The Peabody Award is considered the broadcast equivalent of the Pulitzer Prize for print media, and the Oscar Awards for film.

On its website, the Peabody Awards cited GMA Network for "overcoming the challenges posed by a historic storm to provide coverage that was thorough, candid and compassionate.

"Faced with daunting logistical challenges and sharing in the national shock and grief, GMA reporters and crews from State of the Nation with Jessica Soho, 24 Oras (24 Hours), Saksi (Eyewitness), 24 Oras Weekend and Kapuso Mo Jessica Soho (One at Heart, Jessica Soho) provided desperately needed spot news coverage and information, gaining strength and perspective as they worked. They followed up with solid reporting and public-service broadcasts about the aftermath, heroic acts and relief efforts. The coverage includes footage of storm-surge rapids ripping through streets and apocalyptic winds decapitating houses that's so close-up and intense that it's a wonder the videographers survived," it said.

The winning programs chronicled the GMA News teams' detailed reportage of the typhoon from before it hit the Philippine area of responsibility to its unforgiving blows to the Visayas region and its painful aftermath.

"We accept this with immense gratitude on behalf of the people of GMA News and Public Affairs who risked their lives to tell the story," added Flores.

This is the fourth Peabody Award that GMA Network received on behalf of the Philippines. The network earned its first Peabody in 1999 for the I-Witness documentaries "Kidneys for Sale" and "Kamao" by Soho and for Jay Taruc's child labor story on Brigada Siete. Kara David's I-Witness episode "Ambulansyang de Paa" succeeded in 2010 followed by Reel Time's "Salat" in 2013.

GMA is the only news and public affairs organization in the country to have received this prestigious award for excellence in broadcast journalism.

Along with GMA News in this year's roster of winners are the series Breaking Bad, House of Cards, Orange is the New Black, three HBO documentaries, and twelve programs by the broadcaster PBS. Personalities present in the awarding ceremony included NBC anchor and special correspondent Tom Brokaw who received a personal award and Anthony Bourdain of CNN's Anthony Bourdain: Parts Unknown.


ADVERTISEMENT - CONTINUE READING BELOW