Filipino netizens got fired up due to an episode of Pinoy Big Brother Otso that many have deemed inappropriate. This episode, aired on Monday night, March 4, showed two housemates sharing several passionate kisses.
The episode chronicled the pool party that was granted to the housemates several nights ago. There were alcoholic drinks at this party, and some of them drank a little too much.
PBB Otso housemates Andre Brouillette and Lou Yanong were spotted kissing each other torridly during this episode.

After staying in the PBB house for almost two months, the two models have admitted that they were attracted to each other, so it was not surprising that they were close at the party. They sat together while drinking, and were each other's partners in several party games.
The sexual tension between the two was apparent in these games. In one game, Lou had to drink a shot of alcohol from Andre's topless torso. In another game, Lou and Andre had to balance a tomato between their foreheads.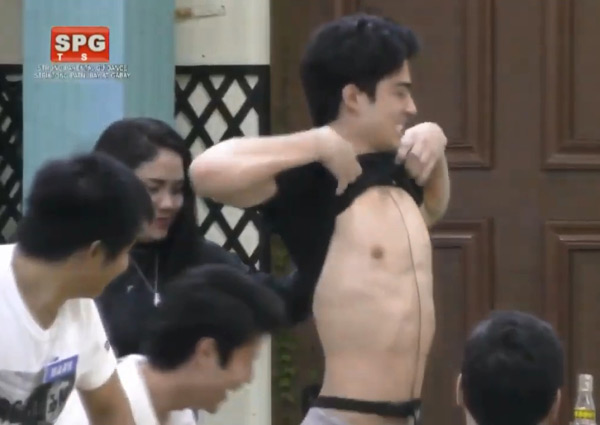 The party was dying down when Andre, who already had too much to drink, crashed on the floor beside the table. He invited Lou to lie beside him, and they held hands. Lou, who was also drunk, told the Filipino-American guy, "My parents are gonna be so mad at me. Do you want to kiss me?" That's when they started to kiss torridly.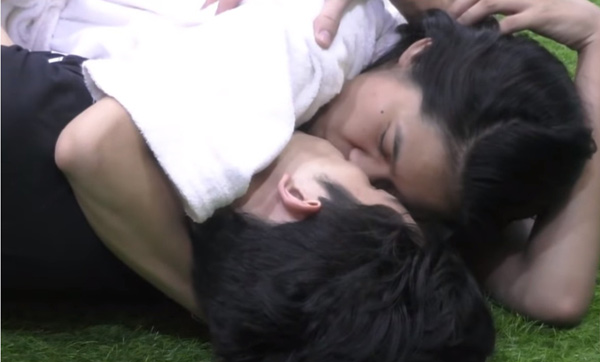 Housemate Mary Grace Lagos was the first to see their kiss and she screamed in shock at what she witnessed.
Later on, Andre and Lou went to lie together on a giant inflatable swan in the middle of the swimming pool and continued kissing passionately.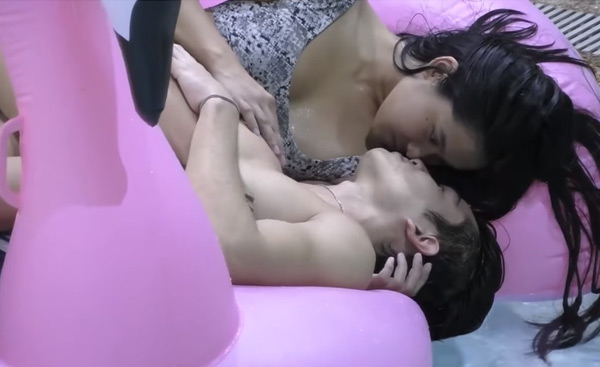 Mary Grace remained aghast, and asked the other housemates if she should stop them.
"Ayokong maging masama sa kanilang dalawa kasi. They adult already. They have own decision. But if it's over…I will stop [them]. Not now, later," she told Yamyam Gucong.
Yamyam agreed that she had to stop the romantic display because he thought it was not appropriate. He mentioned that the two are not in an official relationship.
Mary Grace then swam to the middle of the pool to pull Lou away.

"I'm your Big Sister. Stop it already!" she exclaimed.

She made an effort to tuck Lou into bed and ordered her to sleep.
After that, Mary Grace discussed the event with the other adult housemates. She said she was against it because they are in the PBB house.
"Kahit sabihin nila na mag-girlfriend boyfriend sila. It's not right because it is not in the right place. Wala akong karapatan na pagbawalan sila...kasi sila na bahala kasi matanda na sila. Pero dito kasi, iba kasi ang set up," Mary Grace explained.
Fumiya Sankai added that this is not appropriate behavior if they were in Japan where public display of affection is frowned upon.
"So culture shock. Sobrang culture shock," said the Japanese housemate.
Only Hanie Jarrar was on the side of the lovebirds. The 19-year-old housemate told Big Brother in the confession room that he disagreed with the older housemates. "They understand more than I do. They're older than I am. And they have more experience and they're a lot wiser than I am. We were all drinking pretty hard. Me included. If it's okay with Andre, and it's okay with Lou, then I'm fine with it."


NETIZENS DIVIDED.

PBB Otso viewers have different opinions about the kiss. Many bashed the couple (dubbed as Loudre) on social media, but it was mostly Lou who was receiving the attacks.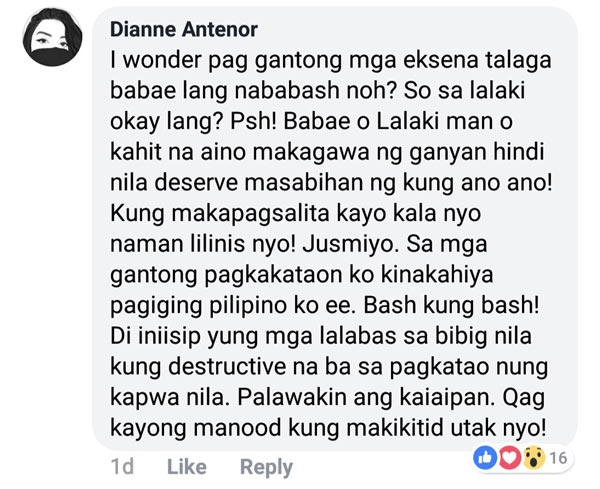 There were comments on PBB's Facebook page that have slut-shamed the 21-year-old female model.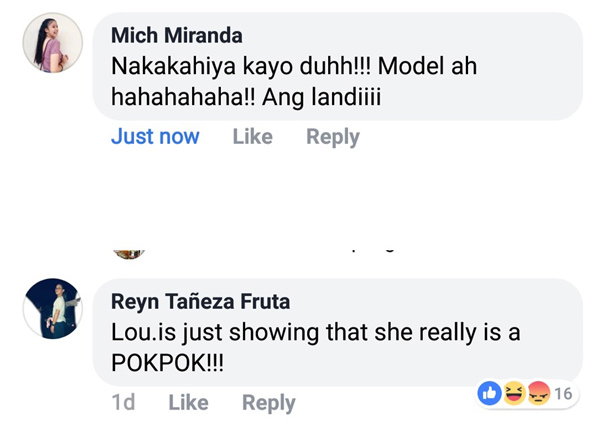 However, there were other posts that defended the two.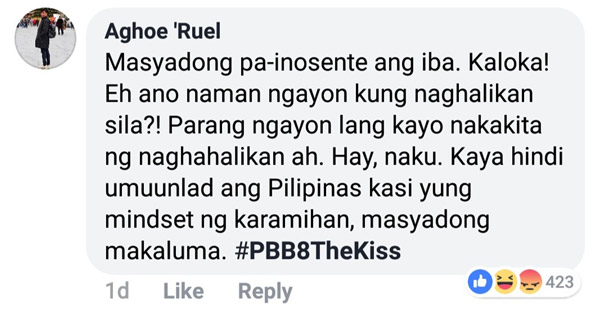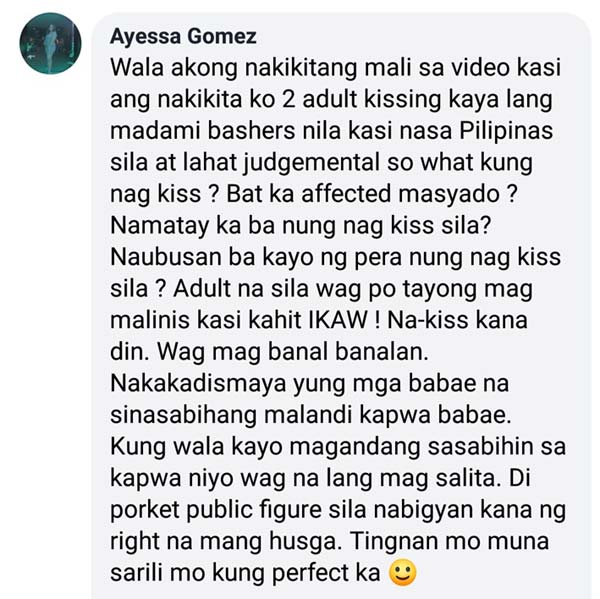 Several Twitter users criticized PBB Otso and ABS-CBN for airing the scene for the sake of ratings.