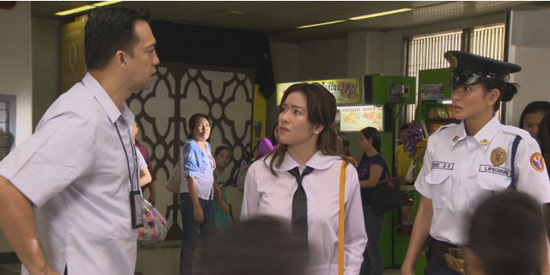 ---
Maalaala Mo Kaya will share this Saturday (July 19) the life story of the girl behind a viral Youtube video Paula Jamie "PJ" Salvosa, better known as the "Amalayer" girl. Singer-actress Angeline Quinto will play the role of PJ in the episode.
Despite growing up without a mother, PJ never felt any loss because the love of her father and grandparents made her complete. However, the darkest moments of her life descended on her when she became a victim of cyber bullying because of one mistake.
How hard was it for PJ when she was criticized and tormented by people who barely knew her? How did she learn to accept and forgive herself and the people who hurt her?
Also part of this episode are Phoemela Barranda, Liza Dinio, Kean Cipriano, Wendy Valdez, Pamu Pamorada, Cris Villanueva, Liza Lorena, Chinggoy Alonzo, and Casey da Silva. The episode is directed by Garry Fernando and written by Benson Logronio. MMK is led by business unit head Malou Santos and creative manager Mel Mendoza-del Rosario.


MMK, considered the longest-running drama anthology in Asia, airs every Saturday, 8pm, after Home Sweetie Home on ABS-CBN.


SHARE THIS STORY MMK" data-url="https://www.pep.ph/guide/tv/14133/angeline-quinto-depicts-life-of-amalayer-girl-on-mmk" data-desc="Angeline Quinto portrays the girl dubbed as "Amalayer" because of a viral YouTube video. " data-image="https://contents.pep.ph/images2/guide/8e41816df.jpg"> MMK" data-url="https://www.pep.ph/guide/tv/14133/angeline-quinto-depicts-life-of-amalayer-girl-on-mmk" data-desc="Angeline Quinto portrays the girl dubbed as "Amalayer" because of a viral YouTube video. " data-image="https://contents.pep.ph/images2/guide/8e41816df.jpg"> MMK" data-url="https://www.pep.ph/guide/tv/14133/angeline-quinto-depicts-life-of-amalayer-girl-on-mmk" data-desc="Angeline Quinto portrays the girl dubbed as "Amalayer" because of a viral YouTube video. " data-image="https://contents.pep.ph/images2/guide/8e41816df.jpg">
SHARE THIS STORY
MMK" data-url="https://www.pep.ph/guide/tv/14133/angeline-quinto-depicts-life-of-amalayer-girl-on-mmk" data-desc="Angeline Quinto portrays the girl dubbed as "Amalayer" because of a viral YouTube video. " data-image="https://contents.pep.ph/images2/guide/8e41816df.jpg"> MMK" data-url="https://www.pep.ph/guide/tv/14133/angeline-quinto-depicts-life-of-amalayer-girl-on-mmk" data-desc="Angeline Quinto portrays the girl dubbed as "Amalayer" because of a viral YouTube video. " data-image="https://contents.pep.ph/images2/guide/8e41816df.jpg"> MMK" data-url="https://www.pep.ph/guide/tv/14133/angeline-quinto-depicts-life-of-amalayer-girl-on-mmk" data-desc="Angeline Quinto portrays the girl dubbed as "Amalayer" because of a viral YouTube video. " data-image="https://contents.pep.ph/images2/guide/8e41816df.jpg"> MMK" data-url="https://www.pep.ph/guide/tv/14133/angeline-quinto-depicts-life-of-amalayer-girl-on-mmk" data-desc="Angeline Quinto portrays the girl dubbed as "Amalayer" because of a viral YouTube video. " data-image="https://contents.pep.ph/images2/guide/8e41816df.jpg">