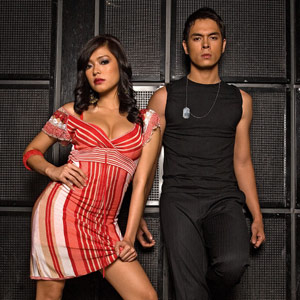 ---

Come 2008, one of thehottest male stars in ABS-CBN, Jake Cuenca, will star in an action teleseryethat pits him against Pinoy Mano-Mano host Cesar Montano, award-winning action star whostarted out in showbiz as a stunt man. Jake, who starred in the drama series Natutulog Ba ang Diyos, will heat up theTV screen with his new leading lady, Bangs Garcia.
Palos, one of the biggest budgeted and most talkedabout projects of ABS-CBN, will start showing in summer 2008. The Kapamilya network remakes the movie that made Bernard Bonninan action superstar in the '70s.


The title Palos is the Tagalog word for "eel"—the snakelike fish that'squick, slick, and hard to capture. These qualities make for Jake'scharacter: swift, smooth, versatile. Palos is based on the classic Filipino comicsand film character of the same name, a professional thief who is adept in thefighting arts and possesses acrobatic skills. He's as slippery as an eel and as rarely caught.


The TV series is based on the Palosmovies that were released from the 1960s to the 1980s. The character wascreated by Virgilio and Nestor Redondo and first introduced to the publicin the Tagalog Klasiks comic-strip serial "Alyas Palos." Actor Bernard Bonninplayed the character in all eight films, starting with Alyas Palos in1961.


Jake's new leadinglady is Valerie "Bangs" Garcia. She is the cute and charming star in Let's Go butnow she returns with a new image. Sexy and aggressive, she is one of themuch-awaited faces for the coming year. Don't miss the hot revelations of Jakeand Bangs in Palos, directed by Toto Natividad, Erik Salud and Trina Dayrit..


Joining them are some of thebiggest stars in the industry—Jomari Yllana, Sunshine Cruz, Jodi Sta.Maria-Lacson, Roxanne Guinoo, Carla Humphries, Julia Barretto, Jay-R Siaboc,Gloria Romero, Wendy Valdez, Vandolph, Dennis Padilla, Red Ford White, RonMaloles, and Regine Angeles.


ADVERTISEMENT - CONTINUE READING BELOW