Matters of the heart confused the teen housemates of Pinoy Big Brother Otso. Several romantic connections have sprouted in the house, and many viewers have reacted negatively to what they are seeing.
The main characters of this love story are Lance Carr, Ashley del Mundo, Angela Tungol, and Mich Wunder.
Lance and Ashley started their PBB Otso stay as Star Dreamers in Camp Star Hunt. In one week, the 18-year-old basketball player from Davao and the 15-year-old sports enthusiast from Australia grew so close that they even admitted that they have a crush on each other.
PBB Otso viewers welcomed the blossoming romance, and adoring fans even dubbed the new loveteam as AshLance. These fans were also overjoyed when Lance and Ashley became official housemates on April 15, because they will be able to watch their budding relationship on primetime TV.
What the fans didn't know, however, is that AshLance may not last as long as they hoped. The episode aired on Monday, April 22, showed how Lance has started to keep his distance from the charming Australian girl.
NEW GIRL.
Fans were disappointed to find out that Lance developed a crush on a new girl the minute he stepped into the PBB house. There he saw Angela, who entered the house a week before him.
Lance confessed to Big Brother in the confession room that he thought the 17-year-old dancer from Bataan was pretty.
Then on April 16, Lance's second day in the PBB house, he told Ashley that they should stay as friends.
"I'm gonna propose something," Lance began. "It's okay to be friends, like that. Tapos okay naman din basta we know how we feel for each other."
Ashley agreed. "Feelings are there but stay as friends, always."
Lance told Ashley this because he was also developing feelings for Angela. In one conversation with Shoichi Oka, he admitted he already likes this new girl, but he doesn't want to start the pursuit to keep the peace in the house. He doesn't want tension between Ashley and Angela. Plus Mich, who had a crush on Angela before he entered the picture, was his friend.
Lance was also quick to clarify that the feelings between him and Ashley weren't that intense. He said he didn't admire her highly. "Three out of 10," was how he rated it.
OTHER PARTIES.
Angela, meanwhile, was well aware of what Lance was feeling because her fellow housemates already told her about it. But she wants to hear it straight from Lance so she can be sure.
In a conversation with Yen Quirante, she admitted that she likes Lance but she is confused because Lance keeps talking to Ashley. "Nalilito naman ako kay Lance sa pinapakita niya sa akin," she said.
Angela also admitted to Big Brother in the confession room that she might have a crush on him even before PBB Otso started. They connected to each other through social media after seeing each other in the auditions.
On the other side of the coin was Mich, who encouraged Lance to go with Angela. Mich knew Angela will not reciprocate his attraction to her. "Since you arrived talaga, wala na ko," he said to Lance.
ASHLEY SPEAKS.
Ashley expressed her annoyance by how her fellow housemates have been handling the whole issue. She hated that the housemates kept on joking about her tumultuous connection to Lance and Angela.
She told Big Brother in the confession room, "The other housemates would always tease me and Angela just like we're competing over one boy. That's what it looks like. I know it wasn't right and I was getting very annoyed with that."
She also had to explain how she feels to Big Brother. "I don't know how Lance feels about me. That's what I'm wondering. Like Angela has her mindset on Lance, Lance has his mind set on Angela. It's hard to explain."

Ashley said she does not feel pain due to the situation. "I'm not hurt but I feel like I'm just in the sideline. Like I just disappeared all of a sudden from Lance like that. But I'm not hurt over it. I just want to know where I went."
HEART TO HEART.
Ashley and Lance were able to clear the air between them through a conversation that took place in the garden area.
Lance asked Ashley if she still has feelings for him.
Ashley said the feeling never left, and that it's "more than the camp that I expected."

"Heavier than the camp?" Lance asked.
"Yes. It's heavier than the camp," Ashley answered.
Then Lance clarified how he feels about her. It's just the same with how he feels about Angela.
"What I think of you and Angela is just the same. I just admire you both. That's it," he said.
Ashley took the hint and volunteered to step aside. "I'm just leaving how I feel aside and just letting you and me pass by. You and my feelings for you on the side so you can develop more for Angela."
Lance mimicked her statement. "Ano na lang, I'm just putting my feelings aside for both of you because I don't want any conflicts or any… I just don't want things to get awkward in the house."
NETIZENS REACT.
PBB Otso viewers had negative things to say about Lance's decision to move on from Ashley. Some netizens called him a two-timer and a douchebag.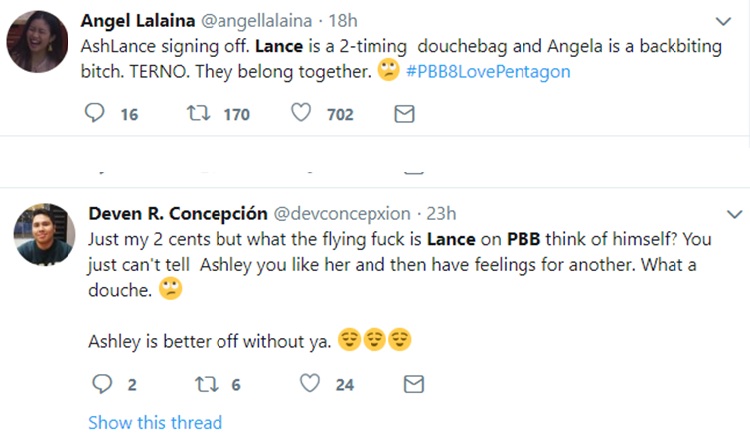 Some called him immature.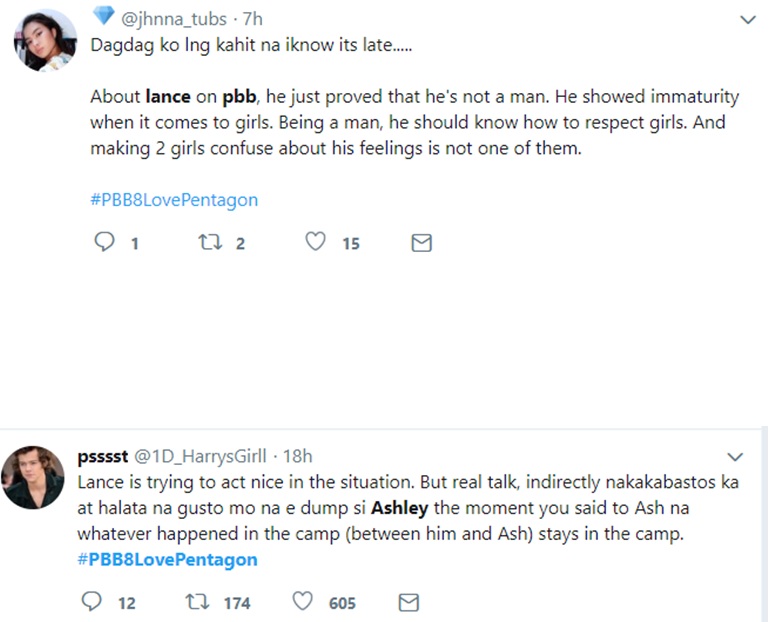 Others blamed ABS-CBN for the fiasco.


Many netizens expressed their support for Ashley.