Idol Philippines judge James Reid defended his decision to say no to a reggae singer in the latest episode of the ABS-CBN singing competition.
In the May 12 episode of Idol Philippines, hopeful Luke Baylon performed a reggae version of Alicia Keys's "If I Ain't Got You."
James and two other judges, Moira dela Torre and Vice Ganda, said no to the singer. For this reason, Luke missed the chance to move forward to the next round.
James told Luke on the Kapamilya show, "Actually, I loved your rendition. It was really fun. I've never heard it like that before. You have a voice, you can sing, it's just lacking a bit with hitting the notes and the timing."
When it was time to give the judges's decision, James was the first to say no.
Explaining his decision, James said, "I think it's not just your time yet. You have a voice, you're talented, you're not just ready. It's a no for me."
Moira, who also said no, pointed out, "It's a no for me, for now. But I want to see you again."
Vice also turned down Luke. The comedian told Luke during his performance, "Hindi ganon kalakas ang dating sa akin, e. It was not extra special."
Regine Velasquez admitted that she enjoyed Luke's performance. She was the only judge to say yes. Regine reasoned out, "I like you and I want you to improve pa. So baunin mo yung yes ko para mabigyan ka ng lakas ng loob to practice more, to improve your craft more."
The decision of the three judges drew flak among netizens. Viewers bashed James, Moira, and Vice Ganda and questioned their capability of serving as judges on Idol Philippines.
JAMES REID EXPLAINS DECISION
On Twitter today, May 16, James explained his decision to say no to Luke.
He wrote, "Like I said, Luke Baylon is a good singer but we're looking for the total package. Wait till you see the 12 finalists. You'll see why I said he wasn't ready. For now, I wish Luke all the success is his music career. That rendition of If I Ain't Got You was sick."
In his next tweet, James admitted how hard it is to be one of the judges of Idol Philippines, especially since people are placing their hopes on them to help them achieve their dreams.
The 26-year-old actor/singer/album producer wrote, "You have no idea how hard it is to crush peoples dreams right in front of them. That's the burden we carry as judges to try and give one special person a chance of a lifetime. Just wait. The auditions isn't even the hardest part. #IdolPhilippines"
Some of James's followers replied to the tweet and expressed their support for his decision.
OPM SINGERS REACT TO REJECTION OF LUKE BAYLON
Other singers reacted to the fact that Luke Baylon did not pass the Idol Philippines auditions.
First was Juan Karlos "JK" Labajo, who took to his Instagram stories on Monday, May 13, to express his disappointment over Luke's fate in the competition.
He wrote, "it's a yes for me. i'm not even gonna argue with the other judges. it's easy to fix flats and sharps and such imperfections but it's not that easy to find soul. kakagigil."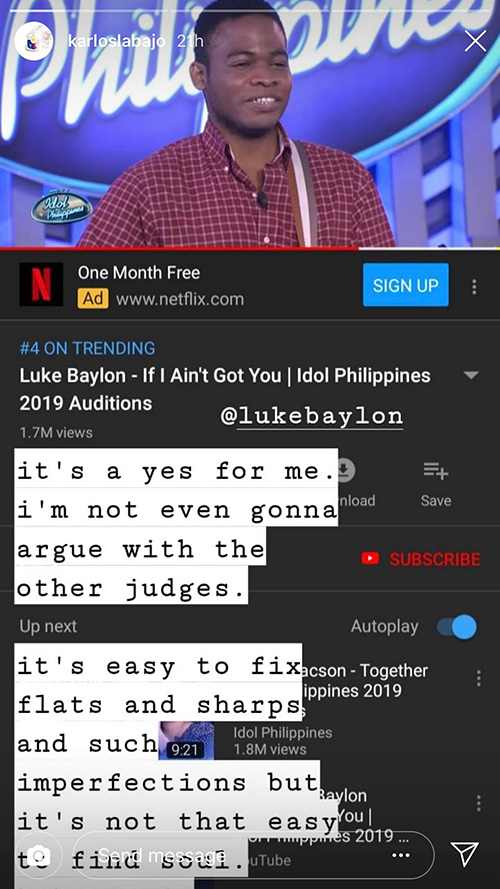 In his next Instagram story, JK found out that Luke also did a cover of his hit song, "Buwan."
He said in his caption, "i just found out that the guy who got rejected at idol ph is the same guy who did an amazing reggae version of my song buwan.
"HUGE shame on the other 'judges' for not seeing this guy's potential. what a shame. such a shame. i'm ashamed."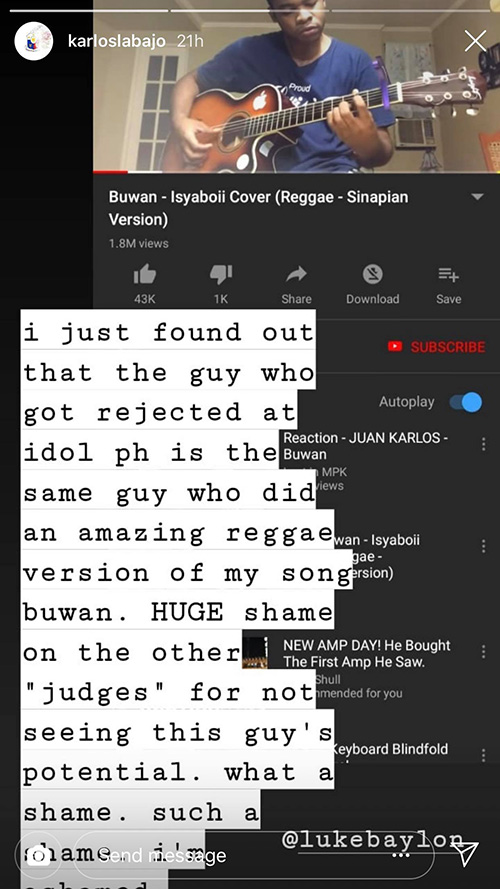 On May 13, singer Quest also voiced out his opinion about the decision of the Idol PH judges.
He wrote on his Twitter account, "Saw the entire Luke Baylon audition. Im guessing 3 judged performance and 1 saw potential. Every contestant has the chance to grow and evolve through the competition and thats what 1 judge saw. Yes, the audition could be better but his range and voice quality is really good. Magkakaiba panlasa nila sa music. Respetuhin natin yun. But I dont want to miss the opportunity to see Luke soar. So I wanna help him if he's okay with it."
The May 5 episode of Idol Philippines also became viral on social media when Regine Velasquez and Moira dela Torre expressed clashing opinions over the performance of Idol hopefuls who have an "airy" singing style, similar to other performers.
Regine felt frustrated that contestants have "the same sound." Meanwhile, Moira defended the contestant by saying that the present generation prefer this musical style.