The first set of nominees in Batch 4 of PBB Otso were announced in the June 2 episode of ABS-CBN's reality show.
They are Jamie Salenga, Sky Quizon, and Mae Alfante. All three adult Pinoy Big Brother Otso housemates received the most nomination points from their fellow housemates.
Jamie received 13 points, the highest out of all the housemates. She got them from Sky, Mae, Gino Roque, Banjo Dangalan, Hasna Cabral, Kiara Takahashi, Diana Mackie, and Franki Russell. They nominated her because she was a liability in the past weekly task.
In the weekly task, the housemates were only given 80,000 seconds of sleep for the whole week. Jamie was assigned as a leader of this task, along with Argel Saycon.
In the beginning of the task, however, it was Jamie who first depleted their time. She was unable to fight off sleepiness and nodded off for a few seconds.
The rest of the week was no different. Jamie works as a call center agent who is used to night shifts, but her fellow housemates had to watch her because she nodded off to sleep easily.
Thankfully, the housemates still won their weekly task because other housemates took the leadership position from Jamie. A lot of the work can be credited to Sky, who came up with a lot of plans for their predicament. He decided how much sleep they can have every night, and he also came up with the solution to use candies to count time at that moment when Big Brother hid the timer from them.
Unfortunately, Sky's eagerness to lead landed him in the list of nominations. He got a total of five points from Akie Poblete, Jamie, and Argel. Akie found his leadership too intense. Jamie felt he did not consider her opinions, even if she was the real leader. This nomination was a surprise, because Jamie assured Sky multiple times that she is okay that he took over.
Argel, meanwhile, nominated Sky because he thought he's a threat to win. Argel also gave the same reason when he nominated Gino, who became close to Sky during the task.
GINSKY INSIDE PBB OTSO
Sky and Gino were seen as the brains of the PBB house, and they came up with ways to defeat Big Brother. The two boys hit it off in the house because they have a lot in common. Both are notable in their own right: Sky, a summa cum laude from the University of the Philippines, and Gino, a succcesful businessman.
Since the two have similar interests, they grew close and even started sleeping together in the same bed. Viewers quickly saw a bromance brewing between the two. They even coined the term #GinSky for the two friends.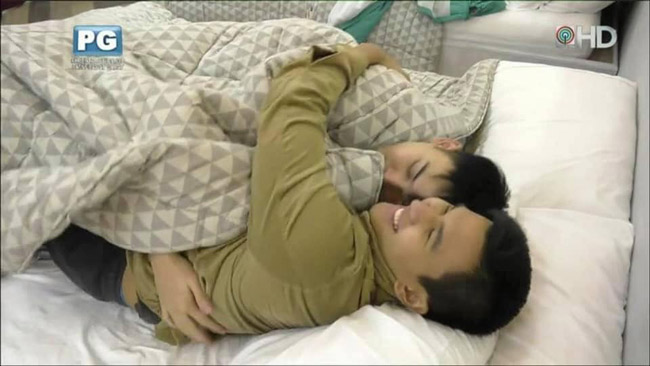 The last nominee was Mae, who received 10 nomination points from Gino, Akie, Banjo, Hasna, Kiara, Diana, and Wealand Ferrer. She was nominated because she prefered to sit alone in the house, instead of trying to converse with people.
In a conversation with Sky, Mae admitted that she would rather observe people than speak to them. Sky advised the 22-year-old dancer from Davao to build connections with her fellow housemates.
Three other housemates received nomination points, but these were not enough to get them officially nominated.
Banjo received a total four nomination points from Wealand, Jamie, and Franki. They called him out for his actions that make the girls feel awkward, like smelling the hair of the girls in the house. Jamie called him "bastos."
Franki garnered a total of three points from Sky and Mae. They believed she was the weakest in the task.
And lastly, Gino got one point from Argel, as mentioned above.