ABS-CBN's Ang Probinsyano is being bashed for the rape scene of two policewomen aired during its July 15, 2019 episode.
The character of Baron Geisler named Bungo led the criminal syndicate that carried out this heinous crime against two female cops.
Baron's character Bungo brought one of the female officers to an isolated room where he planned to sexually abuse her. The other members of the syndicate chanted to the tune of a wedding song in order to set the mood for their "honeymoon."
The remaining policewoman was pinned down by gang members while the other criminals lined up to rape her.
Coco Martin's character, Cardo Dalisay, then arrives along with operatives of the Philippine National Police – Criminal Investigation and Detection Group and Task Force Agila in order to rescue the policewomen.

The Philippine National Police (PNP) used its Twitter account to announce that they are already looking into this controversial scene.
@PNPhotline posted: "We are already looking into this if there is a violation specially the picture depicted in the scene is a police officer wearing PNP uniform and sadly, a "lady" officer."
Watch the controversial Ang Probinsyano rape scene here:
Netizens criticized the controversial episode, which used the hashtag #FPJAP3Atake.
Twitter user @speedystevie8 posted a clip of Baron harassing female cops and wrote in the caption: "#Angprobinsyano seems a bit too violent for prime time. Hope they be reminded there are a lot of young viewers at its time slot. #notoviolenceonprimetime #toomuchdepiction #mtrcb"
@Bluemoon5303 also expressed concern at the airing of a rape scene on the prime-time block and called upon the Movie and Television Review and Classification Board (MTRCB) to take action.
"Rape scenes of policewomen at 8:15 pm. I know it's SPG but isn't this something to look into @MTRCBgov ? #FPJAP3Atake"
The Facebook page of AngProbinsyanoABSCBN2 uploaded the teaser and in the comments section, netizens expressed their anger at the violence shown in episode.
One netizen asked for sensitivity in depicting rape onscreen:
"rape is a sensitive case nakakababa ng moralidad bilang lalaki at babae ang episodes niyo k baron geisler sana naging sensitive rin kayo sa mga rape victims no wonder kung sooner or later unti unti ng bababa ang ratings niyo"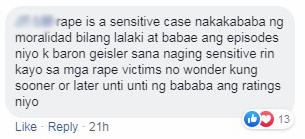 One netizen, who seems to be a member of the PNP, called the Ang Probinsyano episode a "blatant disrespect" to the police uniform.
"Your network's latest episode of Ang Probinsyano is a blatant disrespect of our Uniform. Shame on you ABSCBN"