Meeting Chinese actor Dylan Wang had hundreds of his Filipino fans feeling kilig over the rare opportunity to see their idol in the flesh.
Dylan, 20, rose to popularity after portraying the role of Dao Ming Si in the 2018 remake of the hit drama series Meteor Garden.
The actor's fans lined up early last Saturday, June 20, for his first-ever meet and greet event in the Philippines made possible by Bench. The event was held at the Araneta Coliseum in Quezon City.
But before the show, Dylan had a quick chat with select members of the press at Bench Cafe in Bonifacio Global City.
Dylan expressed his gratitude for the warm reception from his Filipino fans.
With the help of a translator, he said, "Just like the weather, the Filipino people are very warm.
"I was welcomed very warmly and I like the Filipino people. I'm very excited to be here."
Dylan is fairly new to the entertainment industry but the Chinese actor has already gained a huge following around the world, especially in the Philippines.
The Meteor Garden star revealed, "I wasn't expecting that I have a large fan base in the Philippines because when I check online, I still have to use VPN in order to search my fanbase.
"But when I checked Weibo, I was surprised to know that I have a huge following in the Philippines."
For those who don't know, VPN or virtual private network enables users to create a secure connection over a less-secure network on the Internet and is commonly used to access region-restricted websites. Weibo, on the other hand, is often referred to as "Twitter of China."
Dylan later added, "I'm very overwhelmed 'cause I have a lot of supporters here, even far away from China, I have a lot of supporters.
"I will do my best to portray all my future roles in order for you guys to be happy."
Asked what he enjoys most about his work, the actor said, "The best part of my job is that every day is a new day, there's no same thing happening.
"I'm so happy to get to meet new people each time I work."
If it wasn't for Meteor Garden, Dylan would be on a different career path.
He shared, "If I'm not an actor, I'd probably be an air steward 'cause that was my course in college."
Before joining the entertainment scene, Dylan worked as flight attendant and became a poster model for admission at Sichuan Southwest College of Civil Aviation.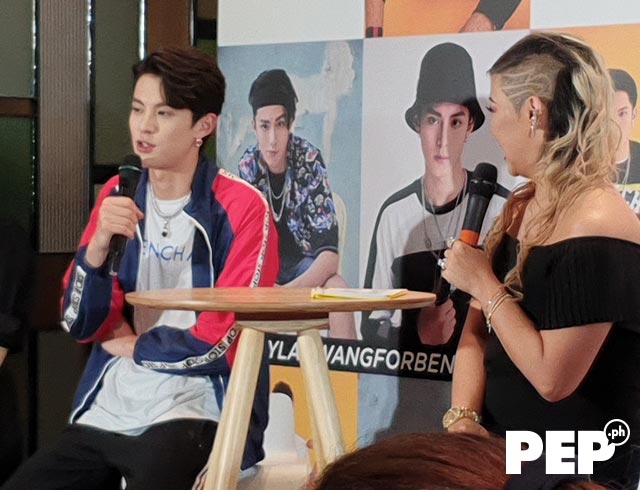 DYLAN WANG ON THE METEOR GARDEN REMAKE
Members of the press asked Dylan about Meteor Garden and his future projects.
In his interview, Dylan said he tried not to copy Jerry Yan's acting style and created his own version of Dao Ming Si.
Jerry, who also became a Bench endorser, portrayed the lead character in the original Meteor Garden that aired in 2001.
Dylan said, "Generally, when I was acting as Dao Ming Si, it's all very the same. But I added my own style and flavor to it.
"I also tried not to copy him [Jerry Yan] too much because I was doing my best to interpret the role on my own."
When asked if there are any similarities between him and Dao Ming Si, Dylan admitted, "For me, personally, I think we're similar in the sense that we're a bit immature and a bit playful.
"Those are the personalities that both of us are similar."
While Dylan also sings and takes on modeling jobs in China, he prefers acting.
The former flight attendant explained, "I really like acting 'cause I get to portray different roles.
"And since this is my line of work, I'm really passionate about acting and I want improve more on my craft."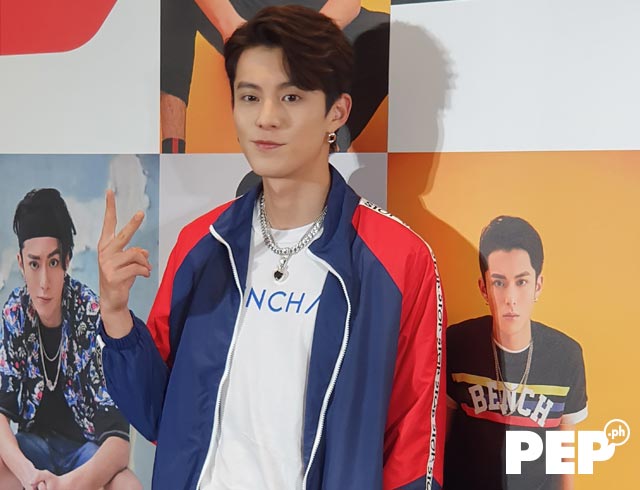 Does he have a dream role?
Dylan answered, "I don't have a specific dream role to play but I'm focusing on more unique roles."
Dylan is now gearing up for the release of his newest drama series Ever Night 2. He replaced fellow Chinese star Arthur Chen as Ning Que in the series.
When asked to describe his role, Dylan narrated, "My role in this series is a bit different. My character evolves from start to finish.
"I'm portraying someone who is hard-headed and the character will do everything to protect his family in the series.
"Just watch the show to see how I performed this one."