After eight years since he made his debut in the entertainment industry, South Korean superstar Park Seo Joon finally made his way to Manila.
The 30-year-old actor arrived in the country on Friday morning, September 27, ahead of his fan meet for Bench this Sunday, September 29, at the SM Mall of Asia Arena in Pasay City.
Members of the press including PEP.ph (Philippine Entertainment Portal) got to know more about the Korean actor at a press conference hosted by Sam Oh held on Saturday, September 28, at the Rigodon Ballroom of the Manila Peninsula Hotel in Makati City.
Sam asked Seo Joon if he was already aware that he has a huge fan base in the Philippines prior to his first visit to Manila.
The actor said he already knew he had some fans in the country through social media. As translated by Sam, he said, "I was aware that I have some fans in the Philippines. But I have no idea how much of a following I really had.
"It was really when I was asked to be a Global Benchsetter for Bench that I thought, 'Oh, they're asking me to be an endorser for a brand there... I must have a sizable following in the Philippines.'"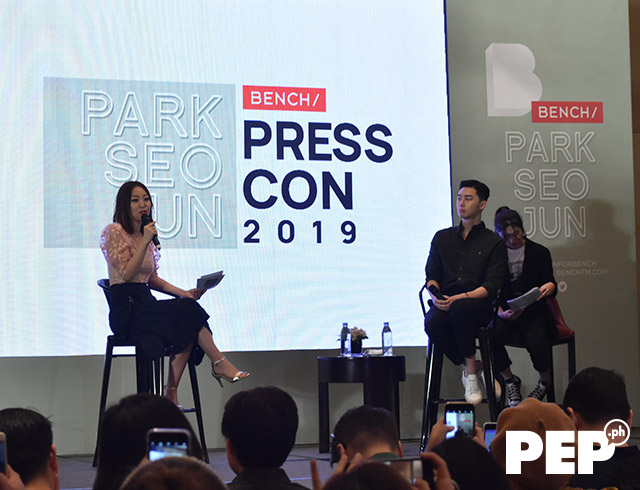 Seo Joon expressed how grateful he is to finally come to the Philippines and meet his fans.
He said, "I am so honored to be brought to the Philippines by a brand such as Bench. I work in Korea but I don't get many opportunities to go abroad and work in this capacity.
"So I'm very happy to be able to do that, plus the fact that get to know more about a country like the Philippines through work opportunities like this.
"I hope, in the future, I can have more work opportunities like this and meet the fans abroad."
Was he able to meet new people and explore the city since he arrived a few days ahead of his fan meet this Sunday?
Seo Joon answered, "Prior to coming to Manila, I was very busy filming in Seoul and I only had a vague idea of what my schedule was gonna be like once I landed.
"I took a morning flight and I didn't know what was gonna happen when I arrived. I did not really know what was gonna happen and I didn't have an idea that I'll have some time prior to the events for Bench.
"I got to look around a little bit in this area. I didn't get to meet a ton of people but I did meet Ben Chan... I'm delighted with everyone that I met, but I want to meet more people."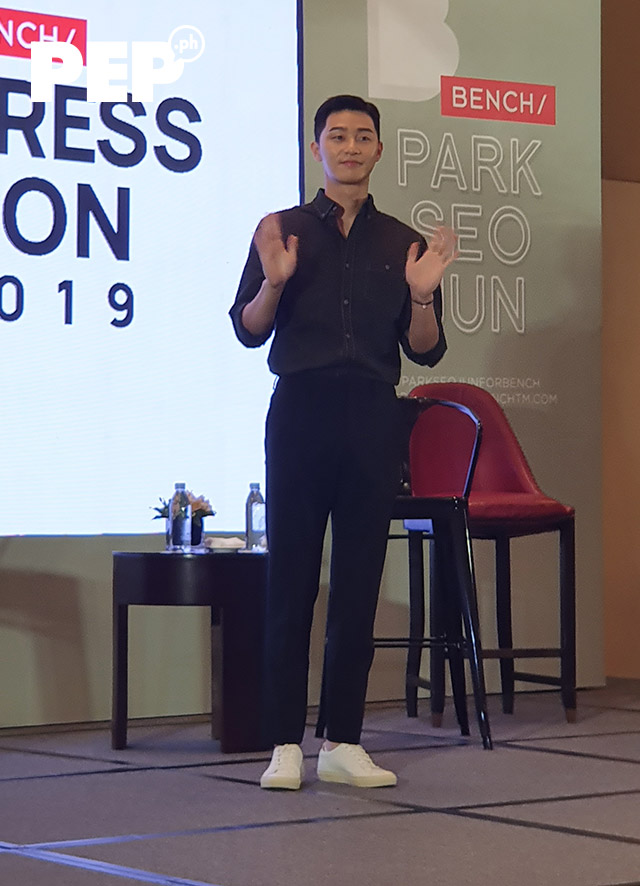 A member of the press also asked Seo Joon which places he would like to visit if given the chance, but the actor said he looks forward to doing more work in the country than just going for a vacation.
He said, "I have thought about going on a tour or sightseeing or something like that but more than that, I think, the general vibe that I get is... You know, acting is a craft that doesn't really need language.
"We can cross barriers with a craft like acting. More than the leisurely activities, I thought that this would be a good place for me to come back.
"I'm here with Bench but it made me think of other work opportunities, and how I'd like to come back and do more work here."
PARK SEO JOON'S K-DRAMAS
Seo Joon was also asked about his previous projects during the press conference.
The Korean actor rose to fame after starring in several hit dramas including Kill Me, Heal Me (2015), She Was Pretty (2015), Hwarang: The Poet Warrior Youth (2016), Fight for My Way (2017), and What's Wrong with Secretary Kim (2018).
Seo Joon said the character he played in Fight for My Way was the most challenging. In this series, he played the role of Ko Dong Man, a former Taekwondo athlete turned mixed martial arts fighter.
He explained, "It wasn't so much the acting part that was challenging. But obviously, there were a lot of physicalities involved. So there was a lot of training to do, there was a lot of preparation physically, so that was challenging."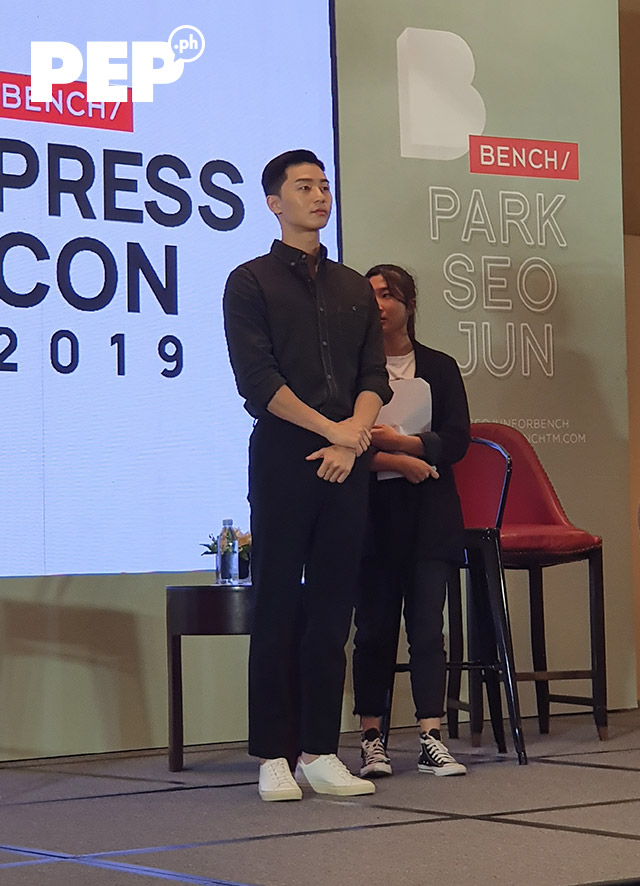 With the success of his projects, some fans dubbed him the "Ryan Gosling of Asia." Asked how he felt about the comparison, Seo Joon admits to being a fan of the Hollywood actor but prefers to make a name for himself.
Seo Joon further explained, "I am actually a fan of Ryan Gosling. I watched his work, I enjoyed his work. And I'm very flattered that people will compare me to Ryan Gosling.
"But I hope in the future, I will not be dubbed as 'Asia's anything.' I would like to make myself known as the person that I am.
"And so I will work harder on projects so that I can put more of myself out there but I'm absolutely honored that people compare me to Ryan Gosling."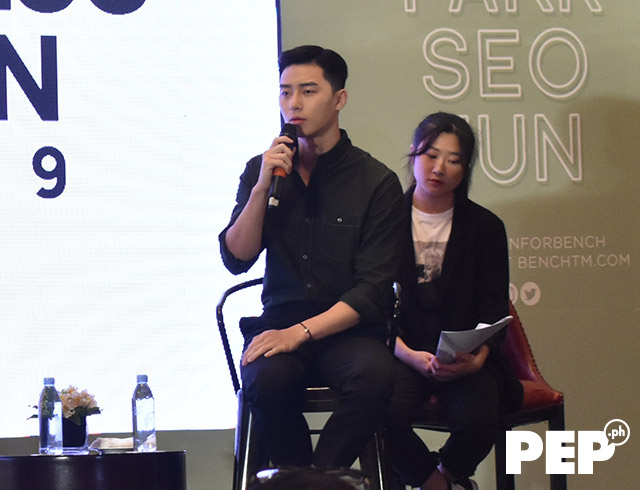 Seo Joon was also asked about his dream role during the presscon but the actor gave a teaser of what his fans can expect on his next project instead. Currently, Seo Joon is filming for a series titled Itaewon Class, which will air in the coming year.
"I'm currently filming a project right and... it's a project which requires me to portray one character from high school until he's 35 years old.
"This character seems a little hard from the outside but he's actually... he's not a chatty, outwardly warm character but he's actually secretly warm inside.
"So this is a very interesting character that I'm really excited about portraying.
"I personally feel that this character could be very reassuring to the youth in Korea today. A lot of young people in Korea are struggling right now with problems with getting jobs, and all kinds of things that there is in life.
"I feel like this ill be a source of comfort for the young people who will be watching."