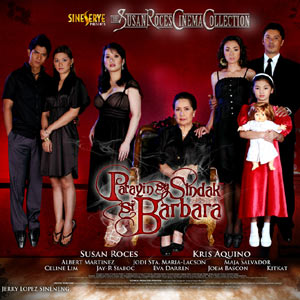 ---

Some of the most respected and most celebratedactresses will join forces to frighten viewers in 2008. Known as the "Queen ofPhilippine Movies," Ms. Susan Roces will play Amanda in the first installmentof ABS-CBN Sineserye Presents: The Susan Roces Cinema Collection—Patayin saSindak si Barbara.
She will be joined by Kris Aquino, the"Box Office Horror Queen" who plays her daughter Barbara, and talented actressJodi Sta. Maria-Lacson as Ruth. Other cast members are actress Maja Salvador asAgnes and young child star Celine Lim as Karen. Also joining them is Chelsea,the doll wherein the spirit of Ruth lives. She is seen as the newest horroricon today, like Lotus Feet in the movie Feng Shui.


The working relationship of the five women is superb. Every time they have ataping, it's like they're on a picnic since Susan Roces and Kris Aquinoalways make it a point to bring lots of food. The staff and crew enjoy themselves so much, they don't seem to be working either.

Susan Roces also initiates storytelling time during the tapings, from herexperiences in life to her golden years in the film industry, to backgroundinformation on the original 1974 Patayin sa Sindak film wherein sheplayed the role of Barbara. For herco-actresses and the crew, it's an honor and privilege that oneof the original cast members is in their midst. The 1974 film wasdirected by Celso Ad Castillo and had a movie remake in 1995 starring LornaTolentino.


In an interview with Maja Salvador, the young lady only had good things toshare about her co-actresses. According to her, she was surprised that she waschosen to work with the two veteran and respected actresses. Even thoughsometimes she feels shy and intimidated by Ms. Susan and Kris, especially in their scenestogether, they don't make her feel uncomfortable. Maja is paired withformer Pinoy Dream Academy scholar Jay-R Siaboc as he plays thecharacter of Dale.


Jodi Sta. Maria-Lacson, too, had only positive things to share about her workingexperience with Ms. Susan and Kris. Jodi narrated that she underwent lots ofworkshops and make-up tests before they achieved the color and look of eachcharacter. Jodi's role as Ruth is very effective and should be something tolook out for. She is the sister of Barbara (Kris) who is seeking revenge forher untimely death.
ADVERTISEMENT - CONTINUE READING BELOW
Even at a young age, Celine Lim has alreadyimpressed everyone, especially their director because of her acting talentand willingness to learn.
With the collective talent of these five actresses, you can be assured of scary thrills for three weeks right in your home. Get readyfor the women who will terrify you starting this Monday, January 7, during thepremiere of
Patayin sa Sindak si Barbara
on ABS-CBN's Primetime Bida.