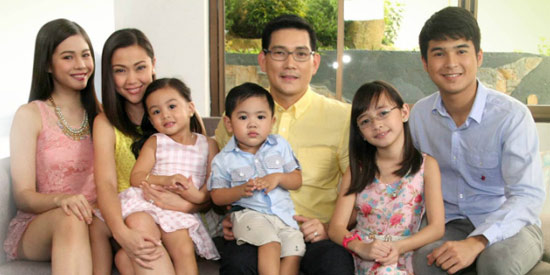 ---

ABS-CBN's daytime teleserye Be Careful of My Heart will end this Friday, November 28.


Starring Jodi Sta. Maria and Richard Yap, this TV series took viewers on a journey filled with laughter and tears during its run spanning two years. It used to top the ratings charts as the leading daytime program in the Philippines for months until lately, according to Kantar Media.


Originally slated for a one-season run, this Kapamilya teleserye directed by Jeffrey Jeturian and Mervyn Brondial has been airing since July 9, 2012.


It revolves around Maya dela Rosa (Jodi Sta. Maria), a barrio lass who dreams of becoming a flight attendant, and her love story with Richard Lim (Richard Yap), a widowed businessman. He has three children (played by Mutya Orquia, Janella Salvador and Jerome Ponce).


For the past two years, viewers have seen how Maya transformed from being a yaya for the Lim family to becoming a flight stewardess to being the love interest of Sir Chief. Fans have followed the love story of the couple who have gotten married, welcomed twins, and adjusted to a family life riddled with challenges.


Last July, the cast members celebrated their second anniversary on air with a grand concert dubbed I HEART YOU 2! The Be Careful With My Heart Anniversary Thanksgiving. This grand concert at the Araneta Coliseum served as a culmination of sorts of their world tour in the past months.


(View photos: Richard Yap steals kiss from Jodi Sta. Maria during Be Careful With My Heart concert)


The finale episode on November 28 is being tagged by the Kapamilya Network as "Global Kapit-Bisig Day" as the airing of the series simultaneously ends in the Philippines and on The Filipino Channel (TFC) website.

ADVERTISEMENT - CONTINUE READING BELOW
Be Careful of My Heart contributed to pop culture through the show's well-known phrase "Kapit-Bisig!" It also caused social media buzz as netizens reacted to Maya and Ser Chief's kilig and heartwarming moments, prompting hashtags about the show to become Trending Topics on Twitter.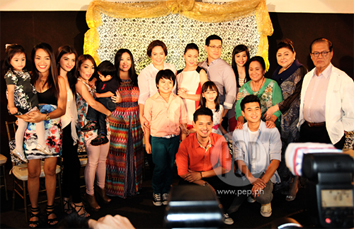 (View gallery: What's next for the cast members of Be Careful With My Heart)


Before the series ends, PEP.ph lists some of the memorable moments from the long-running daytime teleserye.
ABBY'S FIRST WORDS
The youngest, Abby (Mutya Orquia), had a difficult time expressing herself and she stopped talking after her mother died. Maya, who became really close to the child, helped Abby open up. Eventually, the youngest child of Ser Chief uttered the words, "Good night, daddy" and "I talk daddy."
FIRST KISS
Ser Chief gave Maya a "good night" kiss. The kiss happened after the two attended the Junior-Senior Prom Night of Luke (Jerome Ponce) and Nikki (Janella Salvador).The surprised Maya couldn't say a word and could only stare in kilig at Ser Chief's sudden gesture.
ADVERTISEMENT - CONTINUE READING BELOW
KUTE TELLS THE TRUTH ABOUT CHO'S FATHER
After hesitating for a while, to the point where Kute even called Maya for support, Kute finally had the courage to tell Cho who will complete their family. Jeff (Tom Rodriguez) confessed to the child, "Cho, ako ang tatay mo."
FIRST DATE
Maya admitted that although things didn't go the way they've planned, she was still more than happy to see Ser Chief eat "balut" by the bay during their first date.
THE PROPOSAL
Ser Chief invited Maya to a "dinner meeting" onboard a cruise ship. She sees a special deck where a romantic dinner for two was set up. Little did she know that her "prince charming" had been planning all along to propose that night. After asking a few times, Maya gave Ser Chief her sweet "yes."
MAMANG DIES
Divina Valencia, who plays the role of Mamang (the grandmother of Maya), died after Sir Chief's "pamamanhikan." Mamang dies a peaceful death in her slumber.
ADVERTISEMENT - CONTINUE READING BELOW
LITO PIMENTEL ENTERS THE SCENE

Maya becomes emotional after meeting her father, telling him about the life they had after he left them for another woman. Arturo asks for Maya's forgiveness, saying that he wanted to return to their family but couldn't because of his misdeed.
Maya confessed how much she wanted his father to return home once and for all, and finally accepts his apology.


However, for Kute (played by Aiza Seguerra), forgiving her father was an emotional ordeal for her.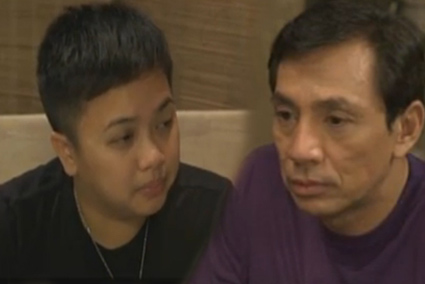 Lito Pimentel portrays Arturo, Maya's father and husband of Teresita (played by Sylvia Sanchez).
WEDDING DAY
Ser Chief and Maya exchanged their vows at the Basilica de San Martin de Tours in Taal, Batangas. Their wedding was said to be so close to reality that the couple had a counseling session, a pre-nup pictorial and an AVP shoot. They even had a "same day edit" wedding video and a reception that was attended by top ABS-CBN executives.
ADVERTISEMENT - CONTINUE READING BELOW
(Read more here: http://www.pep.ph/guide/tv/12876/richard-yap-and-jodi-sta-maria39s-characters-exchange-wedding-vows-seal-their-love-with-three-kisses)
HONEYMOON
Maya felt uneasy thinking that Ser Chief was mad at her for ruining their honeymoon in Japan. He then assured her that he was worried rather than angry. Ser Chief then told Maya that their honeymoon day is the third best thing that happened in his life; first is when she said "yes," second is when they got married.
SUNSHINE AND SKY
On Labor Day (May 1), Maya goes into labor for the arrival of their "baby kambal." Ser Chief (whom Maya now calls by his first name Ricky) tells his wife about his recent dream. Maya almost fell asleep while Ricky narrated the events that happened in his dream. She was awakened by the twins' presence.
Ser Chief and Maya named the twins Sunshine and Sky.
TWINS' BAPTISMAL
During the twins' baptismal, the priest said "gaya ng pangalan nila, kasing laki ng kalawakan ang pagmamahal nila sa pamilya at ang saya na ibibigay nila sa lahat ay kasing liwang at init ng sikat ng araw."


ADVERTISEMENT - CONTINUE READING BELOW
KATHNIEL BRINGS BACK MAGIC OF FIRST LOVE


The KathNiel loveteam added spice to the series as they portrayed the younger version of Manang Fe and Anastacio Alejo (played by Gloria Sevilla and Carlos Salazar, shown above).
Manang Fe and Anastacio's throwback story takes place 48 years ago when the two first fell in love. Their younger versions were portrayed by Daniel Padilla and Kathryn Bernardo.



PEPsters, what were your favorite moments from Be Careful With My Heart? Share your thoughts in the comments section below.