When Netflix released the second season of Kingdom, netizens were quick to point out the striking similarities between the Korean period zombie thriller and the coronavirus (COVID-19) pandemic that is gripping the world.
According to Business Insider, there are now over over 153,000 cases of coronavirus (COVID-19) in over 141 countries as of March 14, 2020. The outbreak has been declared by the World Health Organization (WHO) as a Public Health Emergency of International Concern.
Kingdom is Netflix's first South Korean original series that premiered on January 25, 2019. It's second season premiered on March 13, 2020.
Incidentally, Philipine President Rodrigo Duterte announced that he was placing Metro Manila under community quarantine a day before Kingdom Season 2 was released by Netflix.
Set in the Joseon dynasty in the 17th century, Kingdom tells the story of Crown Prince Lee Chang (Ju Ji-hoon) who finds his kingdom plagued by corruption and famine.
The Crown Prince is accused of treason and he flees the palace after being forbidden from seeing his father. The heir apparent to the throne sets out on a journey to find a cure for his father's mysterious illness.
Lee Chang then ends up investigating an outbreak caused by a zombie virus.
Amidst this zombie invasion, the Crown Prince also has to deal with a political takeover. He has to guard against Prime Minister Cho Hak Ju (Ryu Seung Ryung)—and father to the Queen (Kim Hye Jun)—who is determined to seize power by any means necessary.
Will there be a Kingdom Season 3?
According to decider.com, it's too soon to say because Netflix has not yet made any announcements regarding Kingdom.
Netflix is considered to be the world's largest subscription streaming service with around 158 million subscribers in 2019.
Given the strong interest in the show, Netflix greenlit Season 2 of Kingdom before Season 1 even premiered on January 25, 2019.
Here are some tweets of netizens who see parallels between Netflix's Kingdom and the ongoing COVID-19 crisis:



#StayTheFuckHome #Kingdom#COVID pic.twitter.com/6ptcI0UgJd

— Bitcoin Beth ????‍???? [proBTC] (@bitcoin_beth) March 14, 2020
"Slow reacting government, border lockdown, indifference to the poor, and a zombie emperor"
Are we still talking about Netflix's Kingdom or the COVID-19 crisis?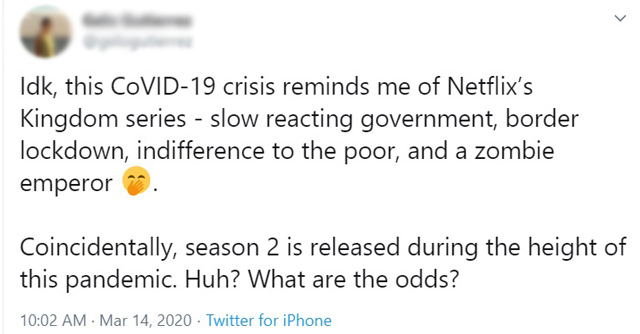 Art imitates life or life imitates art?
A netizen draws parallels between the the K-drama series and the COVID-19 pandemic: "Season 2 of #Kingdom started with a bang. Rather eerie feeling since we are in a state of national emergency with #COVID &the show is about fleetfooted zombies attacking fearful people who are desperately trying to fight it & find a cure"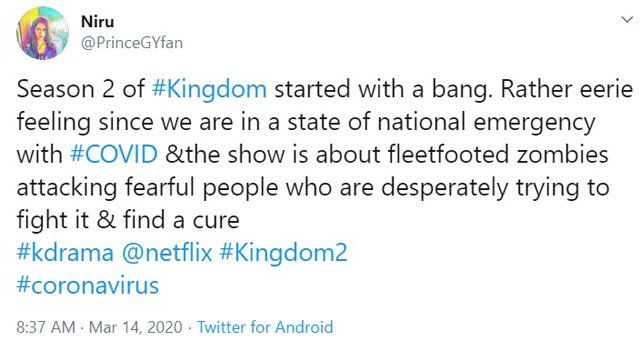 Conspiracy theory anyone?

Can government officials just Netflix and chill?
A netizen pointed out: "May Kingdom Season 2 na!!!!! Very timely series to watch in the midst of this COVID-19 crisis. We might see the parallelism on how govts manage health crisis."

Calling all #hoarders, this tweet is for you: "#Kingdom Season 2 premiers today on Netflix. Very timely with the recent COVID-19 developments. You have a government trying to hide information from the public just to stay in power. You see the rich and the wealthy saving themselves while leaving the poor behind."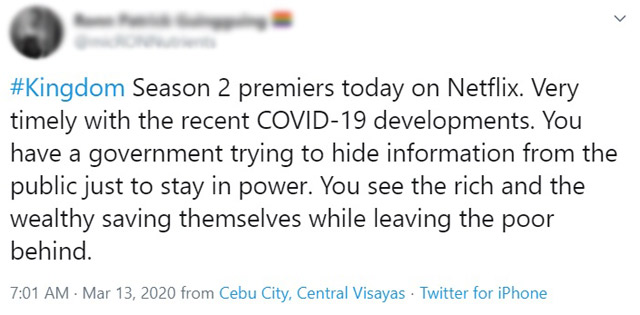 All medical front-liners deserve a salute!
A netizen makes this observation: "You have medical practitioners like Seo-bi (Bae Doona) doing their best to find the cure to the disease. Really love the show's socio-political theme. The divide is clear between the rulers and the elite and the suffering populace. Sounds familiar, right?"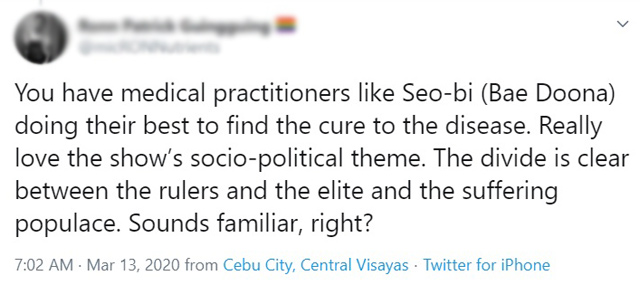 One Twitter user had an overactive imagination because of all these events.
"Kakapanood ko ng Kingdom 2, bigla ko naisip. Pano kaya kung bumangon ulit sa hukay yung mga tinamaan ng Covid? Magpanic-buying na din ba dapat tayo ng artillery at munitions? #ayokonatalagaghorl"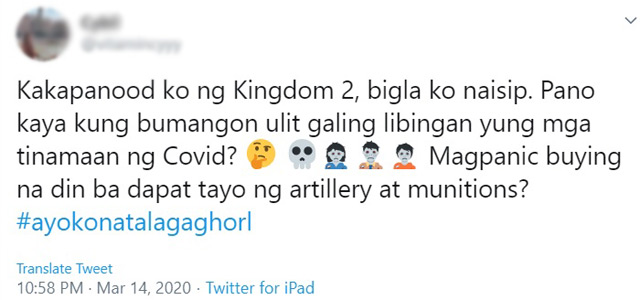 Netflix to the rescue!