It's a given in the broadcasting industry that the focus be on the report itself and not on the person delivering the news.
In interviews, it's a no-no to take the spotlight away from the interviewees.
But sometimes, it happens. Here are the times in Philippine broadcasting when interviewers of newsmakers became the news themselves.
1.
Jessica Soho confronts senator koko pimentel, VICKY MORALES TAKES A STAND
In the March 25, 2020 episode of 24 Oras, Jessica interviewed, via phone patch, Senator Koko Pimentel who was at the time raising public outrage for his breach of quarantine guidelines.
He went with his pregnant wife, Kathryna Yu, to the Makati Medical Center last March 24, at around 6 p.m., when he had already taken the test for the coronavirus disease. Later that evening, Pimentel said he received confirmation he was positive for COVID-19.
The senator was also being criticized, along with other senators, for taking the COVID-19 test despite being asymptomatic, bypassing the requirement that only Persons Under Investigation (PUI) and Persons Under Monitoring (PUM) should be tested ahead, given the sore lack of test kits in the country.
Jessica's interview with the senator focused on the issue of privilege in COVID-19 testing.
Pimentel's answer enraged netizens. "Di ba may 100,000 additional test kits tayo? Pero tingnan niyo naman din kami. Pagka negative kami, bina-bash. Pagka positive naman kami, bina-bash pa din. So, sa example ko siguro shows na kailangan din pong magpa-test ang mga senador natin kasi ang iba din sa kanila nagkakasakit din talaga."
Netizens were angered by the senator not directly addressing the issue, and were impressed by the Kapuso star reporter for asking the right question.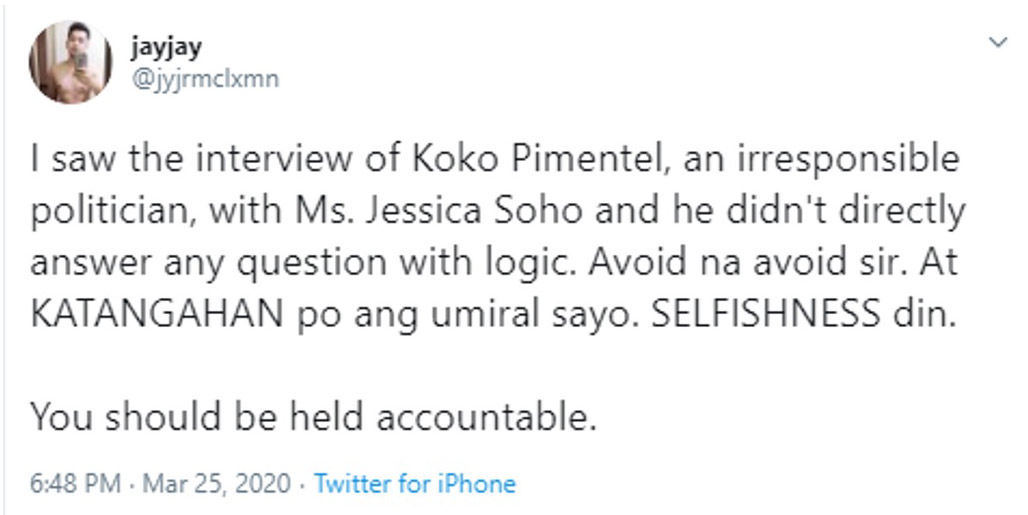 In the same 24 Oras episode, Vicky Morales interviewed Dr. Bong Javier, the director of Makati Medical Center, about MMC's statement decrying Senator Pimentel's disregard of quarantine rules, which the statement said directly put the hospital in harm's way.
During the interview, as the doctor recalled the incident with Senator Pimentel, the broadcaster's facial expression showed visible frustration.
Netizens liked that Vicky showed where she stood about the senator's behavior through that facial expression.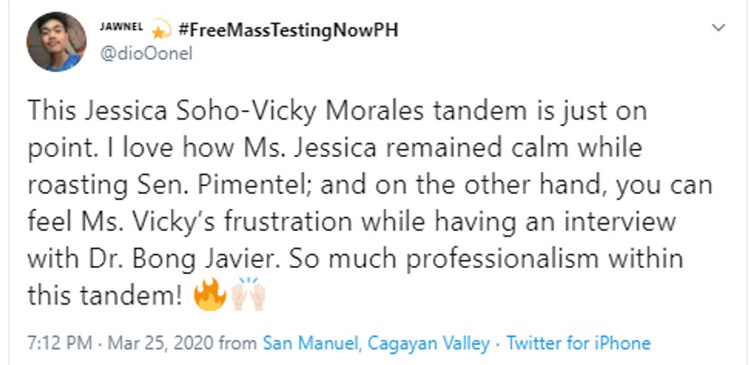 2.
Atom Araullo questions cynthia villar on women's rights
Atom Araullo, another 24 Oras anchor, received praises from netizens for his interview with Senator Cynthia Villar about women's rights, which aired in September 2019.
In the interview, the newscaster asked the politician and real estate tycoon for her reaction to President Rodrigo Duterte's cavalier remarks about women.
The senator dismissed the issue, saying, "He was elected President at 71. By that time, miski ako, I will not be changing my ways at 71, di ba?"
Atom pressed on about the President's possibly sexist attitude toward women.
Cynthia Villar, who is in contention with Senator Manny Pacquiao as the richest among the sitting senators, remarked, "Hindi ko nae-experience. Si President lang naman makaka-joke ng ganun. Other men will not do that."

Her dismissive answers enraged netizens.
Let's talk about Cynthia Villar's lack of empathy & the trending 'men are trash'.

In this video, Cynthia okays Duterte's rape jokes & misogynistic remarks because she doesn't experience them.

So yep, men are trash & so are the people who further empower these men. Magsama sila. pic.twitter.com/knBCFoAetD

— Ash Presto ???? (@sosyolohija) December 11, 2019
4.
Mariz Umali rises above presidential catcalling with poise
In 2016, at the Davao press conference of Rodrigo Duterte, then the newly elected leader of the republic, GMA-7 reporter Mariz Umali found herself at the receiving end of his catcalling.
Although clearly taken aback, Mariz kept her composure, and many netizens saluted her for her professionalism.
Mariz said in an interview, "It may have been improper for a president-elect but, of course, we will continue to do our job, and we are not expecting any apology from him personally."

5.
Karen Davila IS deadpan THROUGHOUT alma moreno'S interview
Here's an interview that went massively viral.
In 2015, Karen Davila interviewed then senatorial candidate Alma Moreno on Headstart, a show on ANC (ABS-CBN News Channel).
Alma's answers to Karen's questions dumbfounded netizens.
On her qualifications, Alma answered: "Siguro yung experience ko bilang legislation."

About the reproductive health law, she said yes but with reservations.
Karen asked Alma to enumerate those reservations.
Alma said with a laugh: "Kailangan pa bang sagutin?"
The Kapamilya news anchor said seriously: "Of course, you're running for the Senate."
Coming from someone aspiring to become a senator, Alma's proposal for family planning must've stunned even Karen: "Kailangan, laging bukas ang ilaw."
Karen earned praise for keeping a straight face throughout the interview.

https://twitter.com/aalibre/status/665890311277707268
6.
Winnie Monsod faces off with mocha uson
Netizens were amused when Winnie Monsod interviewed Mocha Uson for the program Bawal ang Pasaway on GMA News TV in 2017.
The journalist and economist came down hard on the dancer-turned-government official when Mocha said there was no extra-judicial killing in the country because she had never seen it happen with her own eyes.
A netizen headlined her Twitter feed: "Winnie Monsod exercising self control from Mocha Uson's fluency in bullshittery."
7.
Pia Hontiveros puts party-list wannabe in place
In August 2019, CNN anchor Pia Hontiveros interviewed Ronald Cardema, 34, after he was disqualified as a party-list representative.
At the start of the interview, Pia asked Cardema for his age. He said he was 34.
"Thirty-four years old, so you are overaged for someone who wants to represent the youth sector," said Pia matter-of-factly.
Cardema responded by saying, "Yes, yes, ma'am."
Pia came back with, "That's one good point for you. That you're telling the truth about that because the Supreme Court has said kailangan youth representatives must be 25 to 30 years old."
The news anchor then asked Cardema: "If you are neither a youth nor a professional, how can you seek to represent the Duterte Youth party list as a nominee that seeks to represent the youth and professionals?"

Cardema answered, "That's very easy. Because in the interpretation of Comelec [Commission on Elections] and the Supreme Court, as long as you are advocating for the sector, you can represent. Except for the youth sector, which is 25 to 30 years old only.

"We already knew that before when we filed our petition for registration. We filed our petition for registration in May 2018, and nakalagay po dun na youth and young professionals."

Pia responded with, "The Supreme Court also said that, if multi-sectoral, like youth and professionals, kailangan you have to fulfill the requirements for the youth sector, na kailangan 25 to 30 years old."

Cardema insisted, "Hindi po talaga iyon, e."

His response drew this quip from Pia, "Anong hindi? Mas magaling ka pa pala sa Supreme Court. Ganun?"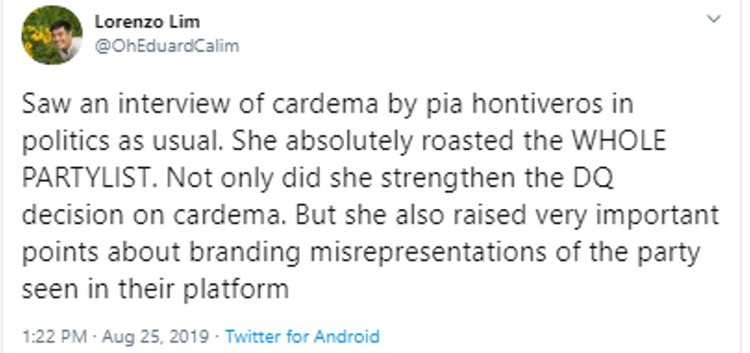 8.

Pinky Webb's persistence IRKS Salvador panelo
On March 16, 2020, the Duterte administration announced that the community quarantine for the National Capital Region was expanded to cover the whole of Luzon.
CNN broadcaster Pinky Webb interviewed Presidential Spokesperson Salvador Panelo about the announcement via phone patch.
Netizens were annoyed that Panelo was giving unclear answers in the interview. Pinky kept pressing the spokesperson to be specific. She was so persistent, Panelo dropped the call.