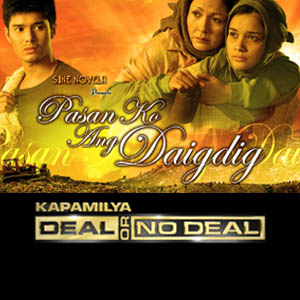 ---
Survey firm AGB Nielsen Philippines has finally fixed itstechnical problems that prevented them from releasing the overnight ratingslast January 9 to 10.
Based on the overnight ratings conducted by AGB Nielsenamong Mega Manila households over the weekend, from January 11 to 13, DaisySiete and Marimar are still the top daytime and primetime programs,respectively.
Two daytime shows ended their run last Friday, Jan. 11—GMA-7's afternoon soap Pasan Ko ang Daigdig and ABS-CBN's game show Kapamilya, Deal or NoDeal. The final episode of Pasan Ko ang Daigdig garnered 20.7 percent rating,which is the second highest among daytime programs, while Kris Aquino's Deal orNo Deal got 15.9 percent to take the No. 5 spot. Deal or No Deal has beenreplaced by the Philippine franchise of Wheel of Fortune, also hosted by Kris, which started earlier tonight.
Eat Bulaga! still rules the noontime slot with 20.6 percent,grabbing the third spot, as rival Wowowee slipped to tenth place with 13.1percent.
ADVERTISEMENT - CONTINUE READING BELOW
In the primetime race, Marimar was followed by five otherKapuso shows to take the second to sixth spot: Kamandag, La Vendetta, 24 Oras,Coffee Prince, and Zaido.
Meanwhile, Patayin sa Sindak si Barbara remains thetop-rater among ABS-CBN shows, taking the No. 7 position with 26.4 percent.
Rainy weather the whole day helped significantly in improving the ratings of allSaturday shows since most people stayed home and watchedTV.
Eat Bulaga! posted a high rating of 26.4 percent to lead alldaytime shows, closely followed by Wish Ko Lang with 26.1 percent.
Bitoy's Funniest Videos topped theprimetime race with 34.6 percent while Kapuso Mo, Jessica Soho followed at No.2 with 33.7 percent.
Finally, SOP and Kap's Amazing Stories were the top Sunday daytimeand primetime programs, respectively.
Even without the presence of Regine Velasquez and Ogie Alcasid, SOP still managed to take the No. 1 spot with 16.2 percent against ASAP '08's 14.1percent (No. 3). Showbiz Central placed second in the daytime race with 15.2percent while its rival, The Buzz, was tied at No. 5 with Boys Nxt Door andLove Spell by virtue of its 11.6 percent rating.
ADVERTISEMENT - CONTINUE READING BELOW
Sharon Cuneta's birthday concert at the Big Dome was airedduring her Sunday program, Sharon. It took the No. 4 spot with 24.3 percent.
Here are the Top 10 daytime and primetime programs from January 11 to13, based on overnight ratings conducted by AGB Nielsen Philippines among MegaManila households:
January 11 (Friday)
Daytime:
Daisy Siete (GMA-7) - 21.8%
Pasan Ko Ang Daigdig (GMA-7) - 20.7%
Eat Bulaga! (GMA-7) - 20.6%
My Only Love (GMA-7) - 16.9%
Kapamilya, Deal Or No Deal (ABS-CBN) - 15.9%
Whammy! Push Your Luck (GMA-7) - 15.4%
Come Back Soon-Ae (GMA-7) - 14.6%
Takeshi's Castle (GMA-7) - 13.9%
Pilipinas, Game KNB? (ABS-CBN) - 13.8%
Wowowee (ABS-CBN) - 13.1%
Primetime:
Marimar (GMA-7) - 37.9%
Kamandag (GMA-7) - 34.2%
La Vendetta (GMA-7) - 32.5%
24 Oras (GMA-7) - 31.3%
Coffee Prince (GMA-7) - 30.6%
Zaido (GMA-7) - 29.7%
Patayin Sa Sindak Si Barbara (ABS-CBN) - 26.4%
Lastikman (ABS-CBN) - 25.5%
TV Patrol World (ABS-CBN) - 24.7%
Maging Sino Ka Man (ABS-CBN) - 23.3%
January 12 (Saturday)
Daytime:
Eat Bulaga! (GMA-7) - 26.4%
Wish Ko Lang (GMA-7) - 26.1%
Pinoy Records (GMA-7) - 22.5%
StarTalk (GMA-7) - 20%
Cinema FPJ (ABS-CBN) - 19.5%
Takeshi's Castle (GMA-7) - 18.7%
Wowowee (ABS-CBN) - 16.4%
Maynila (GMA-7) / Pilipinas, Game KNB? (ABS-CBN) - 13.5%
Entertainment Live (ABS-CBN) - 12.8%
Primetime:
Bitoy's Funniest Videos (GMA-7) - 34.6%
Kapuso Mo, Jessica Soho (GMA-7) -33.7%
Kakasa Ka Ba Sa Grade 5? (GMA-7) - 26.8%
Imbestigador (GMA-7) - 26.7%
Saturday Movie Special: Super Noypi (ABS-CBN) - 23.7%
1 vs. 100 (ABS-CBN) - 21%
TV Patrol World (ABS-CBN) / XXX (ABS-CBN) - 19%
Nuts Entertainment (GMA-7) - 15.9%
Sine Totoo (GMA-7) - 8.7%
Sports Unlimited (ABS-CBN) - 6.9%
January 13 (Sunday)
Daytime:
SOP (GMA-7) - 16.2%
Showbiz Central (GMA-7) - 15.2%
ASAP '08 (ABS-CBN) - 14.1%
Takeshi's Castle (GMA-7) - 12.8%
Boys Nxt Door (GMA-7) / Love Spell (ABS-CBN) / The Buzz (ABS-CBN) - 11.6%
Your Song (ABS-CBN) - 9.8%
Ka Pete Na! Totally Outrageous Behavior (ABS-CBN) - 5.7%
Primetime:
Kap's Amazing Stories (GMA-7) - 28%
Tok! Tok! Tok! Isang Milyon Pasok (GMA-7) - 27.6%
Mel & Joey (GMA-7) - 26.6%
Sharon (ABS-CBN) - 24.3%
Goin' Bulilit (ABS-CBN) - 21%
Rated K (ABS-CBN) - 20.5%
All Star K (GMA-7) - 19.8%
TV Patrol World (ABS-CBN) - 15.9%
Ful Haus (GMA-7) - 14.6%
That's My Doc! (ABS-CBN) - 10.1%
Source: AGB Nielsen Philippines