Titles play a big role in TV shows.
They're not just for recall, they're also a selling point to establish the theme and story.
The titles alone can pique the interest of viewers and get them excited for the pilot episode.
This may be the reason why TV networks sometimes change them the last minute.
GMA-7, for example, retitled Bihag twice. It was originally Ganti then it became Stolen.
Hanggang Sa Dulo ng Buhay Ko was previously known as The Haunted Wife, while Dahil sa Pag-ibig, was originally titled Blood Money.
Tose are just for starters. Here are 10 GMA-7 teleseryes with titles that were changed from the day they were announced and to the time they premiered on TV.
ONE TRUE LOVE
Original/Working Title: Sumpa Ko'y Iibigin Ka
In May 2012, a GMA-7 insider spilled the beans about Louise delos Reyes and Alden Richards being paired for the first time in a teleserye.
The insider indicated in the forum page PinoyExchange that the title of their show was Sumpa Ko'y Iibigin Ka.
The project proved to be true when Louise and Alden were included in GMA-7's omnibus plug for its second quarter shows in 2012.
However, during the omnibus plug launch, GMA-7 changed the show's title to One True Love.
The series that told the story of star-crossed lovers won the hearts of its audience.
One True Love was supposed to run for only eight weeks, but after gaining high ratings, it was extended and ran for 16 weeks.
One True Love currently airs as reruns on GMA-7's Afternoon Prime block.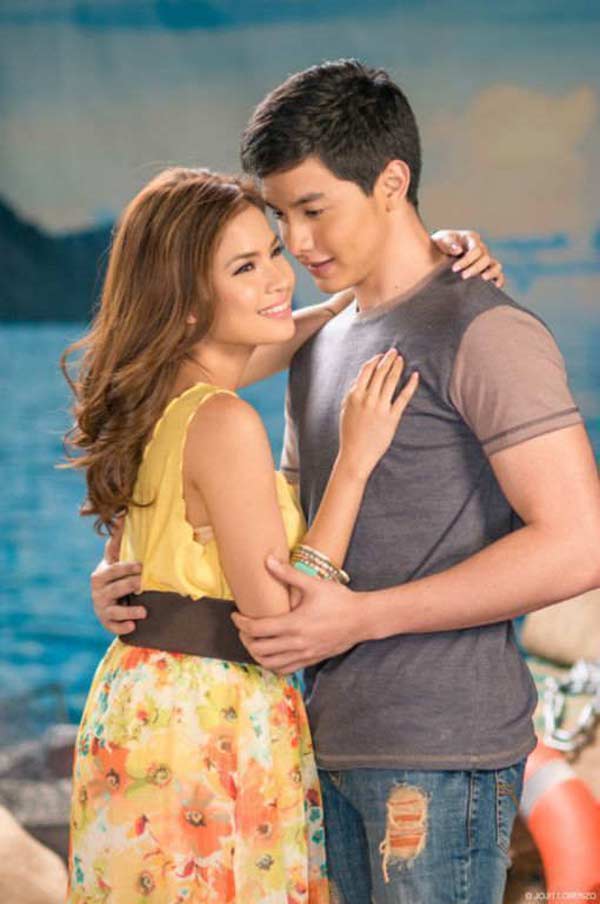 VICTOR MAGTANGGOL
Original/Working Title: Mitho
In 2018, the second teleserye of Alden Richards, without his on-screen partner, Maine Mendoza, became a guessing game for his fans and Kapuso viewers.
When John Estrada transferred to GMA-7 in February 2018, reports came out that he would be part of Mitho, a fantasy genre that was to be top-billed by Alden.
In May 2018, GMA-7 announced Alden's teleserye, which was titled Victor Magtanggol, a fantasy drama series inspired by the Norse mythology. John Estrada would portray the main villain in the show.
The series premiered on July 30, 2018. It ran for a total of 16 weeks or 80 episodes, the regular full-season run for a GMA-7 series.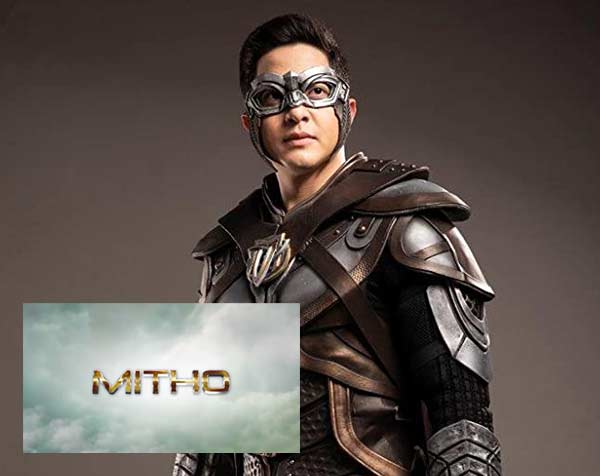 IKA-6 NA UTOS
Original/Working Title: Asawa Ko, Huwag Mong Agawin
In December 2016, Sunshine Dizon, Ryza Cenon, and Gabby Concepcion top-billed the afternoon series Ika-6 Na Utos.
This series about infidelity became controversial during its launch because, at the time, Sunshine was going through marital woes with her estranged husband, Timothy Tan.
Originally slated to run for only six weeks, the series received high ratings.
Scenes from Ika-6 Na Utos also became good material for viral memes and videos.
Because of this, it was extended, and ran for one year and three months.
During its finale on March 17, 2018, its creator RJ Nuevas revealed in a Facebook post that its original title during the concept stage was Asawa Ko, Huwag Mong Agawin.
Writer Dode Cruz then thought of changing it to Ika-6 Na Utos from the sixth commandment: "Huwag Makikiapid."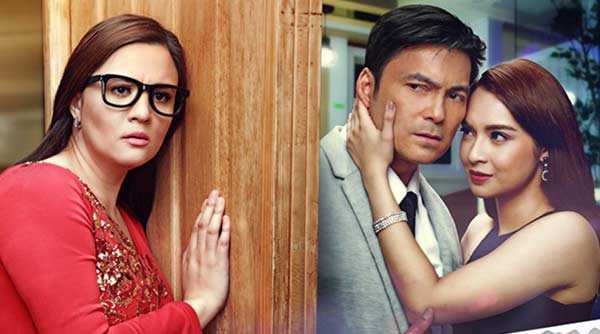 HANGGANG MAKITA KANG MULI
Original/Working Title: The Abandoned
In the omnibus plug for GMA-7's 2016 shows, Bea Binene and Derrick Monasterio were set to top-bill a drama series titled The Abandoned.
Bea's character, Anna, was kidnapped and abandoned in a locked warehouse. Anna only had a dog as company, causing her to act like an animal when she grew up as a teenager.
GMA-7 later decided to change the title to Hanggang Makita Kang Muli.
The series later aired internationally and became popular in Malaysia and Peru.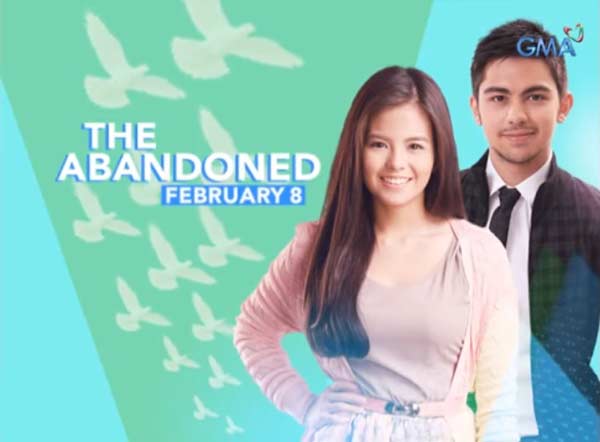 WISH I MAY
Original/Working Title: Maybe This Time
In October 2015, Bianca Umali and Miguel Tanfelix were supposed to top-bill an afternoon series titled Maybe This Time.
It was supposed to replace the successful Kapuso afternoon teleserye, The Half Sisters.
However, The Half Sisters had consistently enjoyed high ratings throughout its long run of a year and four months.
The network decided to extend its showing until January 2016 and push back Maybe This Time.
At that time, too, Alden's single "Wish I May" was climbing the music charts.
GMA-7 decided to change the title to Wish I May, to bring in the luck of Alden's single to the show.
The show was the opening salvo of the network's 2016 offerings, and did well in the ratings game.
The series ran from January to May 2016.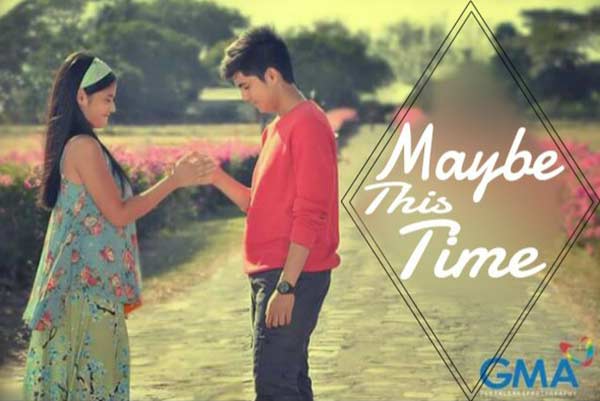 SA PILING NI NANAY
Original/Working Title: Womb For Hire
In May 2018, GMA-7 held a story conference for an afternoon series titled Womb For Hire, with Yasmien Kurdi, Katrina Halili, and Mark Herras in the cast.
As the title suggested, Yasmien was to portray the role of a surrogate mother for the baby of Katrina and Benjamin Alves.
Before the series aired in June 2016, GMA-7 decided to make it more "pang-masa," and retitled it to Sa Piling Ni Nanay.
The series got high ratings, thanks to its physically-challenging confrontation scenes between Yasmien and Katrina.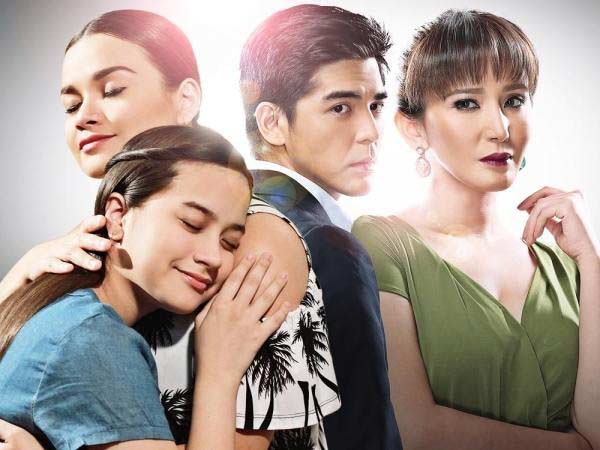 SUPER MA'AM
Original/Working Title: The Good Teacher
In April 2017, GMA-7 announced the comeback of Marian Rivera in teleseryes after three years.
Her project was titled The Good Teacher, with Kim Domingo, Jerald Napoles, and Helen Gamboa as her co-stars.
Marian's character was a teacher with superpowers.
Later, GMA-7 decided to change the title of the show to Super Ma'am, which was more suitable to Marian's superhero character.
The series premiered on September 18, 2017, and became the competitor of FPJ's Ang Probinsyano.
The series ended on January 26, 2018 after a total of 95 episodes.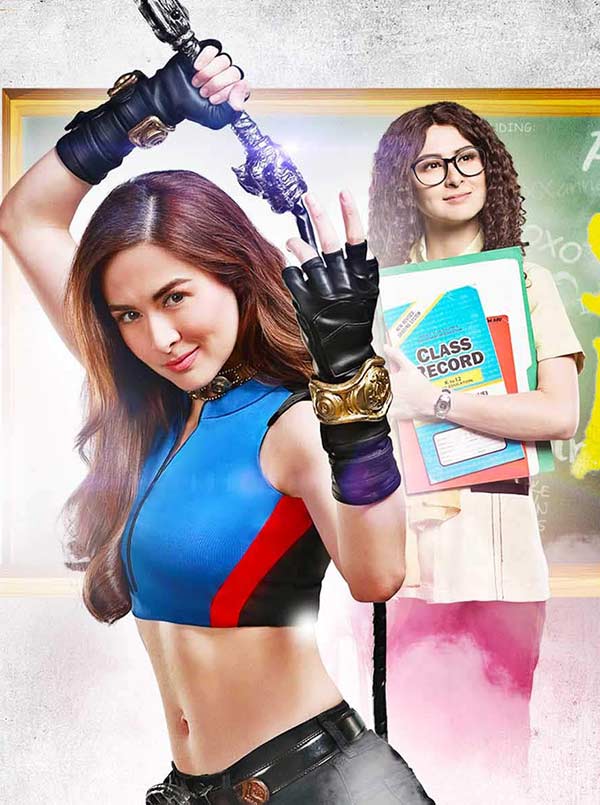 ONANAY
Original/Working Title: Unanay, Extraordinary Love
In March 2018, GMA-7 held a story conference for Nora Aunor's comeback teleserye as a Kapuso star.
She was joined by Cherie Gil, Mikee Quintos, Kate Valdez, and Wendell Ramos.
It featured a small person named Jo Berry, whose character became the mother of Mikee and Kate.
PEP Alerts' PEP Troika later reported that the show's tentative title was Unanay.
When GMA-7 announced the series in its second-quarter omnibus plug, it used the title Extraordinary Love.
Originally slated for May 2018, GMA-7 pushed back its airing when the network decided to extend the prime-time series Kambal, Karibal.
The series finally aired in August 2018 with its final title, Onanay, which was derived from Jo's character, Onay.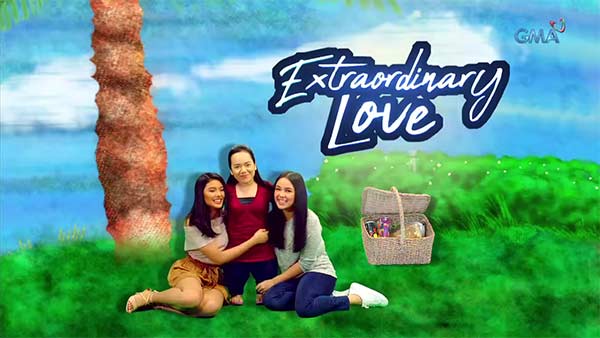 KAMBAL, KARIBAL
Original/Working Title: Santa Santita
In November 2017, GMA-7 held a story conference for an upcoming prime-time series titled Santa Santita.
The series, which had paranormal elements, was to be top-billed by Bianca Umali and Miguel Tanfelix.
It was also meant to be Marvin Agustin's comeback project after several years of being with TV5 and ABS-CBN.
A week after the story conference, GMA-7 immediately aired teasers for the show using the title Kambal, Karibal—about twin sisters, one of whom died but continued as ghost to haunt her twin.
The series, originally intended to air for only eight weeks as a filler to another GMA-7 show, registered high ratings that its run was extended four times—up to March 2018, then May 2018, June 2018, and, finally, August 2018.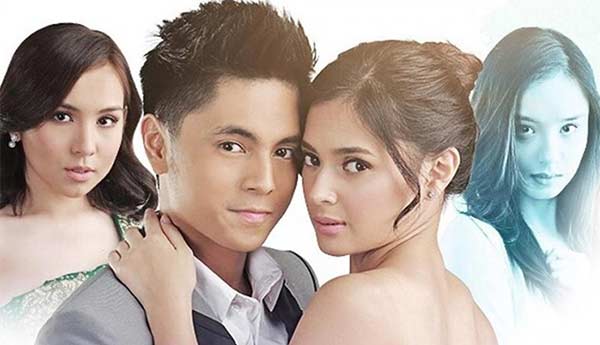 KAPAG NAHATI ANG PUSO
Original/Working Title: Karibal Ko Ang Aking Ina
In the omnibus plug released by GMA-7 on January 1, 2018, one of the offerings was Karibal Ko Ang Aking Ina.
In April 2018, GMA-7 held a story conference for Karibal Ko Ang Aking Ina, introducing its cast members: Bea Binene, Benjamin Alves, David Licauco, and Sunshine Cruz.
Sunshine staged her GMA-7 comeback after several years of working with ABS-CBN.
In the series, Bea played the long-lost daughter of Sunshine. The two, not knowing they were related, became rivals in winning the love and affection of one man, played by Benjamin.
The series was originally scheduled to air on GMA-7's Afternoon Prime block in May 2019, replacing Hindi Ko Kayang Iwan Ka.
However, Hindi Ko Kayang Iwan Ka got extended.
GMA-7 decided to experiment and placed a heavy drama in its daytime slot at 11:30 a.m., before Eat Bulaga!
But because family dramas were more popular in that timeslot, GMA-7 decided to downplay the rivalry between Bea and Sunshine and turn it into a family drama.
Hence, its title Karibal Ko Ang Aking Ina was changed to Kapag Nahati Ang Puso.
The series premiered on July 16, 2018 and ended on November 2, 2018.
Kapag Nahati Ang Puso generally registered high ratings in most episodes. Its ABS-CBN rival programs were Sana Dalawa Ang Puso and Playhouse.
As a result, it was the first daytime series of GMA-7 to air a full season run of 16 weeks.
Ang Forever Ko'y Ikaw ran for eight weeks, while My Guitar Princess aired for 11 weeks.