Alessandra de Rossi and Piolo Pascual are the lead stars of the upcoming Netflix original movie, My Amanda.
Aside from being the lead actress, Alessandra is also the writer and director of the film, which tells the unusual relationship of two best friends—Alex and Piolo's characters.
Having written My Amanda, Alessandra says that the story is very personal to her as it was inspired by her own friendships.
Alessandra reveals during the virtual press conference of My Amanda on July 7, 2021, "This story is very personal to me because it's about my friendships, literally. My guy best friend's name is TJ, and he is PJ [Piolo]. I just used the real name and even how we call each other, Fuffy and Fream."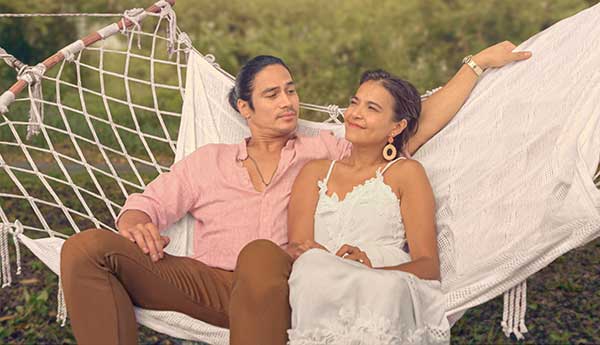 But Alessandra's real life serves as the inspiration of the dynamics between the two characters, and not of the events in My Amanda.
She explains, "The story has nothing to do with real life. I just used the dynamics of the friendship because I wanted to share a different kind of love story.
"It's a friendship that's intimate and not superficial. Rare and sincere. That's what I wanted to talk about because all Pinoys are fans of romcoms."
As for Piolo, he says My Amanda will show a "different take on a love story."
Alessandra adds, "Yes, it's a different take on love. I decided to direct it because no one wanted to touch it, it's like, 'No, we should...' a little bit of this and that."
However, she admits that other consultants of the project found the platonic love story "a little bit unbelievable."
Alessandra quips, "How dare them? I'm kidding."
She then explains, "I have the closest friendships with men. I call them boys, not men, and they treat me like a guy.
"I treat them like my older brothers and it's something that I wanted to share with Filipinos also."
What Alessandra wants to say in the movie is that "a girl and guy can be friends" without ever considering becoming more than friends.
She expounds, "I had the alcohol, getting drunk, sleeping beside each other. I don't drink by the way, but it had to be part of the film because I don't want people to always be beside the opposite sex, and think that there's some sexual tension.
"I want people to treasure friendships and appreciate them as they are, and just stop adding malice to everyone. Not everyone is there for sex or relationships."
Alessandra can prove that this really happens in real life because these are based on real people—her friends, specifically.
She narrates, "Yes, actual persons. It's true of all my guy friends and their love language is different. They tease me, they let me down, put me down. Hahaha!
"That's how it is. I like it, that's how they show me they love me. If you can do that to me, you're already my best friend."
Piolo's Spring Films and Alessandra's AWOOO are the producers of My Amanda, which will start showing on Netflix starting July 15, 2021.
Use these Lalamove promo codes when you shop or order online. Marami pang ibang coupons dito.
We are now on Quento!
Download the app
to enjoy more articles and videos from PEP.ph and other Summit Media websites.