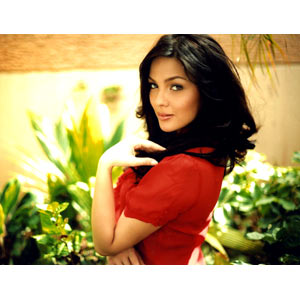 ---
As Darlene in the Maalala Mo Kaya episode "Mansyon," KC ably transforms her character from a flighty coed to a strong survivor of tragedy. Darlene's story is based on the real-life experience of a 19-year-old "material girl" who just wanted to have fun, and then had to learn life's lessons—the hard way, of course.
Darlene lives with her family in a mansion built on her father's sweat over the years. The corporate businessman Darwin (Ricky Davao) dotes on his daughter and her younger brother Dennis, giving them gifts from his business trip and specially showering her with affection. Darlene's mother (Agot Isidro) is a down-to-earth woman who admonishes her daughter to learn doing things for herself instead of being served hand-and-foot by her yaya. Darlene keeps her boyfriend Chris (Derek Ramsay) a secret from the family.
One evening, Darlene and Chris are making sweet music over dinner at a restaurant while her parents are on the road. Mom calls on Darlene's cell phone. Darlene lies about her whereabouts. On her worried mom's insistence, Darlene says, okay, they can fetch her in school after an hour. Her parents drive on, talking about how they can't live without each other. Darwin teases his wife with remarks about death.
Their car's collision with a truck is not shown onscreen. Darlene learns of the accident only when she picks up the phone at home. Suddenly her happy-go-lucky expression freezes. In the hospital morgue she cries to high heavens over her father's corpse. Her mother lays paralyzed in both legs, under intensive care. And so begins the collapse of Darlene's happy, affluent world.
THE EYES HAVE IT. KC Concepcion's eyes twinkle with her smile during the first scenes, like mock-quarreling with Dennis or melting in the glow of her father's love. She moves lithely as a young woman with the world at her feet.
ADVERTISEMENT - CONTINUE READING BELOW
When tragedy strikes, the same eyes release rivers of grief and guilt, frustration and fatigue. KC as Darlene goes through bitter revelations about her father's bankruptcy, withdraws with remorse for having caused his death and with self-pity that alienates her brother Dennis. Every other scene in Darlene's struggle to earn a living while taking care of Dennis and their paralyzed mother, and in the process having to break up with Chris, calls for heart-wrenching dialogues and heavy gestures. Two of the most dramatic challenges for the actress were Darlene's lamentation over her dead father and the intense dialogue with her mother, who, even after her six-month confinement, wallowed in despair.
Darlene transforming from the inside, not KC the celebrity, made my eyes "leak" shamelessly. And let it be known that I don't easily suspend disbelief when watching TV drama. Yet KC the actress pulled off her difficult scenes without artifice, without stiff emotional effort. She certainly used her training in stage acting and in a workshop for this project. But director Jerry Sineneng was right when he praised KC's humility during their taping. And KC did draw on her inner resources and her understanding of other people's lives in rendering painful emotions with sensitivity.
"You really have to scratch the surface to know who you are before you take a role... magpakatotoo ka dapat as a person bago mo ma-play yung mga ganyang role, ng buhay ng ibang tao, istorya ng ibang tao," she said at a trailer preview and press conference last February 11.
Darlene's story ended happily. She kept her family intact—her mother learning to walk again, Dennis secure in Darlene's care as the breadwinner—even as they lost their mansion. Chris returned to a new Darlene, who learned that self-reliance and love of family are borne of sacrifice. Her father would be proud of her.
ADVERTISEMENT - CONTINUE READING BELOW
And KC has every reason to take a bow—with pride, never mind that it's out of character.