Pinoy Big Brother celebrity housemates KD Estrada and Anji Salvacion trended on Twitter yesterday, November 10, 2021, for their heart-to-heart conversation about their feelings for each other.
KD, 18, and Anji, 19, are both members of Dreamscape's Squad Plus group and ASAP Natin To's new breed of singers.
It was revealed they were once in a close relationship before entering the PBB house.
The whole PBB episode on November 10, hashtag #PBBHanggang DitoNaLang, did a recap of the interactions between KD and Anji from the time they became housemates in October 2021.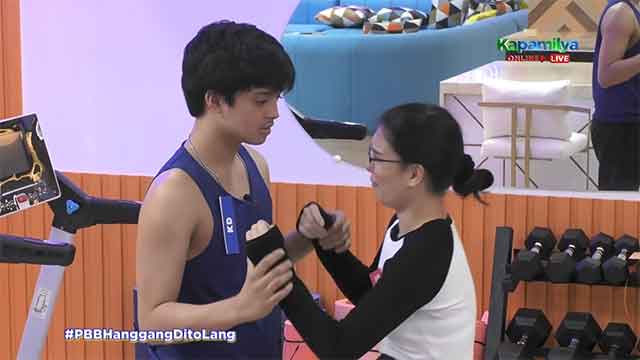 HIS ANXIETIES, HER WORRIES
In their first days inside the house, Anji was a little awkward around KD until he opened up about his anxieties.
Anji cried and expressed regret for staying away from KD after learning what he's been going through.
She admitted avoiding KD because of their past and "to protect myself lang."
Later, KD confided to housemate Alexa Ilacad why Anji has been avoiding him.
He said, "She had to go, she felt like na during the relationship, I think I emotionally drained her. She was being bombarded.
"I always thought that I could win her back, but right now, seeing her happy is enough na siguro."
On the other hand, Anji, in a conversation with Big Brother, opened up about why she broke up with KD.
She said, "I always feel down, Kuya. Palagi na lang ako umiiyak kasi I blame myself po why he's like that po.
ADVERTISEMENT - CONTINUE READING BELOW ↓
"Doon ko na po naisip na dapat itigil ko na ito kasi baka mas lalala po, mahihirapan na po makawala po."
She also admitted being in the dark about KD's anxiety. "I'm like always concerned about him and I'm blaming myself why he's like that.
"I'm really not aware with anxiety and stuff kasi I'm new to that, Kuya.
"Kasi probinsiyana lang ako and that don't really happen usually doon sa probinsiya.
"What's that, should I like take care of him to calm him down? Hindi pala iyon nakakatulong, Kuya.
"He would misinterpret pala when it comes to like giving him comfort kasi he likes me."
THE long and painful CONVERSATION
On November 7, KD and Anji were both nominated for eviction along with Alexa and Albie Casiño.
Anji was one of those who nominated KD, giving him two points.
She reasoned "He makes me uncomfortable always, like, responsible when he's having attacks po."
However, after the nominations of KD and Anji, their housemates noticed they were getting close again.
TJ Valderrama, concerned, remarked, "Young adults na sila, dapat alam na nila iyong ginagawa nila. Baka mapaasa iyong isa."
On November 8, a day after the nomination night, TJ talked to Anji to remind her that KD might misinterpret her sweetness to him.
TJ told Anji, "You entertain him, hang out together alone, he's gonna think it's going somewhere. You're gonna break his heart.
"Hindi ko sinasabi na isnabin mo siya, maging harsh ka sa kanya, but you have to help him also.
"Just don't be alone together because you're giving him the wrong idea."
TJ then urged Anji to have a talk with KD.
Anji immediately sought KD, who was then hanging out with the other housemates, for a heart-to-heart conversation.
They sat in the garden area and Anji went straight to the point.
She told KD, "You know, I still could feel that you like me. I hope na you wouldn't take din, like what happened yesterday, like we're alone, in a wrong way."
KD's short response: "Yeah, I don't."
Anji continued, "To be honest, I like to set boundaries din. I care for you, Kayds, as a friend…"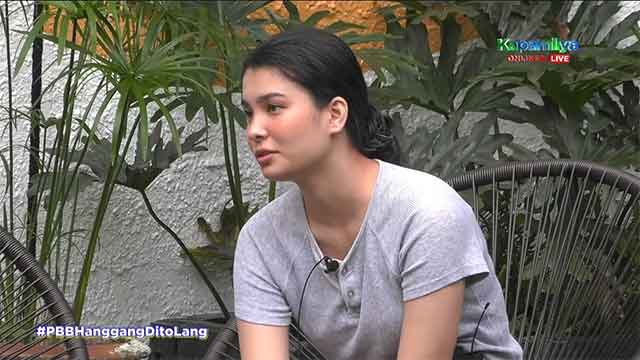 KD repeated, "Yeah, as a friend."
When KD said that he understood what Anji was saying, she responded, "No, you don't."
KD then said, "Anji, you can't just lose feelings in, like, a day."
Anji answered, "I know, but the thing is, we really need to set distance, boundary."
KD explained he did not misinterpret her action after the nomination night as a sign of a reconciliation.
KD told Anji, "Yeah, I didn't take yesterday as a wrong… I took it as a friend kasi you felt…"
He explained he was just feeling bad for her about being nominated for eviction. "I felt bad for you kasi you felt that way."
But Anji, sticking to her point, said, "Basta I really… I wanted to get this straight na there will never be a chance.
"I wanted to say this to you, there will never be a chance for us to have a romantic relationship.
"I care for you as a friend, the thing that I can offer you is my friendship and I hope you will understand that talaga.
"Kasi sometimes, what you're saying to me is very different from your actions.
"I don't want na umabot tayo na magka-awkward-an, mas mahihirapan ka mag-move on and stuff kasi you're still catching those feelings.
"Like yesterday na maybe you're thinking kasi we hang out like that, we might have a chance, but no."
KD, who was obviously forlorn about what he was hearing, quietly said: "Okay, yeah."
Anji then assured him: "But we're still bros. Bros pa rin tayo."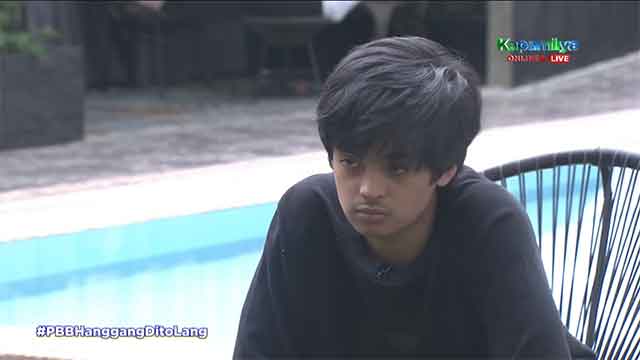 KD also assured Anji he was not angling for a reconciliation, "You're right in a way.
"But yesterday, I didn't see it as a chance na…I wish you knew my intention talaga.
"I know you can't trust me when it comes to this, but, yesterday, I saw it as you're a friend.
"I didn't see it as anything more. I'm trying my best to improve here. I'm doing my best to move on."
Anji answered, "You know that I care for you, and I think this would help din kasi we really need din to set boundaries.
"Kasi I know how you feel, and I don't feel the same thing. I hope you really do understand."
KD reiterated he's been doing his best to move on even though it hurts, "Anji, I do. Please, can you… I try my best.
"I'm doing my best, I know that there's never a chance and it hurts and, yes, I'm still hurting. It's still hurting."
Anji replied, "You know that I care for you as a friend and I don't want you to lose yourself kasi you'll lose focus. And it's really not healthy."
Anji then went to KD, tapped his shoulder, and said, "I want you to move on."
KD just responded, "I want to move on."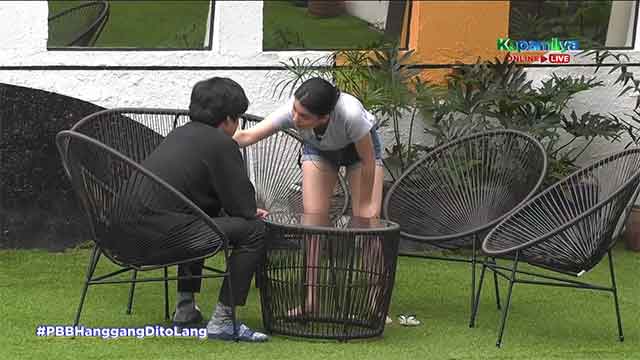 Anji repeated to KD "there will never be a chance" for them.
She continued, "I hope you understand that. Friendship is all that I can offer for you.
"I'll respect you as a friend and I hope you'll respect din my decision and I hope that you will respect yourself by moving on."
KD then asked, "Can you at least tell me why you can't?"
Anji answered, "It's because this is not what I came here for, because I don't want pala this kind of relationship."
When KD asked what kind of relationship, Anji explained, "This thing that you're giving to me, what you want us to be, I don't like you that way. I'm sorry, but I really have to say it to you because I saw that you're not moving on."
The conversation ended when Anji stood up and walked inside the house.
KD then followed, almost sobbing.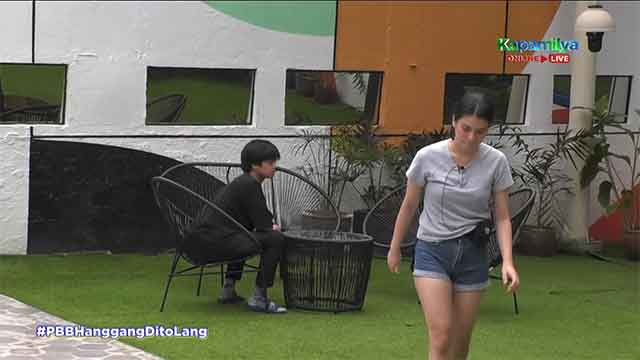 KD APOLOGIZES TO ANJI
Inside their bedroom, Anji was telling housemate Shanaia Gomez she was relieved after talking to KD when he himself walked in, needing to talk to Anj.
With Shanaia still in the room, KD closed the door and started apologizing to Anji.
KD said, "I'm sorry that I put you through all of that."
Anji responded, "You don't have to."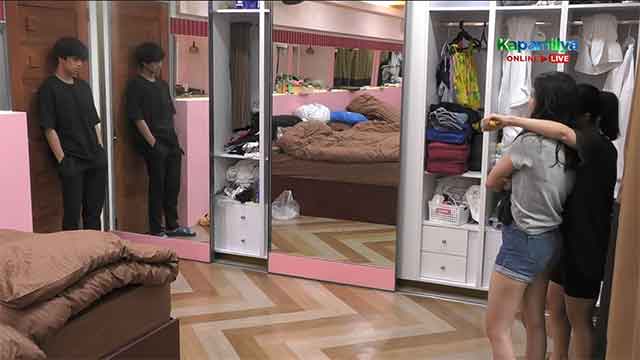 KD started crying as he poured his heart out, "No, I'm sorry that I have to put you through all of that, e.
"I'm sorry I gave you everything na wala nang natira sa akin. And I'm sorry that I still feel the same way even if you don't.
"I'm sorry for all the trouble I caused your family. I just want you to know, I wish you knew how much hurt I got through the past few months.
"And I'm sorry that my hurt also hurt you, whatever I was going through, nadamay ka."
KD also admitted he was hurt that Anji did not reciprocate his feelings.
"I'm sorry if I seem I'm such the worst person in the world but it just hurts that you said you never felt the same way.
"But I want you to know whatever I felt was real and it was not just because you were there for me when I had this condition.
"I felt it way before. And all this hurts hearing you say that you never felt the same way. It hurts."
At one point, KD wished it had been him who was evicted from the house instead of John Adajar.
He continued, "But it's okay and I wish it was just me instead of Kuya John so that I can go somewhere else.
"Thank you na lang for… thank you for giving me love.
"At least, I know how it felt for someone to accept me the way I am though you really got tired."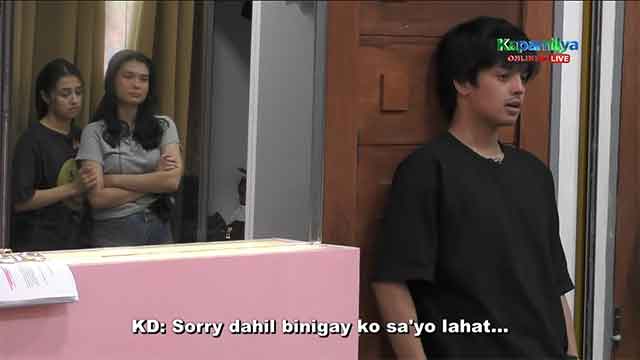 ALEXA COMFORTS KD
KD then went to the confession room to talk to Kuya and to ask if Alexa could join them.
When Alexa entered the confession room, she immediately gave KD a hug and comforted him.
KD, still crying, told Alexa, "I thought I was getting better then this happened."
Alexa then told her friend, "Let's not let this affect you getting better, okay?
"Ilabas na natin si Anji sa buhay mo. Let's focus on you and only you, okay?
"I know this sucks, I know this hurts more than anything in the world right now but it will make you stronger.
"It will equip you for the next special someone in your life."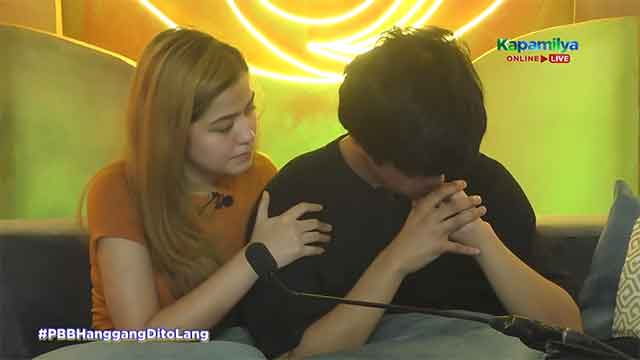 Kuya then gave KD some nuggets of advice.
Kuya told KD, "Parehas kayong may pinagdadanaan ni Anji na masakit. Para sa iyo, masakit dahil may pagmamahal.
"Subukan mong lakasan ang loob mo, subukan mong maging matatag dahil ipinapangako ko sa'yo, ang sakit na nararamdaman mo ngayon, unti-unti rin iyang mababawasan.
"Siguro hindi agad-agad, hindi ngayon, pero magtiwala ka at darating ang araw ay bubuti ka rin.
"Kung anuman ang naging desisyon ni Anji, ginawa niya iyon dahil iyon ang tingin niyang makakabuti sa kanya at para sa iyo.
"Nasaktan ka man sa proseso, bahagi iyon ng pagmamahal mo sa kanya."
THE AFTERMATH
In the November 10 episode, the aftermath of Anji and KD's November 8 conversation was shown.
Anji spoke to Samantha Bernardo, who assured her she did the right thing.
Later, Samantha told Kuya that she also empathized with KD, "Ayoko lang, Kuya, noong parang baka ma-feel ni KD na mag-isa lang siya.
"Kasi hindi naman talaga siya mag-isa."
That night, while the housemates were preparing their dinner, KD chose to be alone with his guitar in the living room to process his conversations with Anji.
He then went out to the garden, foregoing dinner with the housemates.
After dinner, Alexa went outside to check on KD.
Alexa told KD about Anji, "She never said kanina that what she felt was fake or that she never loved and cared for you because there was a time when she did.
"It just so happens that sometimes, you know, two people are not meant to be. She cares about you getting better.
"And I know it still hurts. Moving on is a hard thing to do but it's doable. Just give yourself some time, always always give your heart space to breathe."
KD then just started writing songs and playing his guitar to express how he felt at the moment.
NETIZENS react to kd-anji drama
Viewers of Pinoy Big Brother expressed their feelings towards what happened to KD and Anji, whose love team has already earned a fan base outside the house.
Even former PBB housemate Say Alonzo and director Theodore Boborol had joined in.
Many netizens sympathized with KD, and just as many were those who lauded Anji for her honesty.
Other netizens were also in awe of how Alexa gave her support as a friend and ate to KD.
On the other hand, there were those who were disappointed with TJ, alleging he "manipulated" Anji's reaction toward KD.