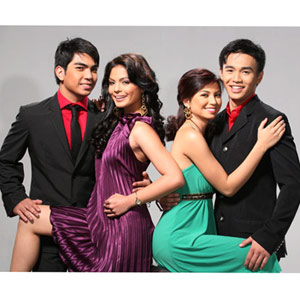 ---
Feel the rhythm of love this March as GMA-7 turns another beloved classic Filipino movie into a new TV series. Two pairs of budding love teams will be tested in the Kapuso Network's seventh offering for Sine Novela titled Kaputol ng Isang Awit.
The afternoon drama Kaputol ng Isang Awit is based on the 1991 blockbuster directed by Emmanuel Borlaza. It is a heartwarming story of two women who live in two different worlds but seek to conquer the same dream.
On March 3, GMA-7 pairs together Glaiza de Castro and Marky Cielo, Lovi Poe and Jolo Revilla, in a drama series that pits sister against sister as they both reach for their dreams. Under the direction of Mike Tuviera, Kaputol ng Isang Awit will inspire people to take a chance and follow their dreams—no matter how unreachable they seem to be.
The lead character Sarah Monteza (Glaiza) is a poor but talented singer who dreams of fame someday. Despite her innate talent, her cruel grandfather Lolo Ige (Leo Martinez) forbids her from singing. Thus, her work as a back-up singer for the famous Joanna Ambrosio (Lovi) remains a secret to her family. This simple young woman wants to earn enough money so she can bring her mother Vina (Snooky Serna) to a hospital for the treatment of her psychological disorder. Sarah never knew the identity of her father.
Joanna (Lovi) is the daughter of rich businessman Julio Ambrosio (Gary Estrada). Her dream of becoming a famous recording star has finally come true. She is a spoiled, selfish, self-centered, and insensitive young lass who will do everything just to maintain her star status. She is very envious of her sister Charmaine (played by Jennylyn Mercado) who is the country's most popular performer.
Playing Eric Valderama, an executive at a recording company, is Marky Cielo. Eric, Joanna's boyfriend, is musically inclined and has a knack for spotting real talents. He is a very industrious man who comes from a poor family. He earned this position at the company through sheer diligence.
ADVERTISEMENT - CONTINUE READING BELOW
Jolo Revilla plays Marco Salcedo, a young man who landed his job through his connections. As a marketing and PR man, Marco is a smooth talker who got his job because his mother is a friend of businesswoman Elena Valderama (Isabel Granada).
Adding color and humor to the story are the characters of Mimay Sison (Tuesday Vargas) and Arsenio Rivera (Tirso Cruz III). Mimay is the best friend of Sarah who works as a social worker inside the city jail. She will invite Sarah to perform in their event, allowing the latter to meet one of the inmates named Arsenio who is imprisoned for murder.
Find out how music, fame, and success interconnect the lives of Sarah, Joanna, Eric and Marco. When Eric discovers the potential of Sarah as a solo performer, has he also discovered a new love in her? Seeing Sarah as a threat to her love and career, what schemes will Joanna use to destroy her former back-up singer?


Marco falls in love with Sarah but what will he do if he finds out that she is in love with someone else? When Sarah finds out about the secret of her past, will this be the end of her career? Is the unfinished composition she discovered in her mother's belongings her only clue in her quest to find her father?
Click MORE PICTURES to view photos of the cast members.
Sine Novela presents Kaputol ng Isang Awit airs on GMA Dramarama sa Hapon starting Monday, March 3.