The Philippines earns five nominations in the prestigious New York Festivals TV & Film Awards 2022.
All these entries are from GMA-7, the only local broadcast company that made it to this year's list of finalists.
Four of the nominated shows are from GMA-7's News and Public Affairs department.
First is Kapuso Mo, Jessica Soho's "Bestida ni Ranelyn (Ranelyn's Dress), which is nominated for the Documentary: Health/Medical Information category.
The feature is about Ranelyn, a six-year-old girl who longed to wear her favorite dress after her weight suddenly dropped to seven kilograms, the weight of an infant, due to severe malnourishment.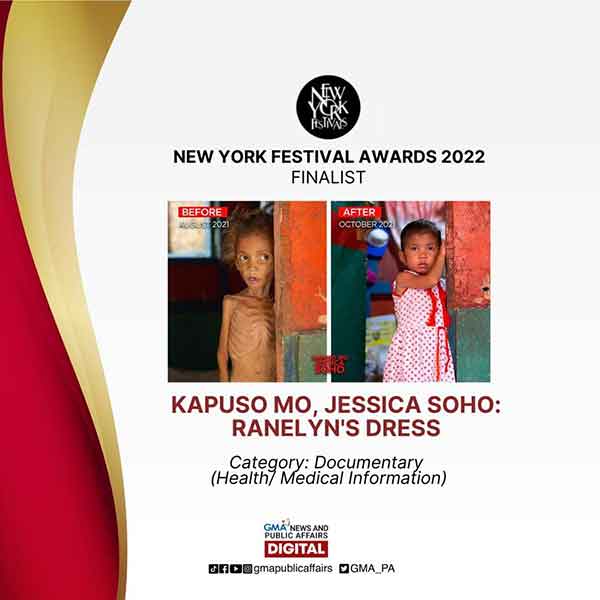 Kapuso Mo, Jessica Soho was also nominated in 2021 for its feature titled "The Woman Slashed On Her Face."
The second, GMA-7's longest-running public affairs program, I-Witness, returns to the New York Festivals with two nominations this 2022.
First is Sandra Aguinaldo's documentary, "Virus Hunters," which is nominated under the Documentary: Science and Technology category.
The documentary is about a group of experts' ongoing study of bats and the diseases that humans can get from them.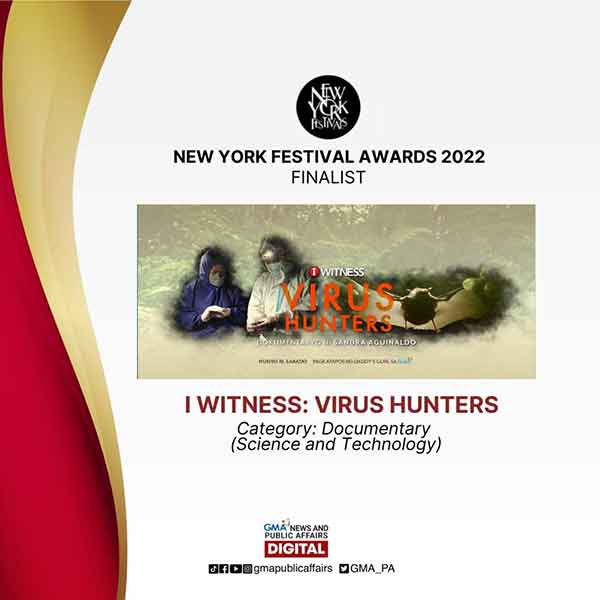 The other entry is Atom Araullo's "Koronang Tinik," which is under the Documentary: Climate Change & Sustainability category.
Atom's story investigated the sudden increase in crown of thorns called dap-ag in the waters of Jose Panganiban in Camarines Norte.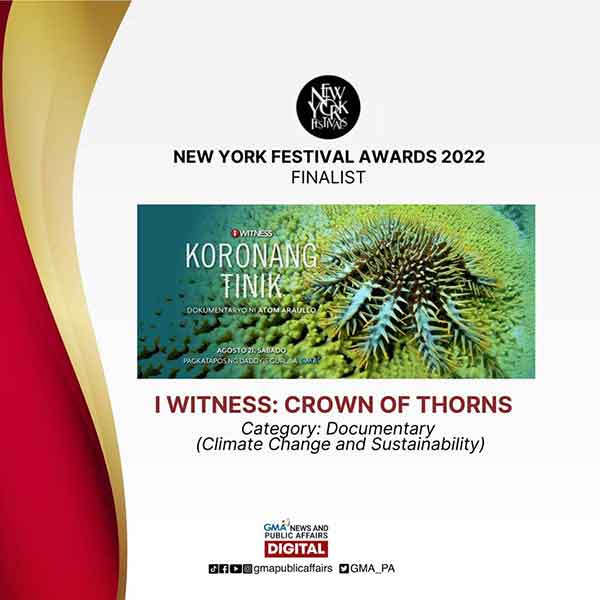 The last time that I-Witness received a nomination in the New York Festivals was in 2019.
For the fourth consecutive year, Atom Araullo's monthly show, The Atom Araullo Specials, earns another nomination.
This time, the episode titled "Munting Bisig (Young Arms)" is set to compete in the Documentary: Social Issues category.
The episode discussed child labor during the pandemic, where Atom featured children who are engaged in hard labor just to fend for the needs of their families.
Atom, himself, tried his hand at compressor diving in Paracale, Camarines Norte, to experience the work of "Pancho," a 15-year-old guy who had to dive into 40 feet of mud to collect soil for the chance of finding gold.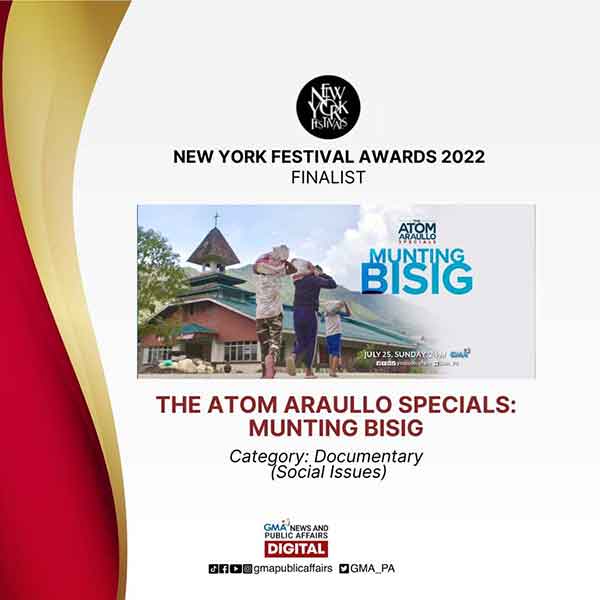 GMA Synergy gets the fifth Philippine nomination for Julie Anne San Jose's musical documentary, Limitless: A Musical Trilogy.
Nominated under the Entertainment Special: Variety Special category, the special followed Julie Anne's journey of knowing more about the people around her and herself as well.
The trilogy kicked off via "Breathe" in Mindanao and was followed by "Heal," shot in Mindanao. The third installment, "Rise," is set to be shown on April 9.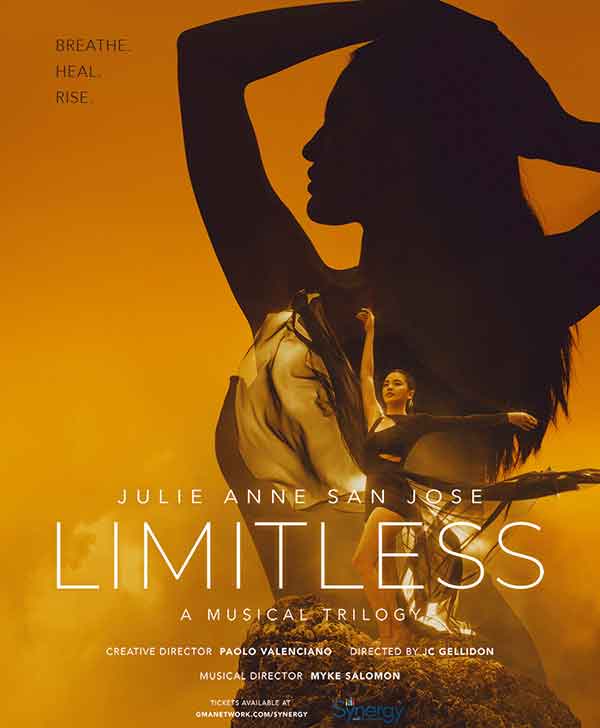 Every year, the New York Festivals has been honoring content in all lengths and forms from the Philippines and over 50 other countries.
In 2021, GMA-7 won a Bronze Medal for Reporter's Notebook's feature, "Mga Sugat ni Miguel." It also earned five finalist certificates, giving the Philippines its most number of citations that year.
Also in that year, ABS-CBN received a Silver Medal for the documentary Fedelina: A Stolen Life.