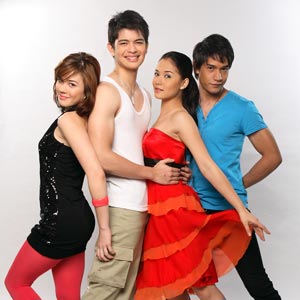 ---
Maja Salvador and Rayver Cruz are now back in each other's arms! The dancing pair will grace the episodes of Your Song for the whole month of March.


Maja and Rayver are two of the most well-known young stars today because of their talent in acting and outstanding dancing skills. Both gorgeous, the two are well-rounded artists and their chemistry is undeniable.
They are members of the UD4 (Ultimate Dance 4) of ASAP '08. Maja is the Dance Floor Princess while Rayver is the Dance Floor Hottie. Aside from that, the two have a long list of achievements as individuals in show business.
Maja recently starred in the horrorserye Patayin sa Sindak si Barbara and this year, she's all set for her upcoming teleserye, Anna Lisa. She was part of the youth-oriented flicks One More Chance, First Day High and the horror film Sukob.
Rayver, on the other hand, is a Star Magic talent and is a member of Anime, with John Wayne, Emman Abeleda, Sergio Garcia, Mhyco Aquino and Mico Aytona. It's no wonder the young star is in showbiz since he comes from a history of great actresses such as Sheryl Cruz, Donna Cruz, and Geneva Cruz.


SYNOPSIS. Andrea (Maja) can't live without shaking her body to the beat. But because of an untimely incident leading to her inability to be a ballet dancer, she discovers that she has a natural talent in hiphop dancing. The question is: will she be able to get along with dance partner Jack (Rayver), the boy who keeps on teasing and arguing with her? And how about their friends Mao (Valeen Montenegro) and Serge (Victor Basa), who have secret crushes on these two? Watch this unique and romantic love story in Your Song featuring "Kapag Ako'y Nagmahal" by Aldred Gatchalian.
Andrea dreams of becoming a prima ballerina just like her mom but due to an incident, she is unable to do some of the dance moves of a ballet dancer. Her mom wants her to stop but Andrea continues to fight for her passion for dancing.
ADVERTISEMENT - CONTINUE READING BELOW
Jack is the arrogant and obnoxious guy who accidentally steps on Andrea's injured foot. Andrea gets mad at him until they meet once again and dance together during their friend's night out. Everyone is surprised to see that Andrea is also good in dancing hip-hop.
In that instance, she meets Belle, the choreographer of Dansynergy wherein Jack is a member. The fictional dance group is played by the G-Force (now celebrating its 3rd year anniversary) with members Georcelle Dapat, Gelai Aguzar, Iko Odulo, Khel Parina, Ria Marvas, Bhe Briones, Nesh Janiola, Sherwin Casepe, Hassette Uy, PJ Montemayor and John Paul Iglesias. They are in need of one more member to be able to join the world hip hop competition.
Andrea and Jack get a chance to know each other better. Complications arise when the two start to fall for each other, since having relationships within the group is strictly not allowed. What will happen to Mao (Valeen) who has strong feelings for co-member Jack? How about Serge (Victor), Andrea's ballet dance partner, who is secretly in love with his partner?
Just like dancing, will they surrender to the music and follow the beating of their hearts?
Fall in love with Maja and Rayver and take a peek into the possible sparks that will be seen from these two stars who are rumored to have feelings for each other.
Another romantic song takes center stage for four weeks in Your Song, which is directed by Jerome Pobocan. This mini-series, based on "Kapag Ako'y Nagmahal" by Aldred Gatchalian, also features the prestigious Philippine Ballet Theatre. Your Song premieres this Sunday, March 2, after ASAP '08.