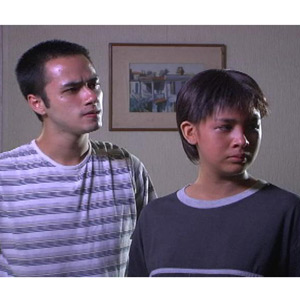 ---
Based on the story of a letter sender from Iloilo, Empress Schuck portrays the life of a girl who pretends to be a guy in order to escape her horrible past. While leading her double life, she meets Ian (played by Oyo Sotto), the man who will open her eyes and encourage her to face the past so she can move on with her future.
After starring in their respective daytime shows, Oyo of Prinsesa ng Banyera and Empress of the youth-oriented show Astigs will now be seen on primetime for the drama anthology show Maalala Mo Kaya. The April 18 episode, directed by Jeffrey Jeturian, also stars veteran actors Mark Gil and Rita Avila. It also features Joem Bascon, who was last seen in the horror TV series Patayin sa Sindak si Barbara.
Watch this heartwarming episode of friendship during ABS-CBN's Primetime Bida.
Maalala Mo Kaya
Airing Date: April 18, 2008
Director: Jeffrey Jeturian
Writer: Ruel Montañez
Cast: Empress Schuck as Rhea/ Lester
Oyo Sotto as Ian
Rita Avila as Rhea's Mother
Mark Gil as Rhea's Father
Joem Bascon as Rhea's Brother
Katrina Legaspi (Hopia) as Dang (Rhea's Friend)
Sergio Raymundo as Ian's friend
Marvin Raymundo as Ian's friend
SYNOPSIS. A touching story of a girl who disguised herself as a guy to escape the horrors of her past, but chose to embrace her womanhood through the help of a man.
Rhea was physically and sexually abused by her father and brother. To escape the torture, she left home and pretended to be a man. She was enjoying her freedom when she met Ian, who befriended her because he thought Lester (Rhea's disguise) was a guy.
Eventually, he finds out that Rhea is actually a woman. Rhea thinks that things between them will change but Ian keeps their friendship and convinces her to be herself again. But it isn't easy for Rhea to be her old self when her past still haunts her. Ian patiently helps to heal her past wounds and teaches her how to brave the difficulties of being a woman.
ADVERTISEMENT - CONTINUE READING BELOW
Soon they part ways and Rhea returns to her mother with Ian's wisdom in her heart. The greatest lesson she learned was that being yourself is the bravest thing.
Maalala Mo Kaya, hosted by Charo Santos-Concio, airs Friday nights on ABS-CBN.