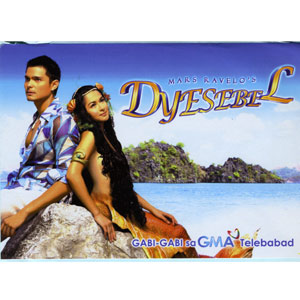 ---
For the past decades, the story of Dyesebel was shown on the big screen with five beautiful ladies portraying the role of the mermaid—Edna Luna, Vilma Santos, Alma Moreno, Alice Dixon, and Charlene Gonzales. The half-human, half-fish character also made a cameo appearance (Ara Mina) in the TV series Darna.
Now, Marian Rivera is the latest actress chosen to give life to the lovable komiks character created by Mars Ravelo. She will be paired with Dingdong Dantes in Dyesebel, GMA-7's fantaserye about the world of mermaids and underwater creatures.
This TV adaptation, directed by Joyce Bernal and Don Michael Perez, was shot partly in Coron, Palawan, and will have scenes taped in Bataan and Batangas. Dyesebel airs its pilot episode on April 28.
SYNOPSIS. Mars Ravelo's Dyesebel begins when the human Lucia (Jean Garcia) delivers a beautiful baby girl. Unlike other normal babies, Lucia's child is half-human, half-fish. She is named Dyesebel. Although surprised by the unusual fish tail of their daughter, Lucia and husband Tonio (Wendell Ramos) love Dyesebel.
ADVERTISEMENT - CONTINUE READING BELOW
But in no time, their neighbors discover the couple's secret. When the community is hit by a series of catastrophes, Dyesebel's neighbors believe the young mermaid is nothing but a curse that brings them tremendous misfortune.
The people's antagonism drives Lucia to offer Dyesebel to the sea, where she actually thrives. Unknown to them, it is at the bottom of the sea where Dyesebel's good adventures and misfortunes will happen.
Beneath the ocean, Dyesebel will meet Banak (Lotlot d Leon), who will be her surrogate mother; Erebus (Alfred Vargas), a young merman with royal blood descent who will be secretly in love with her; and Bukanding (Paolo Ballesteros), Dyesebel's merman friend whom she will treat as her brother. There are also lovely sea creatures like Jelay (Charlotte Hermoso) and Butete (Filiberto Nepomuceno) who will be her sidekicks.
Dyesebel (Marian Rivera) grows up to be a stunningly beautiful mermaid who is adored by almost all of the merman in the underwater kingdom. She is childlike, playful and carefree. Most of the time she gets into trouble for violating important rules in her kingdom, which include sanctions against going up to the surface, mingling with and falling in love with humans.
ADVERTISEMENT - CONTINUE READING BELOW
Unknown to many, the real reason behind her boldness is a fervent hope and wish to see once more the man she loves—Fredo (Dingdong Dantes). As a young boy, Fredo helped Dyesebel escape when she was caught in a fishing net, although he was unaware then that he had saved a mermaid. Fredo becomes the object of Dyesebel's dreams and she always swims to the sea surface to catch a glimpse of Fredo.
For years, love has kept Dyesebel patiently waiting for Fredo but she remains unsuccessful until one fateful day when the handsome youth meets an accident while out in the sea. Dyesebel saves Fredo and finally gets a chance to meet the man she loves.
Unlike Dyesebel, Fredo doesn't know the meaning of love. But, by chance, when he glimpses her beauty, he falls hopelessly in love with her. He patiently waits for his rescuer, but will he get a chance to see her again?
ADVERTISEMENT - CONTINUE READING BELOW
With the power of love binding them, will Dyesebel find ways to be with the man she loves? Will she violate the kingdom's secret rule—that is, never to fall in love with humans? What will Dyesebel give up to live like a human? How will Muruka (Rufa Mae Quinto), a mystical sea creature, be able to help Dyesebel? And what kind of life awaits her in Fredo's world where people like Betty (Bianca King) will do anything to get Fredo? Will Fredo continue to love her even if he finds out that Dyesebel is a mermaid?
Dyesebel will also meet humans like Don Juan (Ricky Davao), Fredo's father; Paolo (Aljur Abrenica), a fisherman who will fall in love with Sheila Mae (Kris Bernal), the spoiled sister of Fredo; and Mark (Hero Angeles), Paolo's brother.

Besides the powerful cast, his telefantasya also boasts the production design created by Rodell Cruz, costumes made by Bill Gustillo and visual effects by Riot, Inc. The underwater scenes are shot by the team led by Marissa Florendo.
ADVERTISEMENT - CONTINUE READING BELOW
The theme song titled "Aking Mundo" is performed by Sugarpop's Julie Ann San Jose.
Don't miss the pilot episode of Mars Ravelo's Dyesebel, which airs on April 28 during GMA-7's Telebabad block.

Click HERE to view photos of Dyesebel's cast members.