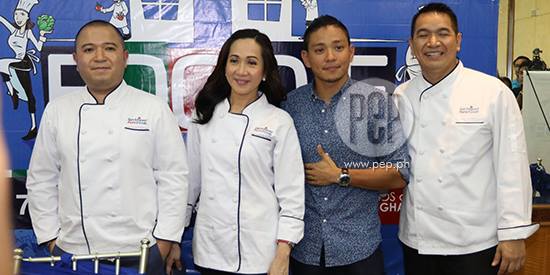 ---

Foodie [Food-ie] noun; fu-de - a person having an avid interest in the latest food fads.
Thirty-year-old TV host Drew Arellano is up for another challenge by exploring and giving every household a "masarap, masusustansya at kayang-kaya" daily foodie experience through his newest TV show Home Foodie.



THREE-MINUTE COOKING SHOW. Home Foodie is a 3-minute cooking show that aims to tickle the taste buds of viewers every morning. It is all about inspiring home food lovers and cooks to reinvent favorites and recreate dishes.
"We are targeting not only women but also men, newbies who are I guess very creative and very open to cook even though they are not really chefs," says Drew.
He continued, "Di ba, they want to try out new things so when we give out simple ingredients, simple ways and simple recipes for them to cook, it's just gonna be like ABCs for them.
"So this show is all about teaching non-chefs to cook simple dishes. Dishes na paborito nila na ino-order nila from the restaurants."
Drew said that people now are fond of trying different dishes and if you can notice some are really fond of "food-tography."

"Marami nang mga foodies, e," he observes.
"Pag sinasabing foodie ito yung mga taong pag pumunta sa restaurant talagang they take pictures, they create hashtags they're really active in social media.
"If you check your Instagram you see a lot of food more than anything. So these people are considered foodies. That's a huge market out there. Home Foodie is actually for anyone who loves to eat."
Home Foodie is set to air its pilot episode this August 10, from Mondays to Fridays after Unang Hirit and within Balitanghali on GMA News TV every Saturday and Sunday from August 15.

This show is made possible with the help of chefs Llena Tan-Arcenas, Rene Ruiz and RJ Garcia and San Miguel Purefoods products.


ADVERTISEMENT - CONTINUE READING BELOW