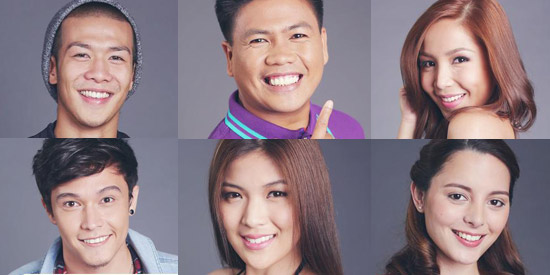 ---
PBB 737 enters a new chapter.
The Pinoy Big Brother house welcomed new tenants when 6 regular housemates were introduced to the public last night, August 8. The other 6 housemates will be introduced this Sunday, August 9.
Last night's episode also showed the Teen Big 4 as they left the PBB house.

Ylona Jade Garcia, Franco Rodriguez, Hendrix "Jimboy" Martin, and Bailey Thomas May comprised the Teen Big 4. Since it's their final night in the PBB house, Big Brother made their dinner extra special. It consisted of premium roast pork with mixed vegetables and they were served apple juice.
"Natutuwa po ako na may mga ganun akong kasama na sa murang edad ay may pangarap na sa buhay," Jimboy fondly recalled his experience in the house.

Franco even declared, "Si Ylona ang misis ko sa loob ng bahay, You're a good singer, you're a good dancer."
In the middle of dinner, Big Brother played the "Magmahal Muli" version of Ylona that prompted the housemates to do a slow dance.
Meanwhile, the four started their last dance to the tune of "Win the Fight." Franco sang two lines while Jimboy rapped in Tagalog during the instrumental part. After him, Ylona also sang two lines from the song.

PBB host Bianca Gonzales then promoted the three cover songs that were created inside the house.
Meanwhile, fans were screaming as they waited for the teen housemates to exit the PBB house.

Big Brother announced that there will be tasks outside waiting to be accomplished by the Teen Big 4. These will be the basis for choosing who is the most deserving among the four to be hailed as the grand winner.
The 12 new PBB regular housemates were introduced. Mikee Agustin (Bulacan), Richard Ching Juan (Paranaque), Jessica Marasigan (Los Angeles, California), Roger Lucero (28, Bacolod), James Linao (Surigao del Sur), Miho Nishida (Japan), Jyo Yokoyama (Japan), Dawn Chang (Paranaque). Philip Lampart (Australia), Margo Midwinter (UK/Philippines), Charlhone Petro (Pampanga), and Krizia Lusuegro (Bacolod).
ADVERTISEMENT - CONTINUE READING BELOW
PBB Celebrity Housemate Enchong Dee was then called into the confession room and was given an assignment by Big Brother, which was to give the first task of the new housemates who will be entering the house later.
Upon setting foot in the outside world, the Teen Big 4 were asked by Toni with regarding their experience inside the house. "Sobrang saya po. Grabe, hindi ko po maexplain dahil nakita ko yung mga nagsusupport", answered Franco when he's asked about what he's feeling at the moment.

Toni asked Bailey what's the first thing he would do tomorrow. He said he wants to spend time with his family and his fans.

Ylona was asked: What will she miss the most? "Definitely Kuya. Our conversations…I'll miss Kuya so much."

Jimboy admitted, "Masaya po kasi maipapakita ko yung natutunan ko sa loob ng bahay sa iba."

The first task of the four calls for confidence and discipline. They were asked to perform their best at the Teen Power: The Kabataang Pinoy Concert Party that will be held on Friday, August 14, at the Aliw Theater.



MEET BATCH 1 OF HOUSEMATES. The 12 housemates, who were wearing hooded capes, were blindfolded in a secret holding area.

Big Brother asked the Teen Big 4 to choose who among the 12 will be part of the first batch of housemates to enter the house.

Jimboy chose "Housemate #6" to go first.
It turned out to be Jyo Yokoyama, the "Mr. Kulit of Japan", is self-supporting and worked as a construction worker. His mother was an entertainer in Japan and his Japanese father was one of her customers. He was able to track down his dad and introduce himself.

Toni asked him who he wants to get to know more and Jyo chose Housemate #7 since "kamukha ng katrabaho ko sa Japan," he reasoned.
ADVERTISEMENT - CONTINUE READING BELOW
Housemate #7 Roger Lucero, the "Tour Guide Tatay of Bacolod," was born to parents who are sugar cane plantation farmers. Their house was a nipa hut with only one multifunctional room. He worked as a toilet cleaner before he came up with the idea of working as a tour guide and penning his own script. He was able to provide a house and a good life for his family through his earnings.
"Sino'ng masarap kasama sa pagtu-tour," asked Toni. "Yung malakas mag-tip. Joke," answered Roger. "Bilang isang tour guide kasi, hindi ka lang dapat magaling magsalita, kailangan marunong ka ding makinig at umunawa." He chose "Housemate #5" when prompted.
Housemate #5 Dawn Chang, the "Bombshell Baker of Paranaque," grew up in Australia under the care of foster parents. She found her biological father though the internet and was able to confirm their relationship via DNA test.

Toni asked her why she enjoys cooking and Dawn explained that she met a guy whom she liked before and wanted to show him that she can be a good wife so she polished her cooking skills.
The first three housemates were then escorted inside the PBB house. Dawn was quite vocal about her surprise at the lack of furniture.

It was Ylona who chose Housemate #1 to enter the house.
Housemate # 1 Charlhone Petro, the "Soldier's Boy of Pampanga," is a part-time mode. He was born to an American father and a Filipino mother. His mother asked an acquaintance to take care of him but the woman treated him roughly. He was then taken in by Nanay Alba, whom he grew up with. His brothers are all soldiers. The actually want him to follow their path so he took the entrance exam but he was not able to pass.
"Alam ko pong malaki ang maitutulong nito sa akin at sa family ko. Gusto ko po silang suklian sa lahat ng ginawa nila para sa akin," stated Charlhone with regards to his reason for joining PBB.

Toni asked him what's the advantage of being a soldier's son and living on a military camp. Charlhone answered that people in the camp help each other even if they don't know each other. He chose Housemate #2 as the person he wants to meet next.
ADVERTISEMENT - CONTINUE READING BELOW
Housemate #2 Mikee Agustin, the "Bungisngis Bebot of Bulacan", is an online seller. One of her favorite shopping destinations is Divisoria. She also has funny online videos with her boyfriend, Yexel Sebastian, on her YouTube account which is "MikeeTrixieVEVO."

Her mother raised her solely and Mikee joined because of her.

When asked by Toni about what type of person irritates her, she answered that she doesn't like people who are inattentive to her when she's talking. She chose Housemate #7 as the person she wants to meet.
Housemate #7 Margo Midwinter, the "Independent Sweetheart of Manila", auditioned for PBB Teen Edition way back that's why Toni said she's a familiar face. She was born in Wales, UK. Wanting to help in the family's expenses because of her mom's heart problems, she turned to modeling. She mentioned that she was shocked by the traffic situation in the Philippines but she eventually became used to it, even riding local vehicles tricycles and jeepneys frequently.

Toni asked her about the type of person who is hard to get along with and Margo answered that it is a person who's moody and doesn't clean the house.
For the first task of the regular housemates, Enchong explained that the six of them had to split up into two groups. They had to utilize teamwork to make sure the furniture outside are brought inside the house as well as their personal belongings.

One group will be in charge of making sure the door to the activity area is open while the other group will be the ones to carry the things in. They are not allowed to bring their personal belongings inside as long as furniture remains outside.

The episode ended with PBB host Toni Gonzaga leaving viewers to wonder whether or not the housemates succeeded in their first task.
ADVERTISEMENT - CONTINUE READING BELOW