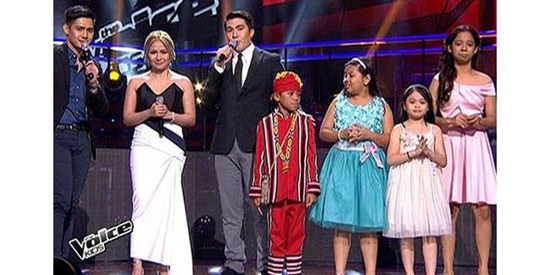 ---

The four young artists who will compete in The Voice Kids Season 2 grand finals have been selected.

The biggest surprise (or shocker) of the night is that no artist from Team Sarah Geronimo was called to move on to the grand finals that will take place next weekend.

Two representatives of Team Lea Salonga and two representatives of Team Bamboo will battle it out in the second season of ABS-CBN's reality singing competition.

Reynan Dal-Anay and Esang De Torres will represent Team FamiLEA, while Ehla Nympha and Sassa Dagdag will represent Kamp Kawayan.

Team Lea's Reynan Dal-Anay got the highest percentage of votes with 32.98%.

He was followed by Esang De Torres, also from Team Lea with 19.24% of the votes.

Ehla Nympha of Team Bamboo got 18.23% of the votes while Sassa Dagdag got 13.71%, completing the Top 4.

Team Sarah's Zephanie Dimaranan and Kyle Echarri, who sang "Flashlight" and "Got to Believe in Magic," respectively, got the lowest votes among the semi-finalists last Saturday.

Zephanie got 9.4% while Kyle received 6.43%, which is why they did not make the cut.

In her Twitter account, Lea asked fans of Sarah Geronimo to send uplifting messages to the Popstar Princess.



Dear Popsters, please send @JustSarahG messages of love and support. I'm sure she'll appreciate it. Thank you.

— Lea Salonga (@MsLeaSalonga) August 23, 2015

Host Luis Manzano also assured the public that Sarah is doing well, although he said he noticed a trace of sadness in the Popstar Princess.




Yup, she is fine and the kids left smiling and laughing Ÿ'ŸÂŸ'ŸÂ https://t.co/olgLaSWXVy

— Luis Manzano (@luckymanzano) August 23, 2015




PERFORMANCES. The 11-year-old frontrunner Reynan from Bukidnon impressed and captivated the audience with his heartfelt performance of the song "Itanong Mo Sa Mga Bata" by Asin.

On Saturday's solo performance, Reynan's coach, Lea, remarked, "Wala akong masabi, kinikilabutan ako... ang ganda, ganda lang talaga."

Meanwhile, 8-year-old contender Esang showcased her strong vocals by singing "Salamat Salamat Musika" by Nanette Inventor.

"Paglabas na paglabas mo sa entablado na 'yan kitang-kita you are a star, you are just a star," Lea said with pride. "Salamat sa Diyos na ako yung pinili mong coach."

Team Bamboo's Elha, meanwhile, earned a standing ovation from all three coaches with her powerful performance of Carousel's "You'll Never Walk Alone."

Bamboo proudly remarked, "Elha, Elha, Elha, I'm so happy. May mga moment talaga na nagbabago yung direction ng buhay. I think when you look back sa lahat ng moments... this is the moment that changed your life."

Twelve-year-old contender Sassa is also from Team Bamboo. Hailing from Angeles, Pampanga, Sassa captivated the crowd on Saturday night with her remarkable take on "If I Were a Boy" by Beyonce.

Bamboo told Sassa, "I'm so proud of you... all the nerves nararamdaman ko, but you nailed it tonight. Ang laki ng kanta na 'yan, and you took it down."

In the August 24 episode, The Voice Kids finalists performed in groups.

Sassa, Kyle, and Reynan performed "Saranggola ni Pepe" by Celeste Legaspi and "Ang Pipit" by Pilita Corrales.

Ehla, Zephanie, and Esang, for their part, sang "What a Feeling" and "Fame" both popularized by Irene Cara.

The combined scores from both Saturday and Sunday shows determined which four of the six kids will compete in the grand finale.

Reynan, Elha, Esang, and Sassa are set to sing their hearts out during the performance night of The Voice Kids 2 on Saturday, August 29.
ADVERTISEMENT - CONTINUE READING BELOW
The grand champion will be announced on Sunday, August 30.

Hosted by Luis Manzano, Robi Domingo, and Yeng Constantino, The Voice Kids 2 finale will be held at the Newport Theater of Resorts World.


PEPsters, who do you think will win The Voice Kids Season 2?