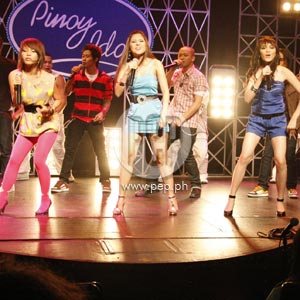 ---

Last June 18, family members and fans of the Pinoy IdolTop 12 lined up at the Music Museum to see their favoriteIdol contestant perform for a press conference that doubled as a mini-concert. The opening number, however, was marred by technical and wardrobe problems.


When the male and female Idol hopefuls sang Rihanna's hit "Don't Stop theMusic," their microphones were not working but just like true professionals,they kept on performing even when the audience could not hear them sing.Halfway through their performance, the audio system started working and theaudience was able at last to hear them sing "Irreplaceable."

The Top 12 finalists were then divided into four batches: Sue Ellen, MaeFlores, and Penelope were the first group; Warren Antig, Ram Chaves, and TofferRei comprised the second group; Jayann Bautista, Gretchen Espina, and JeniRawolle performed third; Robby Navarro, Kid Camaya, and Daryl Celis were slatedto go last.


After the group performances, each Idol hopeful was given his/her turn underthe spotlight. Family members and fans of the Top 12 brought along their ownbanners and wore a particular color for their bet. Supporters of Warren woreviolet, Kid Camaya's fans opted for red outfits, and Jayann's friends broughtalong white balloons.


According to Ms. Fotini Paraskakis, director of Production(Fremantle Asia), the Philippines is one of their key markets. "It's going wellso far. The next stage, the gala stage, is going to be the most important stageso far. We're trying to make it as big a show as possible in the Philippines.For us, the Philippines has always been in our market because Filipinos singersare very strong and very, very talented. That's why we would like to see theIdol franchise develop here in the Philippines."


How would she compare GMA-7's Pinoy Idol with ABC-5's Philippine Idol?
ADVERTISEMENT - CONTINUE READING BELOW
"It's a different channel, it's a different show so it's a different market. Ithink the winner Mau Marcelo was very, very strong and she's very, verytalented. But these contestants also have their own qualities and I think it'sgoing to be a really strong show."


Will the Pinoy Idol winner be able to join Asian Idol this year?
"There won't be an Asian Idol this year. It will probably be in 2009 becauseit's quite difficult for us to organize countries here in Asia. It takes a verylong time and we want to make sure that we get the best songs, the besttalents. It's a real celebration of music and we want to bring Asia togetherand that takes time to organize."


Will the winner this year be able to join next year's Asian Idol?
"That's a strong possibility, yes," says Ms. Paraskakis. She handles the Idolfranchises of the Philippines, India, Indonesia, Vietnam, Singapore, andMalaysia. They will soon have a Thailand edition as well.


The gala performance of Pinoy Idol will take placethis Saturday, June 22, at the Centerstage of SM Mall of Asia. The performancenight is shown every Saturday after
Pinoy Records
while eliminationnight will be shown Sundays after
Kap's Amazing Stories
. Meanwhile,Pinoy Idol Extra, hosted by Rhian Ramos and Karylle, airs every Sunday after
S.O.P.
and Monday to Thursday after
Babangon Ako't Dudurugin Kita
.