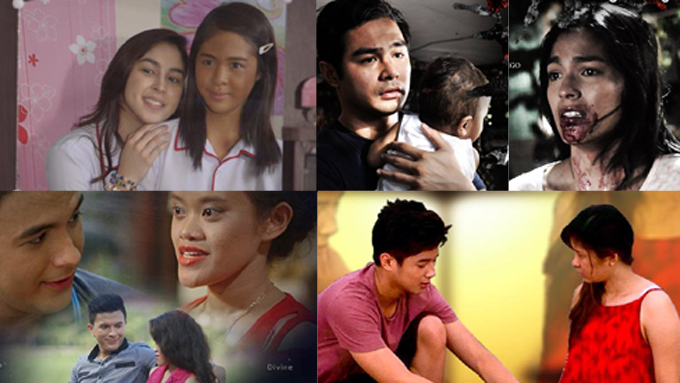 ---

Different stories of love and its consequences will be seen on the episodes of Karelasyon, Ipaglaban Mo, Maalaala Mo Kaya, and Magpakailanman.
Here are the stories to be featured today (Saturday), November 14, on ABS-CBN and GMA-7's Saturday drama anthologies.



FACE VALUE IN KARELASYON. Inthe GMA-7 drama anthology hosted by Carla Abellana, they will feature a newbie named Divine who is paired with Lucho Ayala in an episode that tackles love beyond looks.
Twinkle (Divine) and RJ (Lucho) get along with each other because of their complementing personalities, but their physical appearances become a hindrance to their love story.
Twinkle is aware that she is not beautiful. But what gives her the confidence is that she knows she is smart and talented.
However, Twinkle did not know that having a good-looking boyfriend RJ will give her reasons to feel insecure.
RJ, on the other hand, knows that physical looks matter. But he wants to prove to Divine and to everyone that it is not important in any relationship.
Viewers will witness what challenges and struggles Twinkle and RJ will have in their relationship because of Twinkle's insecurities and the people's comments on their relationship.
The episode, which also stars Vangie Labalan and Arnie Ross, is directed by Zig Dulay and will be aired after Eat Bulaga!


TRAGIC LOVE STORY IN IPAGLABAN MO. Loisa Andalio, Yves Flores, and Allan Paule topbill this week's episode of Ipaglaban Mo, which is hosted by Atty. Jose Sison and Jopet Sison. The episode will show how love comes with a price.
ADVERTISEMENT - CONTINUE READING BELOW
Olivia (Loisa) is an obedient daughter who has always followed the commands of her domineering father Dante (Allan), even though she is not in favor of it.
She falls in love with Joaquin (Yves), who opens her eyes to the world she has not seen because of his father's uptight parenting.
However, Dante is not in favor of Olivia and Joaquin's relationship. He wants Olivia to marry her rich suitor (Manuel Chua).
Olivia and Joaquin then decided to elope and live together.
Unfortunately, tragedy strikes when Dante and Olivia's brother Noel (Lester Llansang) discovered where they are staying and killed Joaquin.
The question left for Olivia is how will she seek justice for Joaquin's death since her own father and brother killed her lover.
Directed by Darnel Joy Villaflor, this episode also stars Rey "PJ" Abellana and Jon Lucas. Ipaglaban Mo airs right after It's Showtime.



BFF TWINS ON MMK. ASAP 20 IT Girls Julia Barretto and Janella Salvador are cast as twins in the episode of Maalaala Mo Kaya, hosted by Charo Santos-Concio.
Abigail (Julia) and Amabelle (Janella) are fraternal twins. Abigail has white, fair skin while Amabelle has a darker skin.
The two grew up to be close as sisters and friends, until they reach high school where their differences became more pronounced.
Abigail is favored by suitors and teachers because of her looks, while Amabelle always excels in class.
As time passes by, the two became envious of each other's distinct qualities. Abigail has always wished that she is as smart as Amabelle, while Amabelle wished she has Abigail's face.
ADVERTISEMENT - CONTINUE READING BELOW
The competition between the two of them in their home and in school started a rift and caused jealousy between the twin sisters, especially with Amabelle who sees Abigail being more favored over her.
How will the relationship of the twins be affected by their jealousy? Will they go back from how close they used to be?
These questions will be answered in this episode that also stars Aleck Bovick, Jake Roxas, and directed by Frasco Mortiz. MMK airs after Home Sweetie Home.



ASWANG WIFE IN MAGPAKAILANMAN. Benjamin Alves and Andrea Torres will topbill this Saturday's episode of Magpakailanman, hosted by Mel Tiangco.
Gloria (Andrea) awed everyone in a small town upon her arrival. Even though she already bore a child, many townsmen attempted to court her but she did not pay attention to them.
However, things changed with the arrival of Johnny (Benjamin) in her life. She fell for him after Johnny proved that he has pure intentions for her. After a short while, they lived together and built a family.
Johnny loved Gloria's child just like his own and they lived a peaceful life together. However, months passed when strange things happened in their town.
Villagers keep on seeing dead animals as if killed by someone that sucked their blood. This started the belief that an "aswang" is staying in their place.
On the other hand, Johnny noticed a change in Gloria's attitude. She suddenly disappears every midnight and can be seen looking at the full moon. She is also seldom seen with Johnny's pregnant sister.
ADVERTISEMENT - CONTINUE READING BELOW
Rumors then started circulating that Gloria might be the "aswang" in their place. Johnny defended his wife and got mad at the villagers.

One day, Johnny caught Gloria talking to herself. He eventually finds out that it is actually Gloria eating the animals in their town.
He finds out that Gloria has a mental disorder that's why she resorts to hurting others.
Upon learning this, will Johnny stand up for his love for Gloria or choose to walk away? What will he do to bring back his wife to her old ways?
This episode of Magpakailanman is directed by Carlitos Siguion-Reyna and airs after Pepito Manaloto.