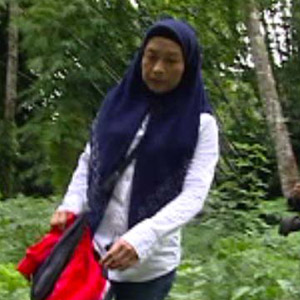 ---

Last Sunday, July 13, ABS-CBN aired a TV special titled Kidnap,which showed interviews of members of the media who were recently taken hostage bythe Abu Sayyaf Group (ASG).
ABS-CBN senior correspondent Ces Drilon, her two cameramenJimmy Encarnacion and Angelo Valderama, and Prof. Octavio Dinampo of MindanaoState University were supposed to interview the one-armed Abu Sayyaf leaderRadulan Sahiron in Sulu last June 8.
Radulan, who carries a $200,000 bounty from the U.S.government, is said to be involved in the 2004 bombing in Jolo that killed 11Filipino civilians and wounded more than 200 persons. Also known as CommanderPutol because of his amputated right arm, he is also considered one of themasterminds of the April 2000 kidnapping of 21 foreign tourists in theMalaysian resort island of Sipadan.
Before Ces left Manila to talk with the notorious leader,she dropped by the office of Maria Ressa, head of the News and Current Affairs,to discuss the said interview. Maria Ressa warned Ces that the Abu Sayyafhaven't been in the news lately and there is a possibility that they might bekidnapped.
Chari Villa, head of the news gathering group of ABS-CBN,specifically instructed Ces to just write down the questions for Radulan andgive a small camera to Prof. Dinampo instead of interviewing him in person.
According to Ces, she had already written down the questionsto be given but when Prof. Dinampo arrived the next day to pick them up, shesuddenly made up her mind to meet with Radulan personally. She and hercompanions were made to walk for hours until they came to the camp of the AbuSayyaf. Throughout this time, Jimmy secretly took videos of the men whokidnapped them and these were aired on the TV special Kidnap.
Upon seeing Ces, the ASG leader told her: "Ito lang angsasabihin ko sa 'yo, kidnap-for-ransom ito." The broadcast journalist wasdevastated and she recalled feeling at that time, "Nahulog talaga ang puso ko."
ADVERTISEMENT - CONTINUE READING BELOW
This was the beginning of their ten-day ordeal at the handsof the terrorist group operating in the southern Philippines. Ces was even toldat one time: "Mag-make up ka ng mabuti para pag in-LBC [courier service] naminang ulo mo, maganda."
Ces described the maltreatment that she received at thehands of the ASG: "Nakatali ka, susuntukin ka ng baril, sasampalin ka. Ang sabiko nga kay Jimmy, 'Wala pang gumagawa ng ganito sa akin.'"
When asked to describe the living conditions during herstay, she responded by saying, "It was horrible. You had to sleep on theground, natutulog kami sa tolda, sa hammock, or sa lupa na nilagyan ng sako."
The armed men also told Jimmy and Angelo that one of them shouldtake videos while the other's head is being chopped off. The ASG demanded thatthe ransom money should be given to them immediately or else they would chopoff the head of Jimmy.
The cameraman recalls: "Sabi nila, 'Magdasal ka na sa Diyosmo. Itong itak na ito, dalawa na ang napugutan.'" Jimmy asked them for mercybut the kidnappers told him coldly, "Hindi kami marunong maawa dito."
A phone call to Indanan mayor Alvarez Isnaji stalled thebeheading and by June 12, Angelo was released while Ces, Jimmy, and Prof.Dimampo were set free on June 17.
In his interview, Jimmy says that he had no regrets aboutjoining the reporter in this dangerous mission. "Nagusap-usap na kami na...aakyatkami dun, mag-iinterbyu kami. Pumayagnaman ako dun na, sige, kasama ako diyan basta ikaw [Ces] kasama ko...The nightbefore kami umakyat, the night before Saturday night nag-usap na kami. Kaya hindi kami nagsisihan dun. Wala kaming pagsisisi."
For her part, Ces is grateful for the care and concern shownby her crewmembers. "Inalagaan nila ako grabe. You could feel their love and respect for me and I wouldn't have beenable to go through that ordeal if not for them."
ADVERTISEMENT - CONTINUE READING BELOW
She even became teary-eyed when she recalled her face-to-face encounter withthe wives of Jimmy and Angelo. "I remember asking their wives, "Galit ba kayosa akin? Hindi sila galit sa akin andthey have every right to be."
SUSPENSION. Management has recently sanctioned CesDrilon with a three-month suspension from her duties as anchor of the lateevening newscast Bandila and from her duties as a senior correspondent.During the TV special, Maria Ressa said that this was because Ces defied thedirect orders of her supervisors.
"Why not termination? Because she is Ces. She is a rolemodel for our news team. It's three months suspension because one month is avacation. Ces lives and breathes journalism. She learned a valuable lesson fromthis ordeal," explains the head of ABS-CBN's News and Current Affairs.
In response to this suspension, Ces wrote to hersupervisors: "I respectfully accept thesanctions you deem proper in my disregard of your order. I cannot put intowords how deeply I regret having put my team in danger...and having causedanxiety and stress to the whole organization."