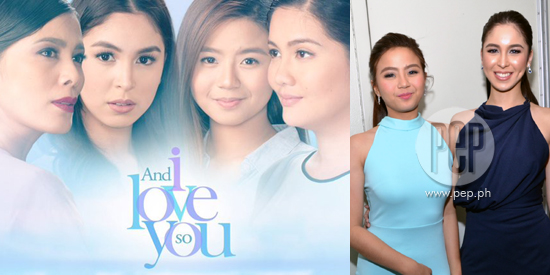 ---

What if your most bitter rival suddenly becomes a permanent part of your life?
This is the premise of And I Love You So, which aired its pilot episode yesterday, December 7, on ABS-CBN's afternoon block.
This new teleserye is topbilled by Kapamilya teen stars Julia Barretto (whose last teleserye was the 2014 fantasy series Mirabella) and Miles Ocampo, who gets her biggest TV break through this show.
AILYS also serves as the acting debut of Pinoy Big Brother 737 ex-teen housemate Kenzo Gutierrez.

Inigo Pascual will showcase his acting chops for the first time in a TV drama after starring in the fantasy series, Wansapanataym presents Wish Upon a Lusis.
Playing important roles in this new TV drama are actresses Dimples Romana and Angel Aquino, who were last seen on Give Love On Christmas and Bagito, respectively.

Tonton Gutierrez, who is also seen on the primetime soap You're My Home, figures in a love triangle with the characters of Dimples and Angel.
ADVERTISEMENT - CONTINUE READING BELOW
In a special screening held last Sunday night, December 6 at ABS-CBN's Dolphy Theater, the cast members, fans, and members of the press were able to see what will transpire in the pilot week of AILYS.
The story of Trixie (Julia) and Joanna (Miles) started when their respective volleyball teams competed against each other for a varsity match.

As the captains of their respective teams, Trixie and Joanna already started feeling wary of each other.
Upon seeing that the rival team is winning because of Joanna's outstanding performance, Trixie began to feel threatened by the young lady.

The competition between the two heats up further when Joanna transfers to Trixie's school.
Little did they know that they are also set to be rivals not only in school, but for the attention of their parents.

They will discover that they have the same father, Alfonso (Tonton), who had a past relationship with Joanna's mother Michelle (Dimples).
ADVERTISEMENT - CONTINUE READING BELOW
This happened when Alfonso's former wife Katrina (Angel Aquino), suddenly disappeared and left behind her daughter Trixie.

Alfonso then became persistent in rekindling his romance with Michelle.

Without giving away too much of what happened during the teleserye's pilot week, here are five things viewers can look forward to as they watch this new compelling TV drama:



1. Catfights and feisty lines from Julia Barretto and Miles Ocampo's characters.
It is a staple in afternoon TV viewing that lead characters are rivals who are vying for either a man's love (Denise Laurel and Vina Morales in Nasaan Ka Nang Kailangan Kita) or for their parents' attention (Ashley Sarmiento and Rhed Bustamante in Flordeliza; Barbie Forteza and Thea Tolentino in The Half Sisters).

ABS-CBN's new soap opera, And I Love You So, is no exception.
In the story, Trixie (Julia) and Joanna (Miles) did not start out as friends. In fact, they instantly became rivals after Trixie's team lost in a volleyball match to Joanna's team. Their rivalry in school became even more intense when Justin (Inigo Pascual) entered the scene. Trixie became jealous of Joanna and Justin's closeness.
ADVERTISEMENT - CONTINUE READING BELOW
One of the most intense scenes is set on a beach where Joanna and Trixie became partners when they participated in a leadership training. Trixie insulted her partner with the words "stupid" and "bobo," making Joanna furious.
A confrontation between the two ensued, and as Joanna stops herself from hurting Trixie, the latter kept on insulting her by saying, "You want more? You idiot, dumb, nincompoop! Para maintindihan mo, sa Tagalog, boba, utak-biya, tatanga-tanga, walang utak!"
Though a feisty Julia was already seen in her past teleserye, Mira Bella, the younger Barretto effortlessly showed her fierce side, just as her aunts Claudine and Gretchen and her mother Marjorie did in the past.
While Julia is seen having more intense scenes, Miles also shined on her own. Her role is somewhat similar to the bubbly characters she portrayed in previous shows, but she was able to give a new spin to her character Joanna.
ADVERTISEMENT - CONTINUE READING BELOW
Also, viewers can also look forward to the showdown between Katrina (Angel) and Michelle (Dimples), and how they will fight for the love of one man: Alfonso.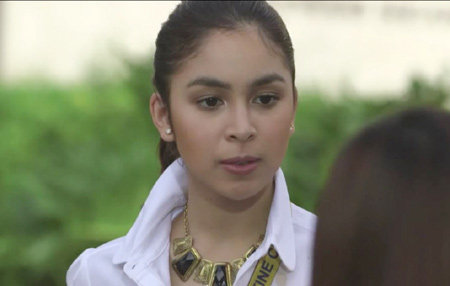 Julia Barretto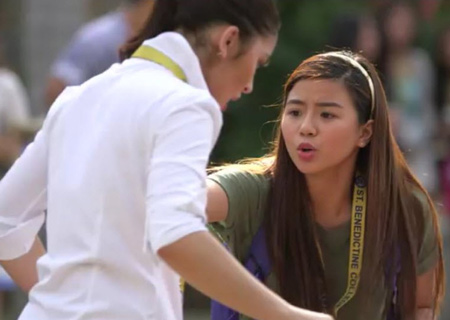 Miles Ocampo


ADVERTISEMENT - CONTINUE READING BELOW
2. Inigo Pascual and Kenzo Gutierrez's first time in teleserye acting.
After appearing in movies Crazy Beautiful You and Para Sa Hopeless Romantic early this year, Inigo now headlines this TV project.
The son of Piolo Pascual is cast as Justin, an internet sensation from the United States who decides to study in the Philippines. He chooses to take care of his grandfather (Dante Rivero) who had a longtime rift with his mother (Nikki Valdez).
During his stay in the Philippines, he meets Trixie to whom he owes his popularity. This is because the young lady commented on his original song on Youtube, paving the way for it to become a viral hit.
Justin also forms a good relationship with Joanna, causing Trixie to hate her rival even more.
Upon watching his scenes shown during the advanced screening, it can be seen that Inigo is able to apply what he had learned from doing movies in the past.

This project also serves as a vehicle to showcase his singing talent as he brings life to a Youtube sensation.
ADVERTISEMENT - CONTINUE READING BELOW
However, there are no dramatic highlights or intense scenes yet for his character.
On the other hand, Kenzo will be seen in the second week of the teleserye as he plays Trixie's childhood friend who is also from the United States.
It remains to be seen if the PBB 737 ex-housemate has what it takes to establish himself as a television actor.



3. Angel Aquino's acting prowess as a kontrabida.
Viewers who missed watching Angel Aquino will relish seeing her as a villain again after she had kind-hearted roles in recent soaps Ikaw Lamang and Bagito.
However, there is one thing in common with her role in And I Love You So and the previously mentioned teleseryes: Angel plays a mother who is willing to do anything for her daughter.
In And I Love You So, she plays Katrina Valdez, a rich, spoiled woman who is in love with her high school classmate Alfonso (Tonton). Unfortunately, Alfonso loves Michelle, Katrina's close friend.
ADVERTISEMENT - CONTINUE READING BELOW
Katrina manipulates Michelle to stay away from Alfonso.

Eventually, Katrina gets married to Alfonso but they have an unhappy marriage, causing her to have an extramarital affair with Dexter (Jay Manalo).

Katrina decides to leave her family and join Dexter in Brazil. Unfortunately, she is caught by the police after being accused of drug smuggling.
After six years of imprisonment, Katrina returns to the Philippines and will do everything to win everything back: her old life, her family, and reconnect with her daughter Trixie (Julia).
However, she finds out that Alfonso and Michelle rekindled their romance and decided to get married.
It is an advantage that this back story was presented in the pilot week so that viewers will be able to understand the plight of Katrina.
During the early part of the pilot week, Angel had a tendency to overact, especially when it came to her mannerisms and her high-pitched voice. However, it became understandable when it was established that Katrina is indeed a rich, spoiled brat, a woman who always gets what she wants.
ADVERTISEMENT - CONTINUE READING BELOW
Angel Aquino is so effective in showing the maturity of her character that she moved people present at the screening to tears. What is exciting is to see her character transform from being broken and scarred to being a sophisticated, vengeful woman who is willing to claim everything that she thinks is rightfully hers.
On the other hand, the plight of Dimples Romana's character Michelle is also someone to look forward to, especially when she finally gets married to Alfonso and Katrina returns.

Just like her previous mother roles, Dimples does not disappoint, and viewers can deeply feel the agony her character is facing.
A particular scene that viewers should look forward to is Michelle's confrontation with Joanna (Miles Ocampo). The mother decides to transfer her daughter to another school, making this teleserye a complete cryfest.



4. Setting it in the academe makes the story relatable to most high school and college students.
ADVERTISEMENT - CONTINUE READING BELOW
Although afternoon teleseryes are mostly catered to mothers as target viewers, And I Love You So also tries to capture the fascination of high school and college students.
The story arc of Trixie and Joanna is a college slice-of-life story complete with cliques (where Trixie belongs to the elites while Joanna is welcomed by the nerds), student elections (where Trixie and Joanna are vying for the student representative position), varsity games, and co-curricular activities.
More than showing the intense rivalry between Trixie and Joanna, this new show also encourages students to study hard and excel in school.
It also offers a relatable story for teenagers who experience problems in studies, love life, friendship, and filial love.



5. AILYS boasts of a fast-paced story and creative camera angles.

When it comes to technical elements, And I Love You Socan be considered a cut above the rest.
Aside from using high-definition cameras, it also made use of good camera angles during its sport scenes wherein Julia and Miles had a volleyball match. It seemed like viewers were really watching a sports match.
ADVERTISEMENT - CONTINUE READING BELOW
Unlike other big teleseryes, it doesn't need a an out-of-town or an out-of-country location. It is enough that the staff behind the show chose a grandiose townhouse for the characters of Julia Barretto and Tonton Gutierrez, and a big university that would entice viewers to study in it.
The afternoon show must also be commended for its fast-paced story. It is not a teleserye that relies on too many flashbacks. In fact, back stories are already summarized through the dialogues fo the character.

It is enough for the show to devote an episode wholly to the love triangle of Michelle, Katrina and Alfonso's story, before moving on already to the teenage years of Trixie (Julia) and Joanna (Miles).
However, upon watching the pilot week, we hope that AILYS will be able to sustain what it established during its first few episodes – especially when it comes to technical aspects.

There might also be a need to add light moments since the teleserye actually seems like a cryfest, and viewers just might feel that is too heavy watching for a relaxing afternoon.
ADVERTISEMENT - CONTINUE READING BELOW
To sum up, And I Love You So is an exciting afternoon drama that offers intense scenes that could make viewers laugh and cry as they relate to the characters of Julia Barretto, Miles Ocampo, Dimples Romana, and Angel Aquino.


AILYS, produced by Dreamscape Entertainment Television, airs weekdays after All of Me.

It is directed by Don Cuaresma, Onat Diaz, and Jon Villarin.


PEPsters, what can you say about the pilot episode of And I Love You So?

Share your thoughts in the comments section below.


Ed's Note: The "PEP Review" section carries the views of individual reviewers and does not necessarily reflect the views of the PEP editorial staff.