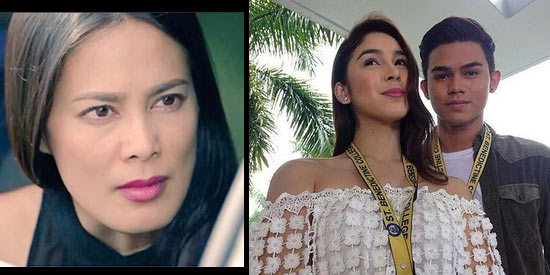 ---

And I Love You So is your typical teleserye of love bestowed and denied, of riches given and withheld, of virtues practiced and ignored.
The ABS-CBN afternoon seris tells the story of Michelle (played by Dimples Romana) and Alfonso (Tonton Gutierrez), who fall madly in love with each other, to the chagrin of Katrina Cervantes (Angel Aquino).
Alfonso doesn't reciprocate Katrina's obsession with him because his heart belongs to Michelle alone.
Katrina, the poor little rich kid, seizes the opportunity to get Alfonso by hook or by crook when she sees him stone drunk after learning that Michelle left him without a trace.
He wakes up on her bed and she gets pregnant. By some strange twist of fate only teleseryes are known for, Michelle also gets pregnant after she and Alfonso consummate their relationship.


WORLDS APART. The daughters born out of these moments of passion are worlds apart right from the start.

Joanna (Miles Ocampo), Michelle's daughter is poor, while Trixie (Julia Barretto), Katrina's child is rich.
ADVERTISEMENT - CONTINUE READING BELOW
Similar situations emphasize this stark contrast between the half sisters. Pampered Trixie gets tender loving care from Alfonso. Neighbors taunt Joanna for being an illegitimate child.
The yawning gap becomes more glaring as the girls grow up.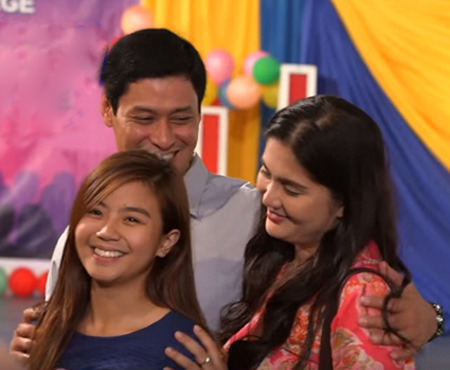 Miles Ocampo, Tonton Gutierrez, and Dimples Romana


Father's Day for the two girls is different as well. Joanna is resigned to spending her life longing for someone who's not there. She buys balloons and lets go of one of them to show how she has accepted her fate.
ADVERTISEMENT - CONTINUE READING BELOW
For Trixie, Father's Day means having a dad all right, but he's so cooped up in his office, he fails to make it in time to watch her compete in a sports event.
Unlike Joanna, Trixie is unhappy over what is, and longs instead for what should be.
Yes, the spoiled daughter takes after her mother, even though you can't blame Trixie for resenting her dad's tardiness in an important event in her life.
Joanna's pleasant disposition shows what should be; Trixie's character, what should not be.
This glaring differences in character spark the confrontation scenes calculated to keep viewers glued to their seats. The half-sisters are so apart in terms of circumstances and attitudes, they give the plot all the ingredients of a never-ending tug-of-war.
The rivalry of the first generation (played by Angel Aquino and Dimples Romana) spills over to the next. And the plot thickens.



ADVERTISEMENT - CONTINUE READING BELOW
THE ACTORS. Angel as the unloved wife shifts from pathetic to furious and back with such passion, you want to let her carry you away in her torrent of emotions again and again.
Dimples' character as a martyr for love is so cut-and-dried, you can predict what she will do next. Meantime, you don't mind seeking refuge somewhere else – the kitchen, a good book, or whatever you fancy – for a moment's reprieve.
But you can't blame Dimples. Her character's template has been laid out of her.
You want to rant with Tonton when he turns an agonized face at the wife he was forced to marry.
Alfonso's admission that he loves his ex-girlfriend Michelle, 11 years after they parted ways, at the time Katrina's mom is laid to eternal rest, is well-timed.
Alfonso and Katrina are in black – the color of death. They are mourning, not just the loss of Katrina's mom, but the demise of their marriage.
ADVERTISEMENT - CONTINUE READING BELOW
But a decade and a year is a long time. Changes are inevitable. Why haven't Tonton and Angel aged, 11 years after they got married? Their faces don't bear the slightest sign of aging – not even a hint of crow's feet.
Maybe they will change as the serye progresses. Maybe Dimples' character will break away from the martyr mold.
Let's hope and pray that these changes do happen. Angel's – and her co-actors' performances – are bound to become even more convincing if it does.


Ed's Note: The "PEP Review" section carries the views of individual reviewers, and does not necessarily reflect the views of the PEP editorial staff.