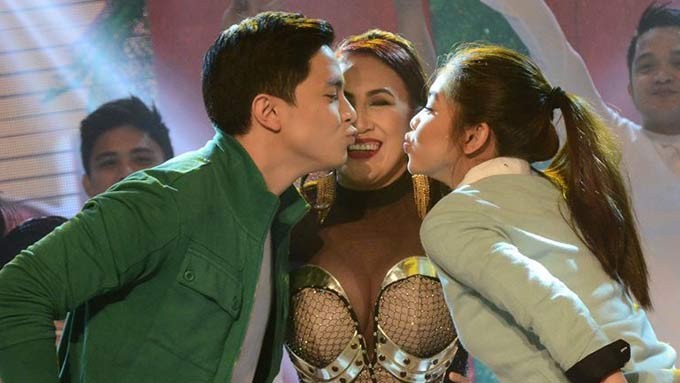 ---

The AlDub love team of Alden Richards and Maine Mendoza (aka Yaya Dub) recently celebrated its 6th monthsary on Eat Bulaga.

Since the "accidental" love team got its own segment called the Kalyeserye, the duo have evolved from having a split-screen romance to going on dates with each other during special occasions.

Marketing expert Josiah Go recently pointed out that Eat Bulaga is showing a "declining base of viewers" based on data from Kantar Media Philippines.

(Read: Marketing expert says Eat Bulaga! experiencing "declining base of viewers")

 
Even data from AGB Nielsen shows a decline in the ratings of Eat Bulaga in Mega Manila.

The AlDub craze started on July 16, 2015 when Yaya Dub became conscious upon seeing Alden observing her on the monitor.

On that particular day, Eat Bulaga was able to get 21.1% while its counterpart show on ABS-CBN, It's Showtime, was able to register 10.8%.

The popularity of AlDub skyrocketed, prompting advertisers to tap Alden and Maine (and even Lola Nidora played by Wally Bayola) as endorsers of their products.

In a span of a month, Eat Bulaga was able to dominate the list of Top 10 highest ratings for
2015 (single episodes).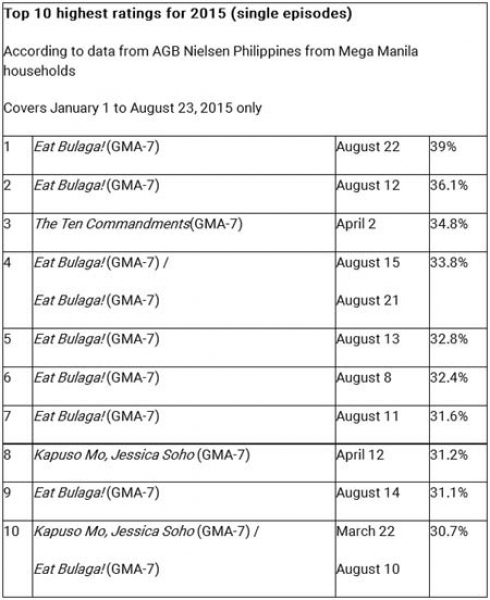 In less than three months, Eat Bulaga was able to claim 10 out of 10 most-watched episodes in Mega Manila.

The AlDub craze reached its peak on October 24 when Alden and Yaya Dub were allowed to be together during the Tamang Panahon concert.

Based on data from AGB Nielsen, Eat Bulaga was able to get almost ten times the rating of its rival.

On October 24, #AlDubEBTamangPanahon got a TV rating of 50.8% when it aired the event live from the Philippine Arena, without commercial breaks.

It's Showtime, which aired the Magpasikat showdown of the hosts, registered a TV rating of 5.4% in Mega Manila.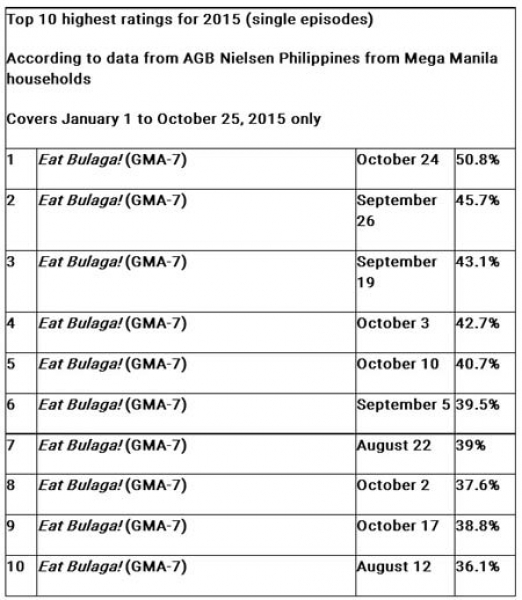 It will be noticed that during the month of September, Eat Bulaga was getting Mega Manila ratings as high as 45.7% (September 26).

After the record-breaking Tamang Panahon benefit concert, the ratings dipped slightly to 30+.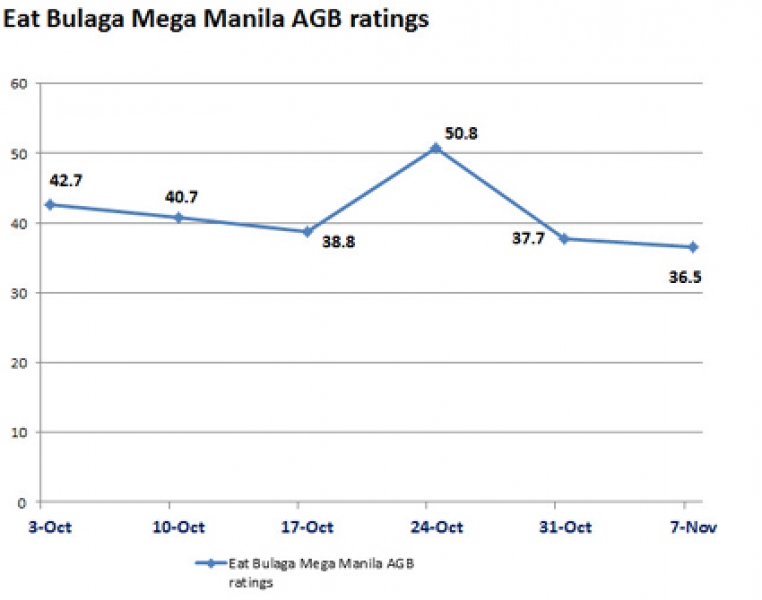 Although Eat Bulaga still holds the distinction of being the most-watched program in the daytime block, it showed signs of reaching its saturation point.


(View graphs: How did AlDub affect AGB Mega Manila ratings of Eat Bulaga and It's Showtime?)
 


In December 2015, the weekday ratings of Eat Bulaga ranged from 23+ up while the weekend episodes reached the 30+ mark.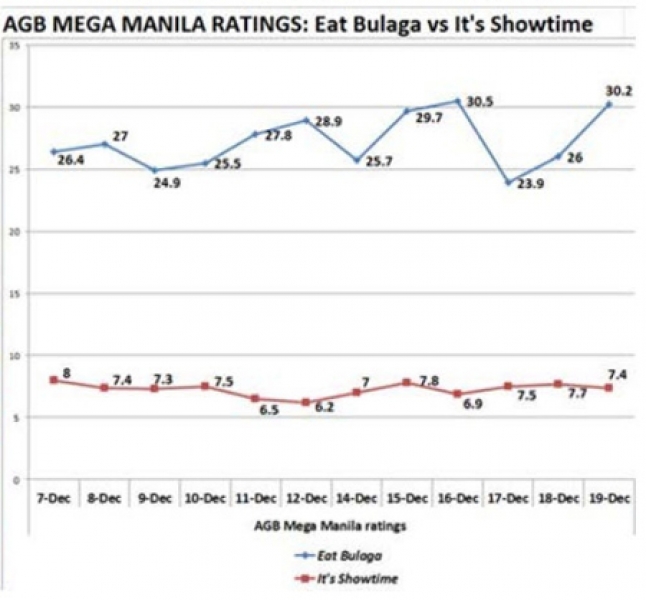 Now that AlDub has reached its six-month mark, the creative team is faced with the challenge of giving compelling reasons for AlDub Nation to stay tuned to the show.

From January 1-16, 2016, Eat Bulaga's lowest Mega Manila rating reached 21.3% last January 6 while no episode has yet reached 30%.

The highest so far is the 29.9% registered last January 2, on the day when Alden celebrated his birthday with the Dabarkads.

Granted, there are new elements introduced on the show, including the appearance of Jake Ejercito as the classmate of Yaya Dub.

When Jake finally appeared on the show last January 9, Eat Bulaga was able to get a Mega Manila TV rating of 27.4%.

To date, Eat Bulaga is still the most-watched show in the daytime block.

In light of this development, members of the PEP Editorial Team suggested that the team behind Kalyeserye display more creativity as the program is experiencing a slowdown, based on Kantar Media nationwide ratings and AGB Nielsen Mega Manila ratings.

Watch the PEP Editorial Team share observations about AlDub and Kalyeserye through this PEP Forum video:  



(Watch: PEP FORUM: AlDub's popularity has reached its plateau... now what?)
 



PEPsters, what observations and insights can you share about Eat Bulaga and its performance so far?


ADVERTISEMENT - CONTINUE READING BELOW