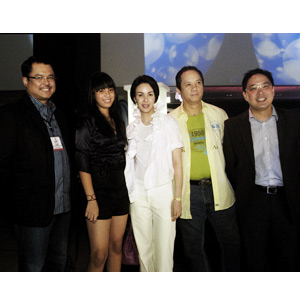 ---

Last March, ABC-5 informed PEP(Philippine Entertainment Portal) that the company had entered into a "majorblocktime agreement" with MPB Primedia, Inc., a Philippine corporation backedby Media Prima Berhad of Malaysia.
This agreement has resulted in anew look and a new target market for the broadcasting company owned by Antonio "Tonyboy" Cojuangco. StartingAugust 9, ABC-5 will be known as TV5, a channel that promises to target "under-served demographic of 30 and belowincluding those who are young at heart—generally the progressive Pinoys who areopen to change and are willing to try new things and experiences."
According to Christopher Sy, TV5 Chief Executive Officer,"We realize that our target market is an active segment that may not have thetime to try to follow something on a daily basis. As such, our schedule isbased more on "appointment" television with provisions for catch-up TV,allowing people the flexibility to watch our programs when it's convenient forthem."
TV5 will offer various showgenres such as reality, drama, variety,teens & toons, and movies.
"We think we can attract a sizeable audience by providing a freshalternative to the country's two major networks which seem to mirror eachother's programming. We hope to provide shows that are different and morerelevant to a youthful Filipino audience," said Sy.
The newly repositioned TV station will broadcast using a 120kWtransmitter. It was recently launched to the trade industry through an eventattended by more than 1,000 movers and shakers from the advertising business aswell as the stars from the channel's upcoming programs. The big trade launch showcased TV5's newprogramming lineup, which was well received by the audience.
ADVERTISEMENT - CONTINUE READING BELOW
TV5 is a television channel brand of MPB Primedia, Inc., a Philippinedomestic corporation, which entered into a long-term block air time agreementwith Associated Broadcast Company, which is headed by Mr. Cojuangco.