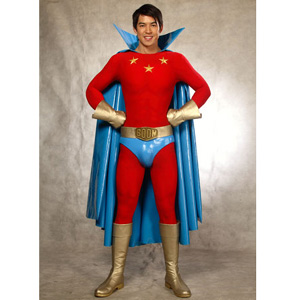 ---

Komiks Presents Mars Ravelo's Kapitan Boom will bidgoodbye with an action-packed finale episode this Saturday, August 2.
Kapitan Boom is one of the not-so-popular characters createdby Filipino comic book writer Mars Ravelo. The Boombastic superhero wasvirtually unknown to televiewers but soon became known among children and otherfamily members as well.
Kapitan Boom captured the attention of viewers forhis charming but fumbling personality as well as his funny antics and comicalstrategies. His misadventures soon though became successful in the end as hetickled the viewer's funny bones and touched their hearts.
In the finale, Kapitan Boom will be able to destroy thetransmitter for the time machine. But this zaps up all of his strength, powerand energy. And the ensuing electrical storms brought about by the machineresults in chaos. Kapitan Boom flies to the territory of his nemesis, BionicHector, only to find out that he has captured the three people that he lovesthe most: his mother, father, and Melody.
ADVERTISEMENT - CONTINUE READING BELOW
Kapitan Boom will make his last stand against his mortalenemy. And in the end, only one will succeed.
The lead characters of the show have mixed emotions as thefantaserye comes to an end. Jon Avila, who plays Kapitan Boom, says, "I'llmiss working with my cast because mababait sila. It's been fun working withDirek Dondon Santos. It's a great honor and I'm very proud to be part of theshow."
Jay-R Siaboc, who plays Lance or Kapitan Boom's alter ego,says that he will miss their lively banter on the set. "Sa akin naman, yungmga kulitan. Kasi kami lahat, si Jon noong mga unang araw pa lang ng taping,sobrang tahimik niya. Hanggang sa kinukulit namin. Hanggang sa nahawa na siya.Ngayon, mas makulit pa siya kaysa sa amin. Kahit si Tita Gloria [Sevilla]nakikipagkulitan sa amin. Masaya. Sobrang hindi namin makakalimutan."
Other stars in the show include Maja Salvador, Marianna delRio, Thou Reyes, Gloria Sevilla, William Lorenzo, and Bembol Roco.
ADVERTISEMENT - CONTINUE READING BELOW
Don't miss the last episode of Kapitan Boom, whichairs back-to-back on August 2 with new TV series Varga at 6:45 p.m. onABS-CBN.