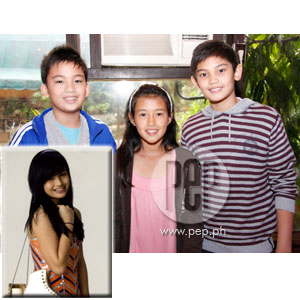 ---

Kids nowadays are getting lessexercise. As the popularity of cable television and video games continue torise dramatically over the years, teenagers and even adults prefer to be couchpotatoes who live sedentary lives in front of the boob tube.
"We're dealing with an obesity epidemic," remarkedpediatrician Dr. Philip Nader of the University of California at San Diego in atelephone interview with Reuters a few months back. But other than health issues,the lack of interest in physical activities also affect how individuals copesocially.
Given all of these concerns, theneed for a program highlighting the importance of sports while at the same timeencouraging young people to engage in physical activity is very much needed.And this is where Sports Kidz comesin.
SPORTY KIDS. Now on its 4th season, Sports Kidz gathers four young achievers as they entertain andeducate young viewers about various sports and other sport-related activities.
"Sports Kidz is about uskids who want to share our sports to other kids," explained host Javi Benitezlast August 2 at a press conference held at Annabel's restaurant in QuezonCity.
Joining Javi during the specialmeet-and-greet was his co-hosts young cager Anton Asistio and newbie SaraCastaneda. Fellow host, 15-year-old Katrice delos Reyes was not able to attendas she is currently competing abroad in an ice skating competition.
These young kids turned TV hostsdefinitely know what they are talking about. Glancing at their respectiveprofiles, one can definitely say that the quartet deserves to be at theforefront of a sports program.
Katrice is an ice skatingchampion who has competed in both local and international competitions. She hasalso graced various billboards and magazine spreads aside from doing two TVcommercials in the past. 13-year-old Anton Asistio is considered as one of thefuture key players in local basketball. Currently playing as part of thevaunted Ateneo de Manila University junior team, Anton has played in the SmallBasketeers of the Philippines (SBP) where they emerged as National Champions atthe 2007-2008 season.
ADVERTISEMENT - CONTINUE READING BELOW
Young heartthrob Javi Benitez ismore than just good looks as he is a decorated karting champion. He representedthe country in various racing competitions held in Italy and Macau. Javi alsonetted the Philippine Junior Karter of the Year plum aside from bagging theAsian Formula 125 Open Juniors award of the 2007 Asian Karting OpenChampionship or AKOC.
Not to be outdone is new additionSara Castaneda. Outwardly shy yet endearingly articulate, Sara won the MostValuable Player award of the Makati Football School when she was only six yearsold. She went on to accumulate three more MVP awards in the Xavier Cup, AlaskaCup and the La Salle Football Fiesta. Sara's team won the ladies 14 and underdivision in the Costa Blanca Cup '08. She and her teammates will fly to Swedento compete in the Gothia Cup '08 or more popularly known as the World YouthCup.
FUN AND ENTERTAINING. For its new season, Sports Kidz will feature exciting segments like "Schooled" whereviewers can learn the basics of various sports as delivered by esteemed sportspersonalities. There is also "Out of Bounds" where kids are informed about newupdates in the world of sports. Sports trivia dished in a funky way abound in"What A Fact." The show also pays homage to traditional Pinoy games such assiyato, patintero and others through a segment wittingly dubbed "Old School."Latest updates on Pinoy sports legends will also be featured to keep old andyoung fans alike updated.
"All The Right Moves" is aninstructional feature on various sports that will educate viewers on how toavoid accidents and other injuries while playing. "MVP" highlights students whoinspire others to succeed in their chosen sport. Upping the ante this season, Sports Kidz introduces "Tekkie Muna," asegment that touches different technological breakthroughs in sportswear,apparel, shoes, gadgets and latest inventions and discoveries in sports.
The three hosts animatedlymentioned how the show likewise introduced them to other sports outside theirusual ones.
ADVERTISEMENT - CONTINUE READING BELOW
"And that's what we also intendto do," said Anton, "to exposed fellow kids to other sports, hoping that theywould be able to discover what they want to engage in."
Watch Sports Kidz every Saturday from 11-11:30 a.m. on Studio 23.