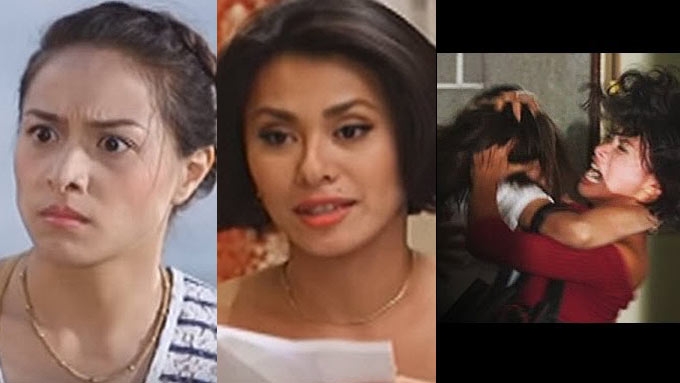 ---

Filipinos seem to love campy drama shows with one of the most cliche plots—the battle between the legal wife and mistress.

Not that we're complaining but we also enjoy these kinds of confrontation scenes.

This is probably why ABS-CBN's Tubig At Langis became a hit on the afternoon prime block.

Cristine Reyes, Isabelle Daza, Zanjoe Marudo, Dionne Monsanto, and many others star in this teleserye that premiered last February 1.

Helmed by directors FM Reyes, Raymund Ocampo, and Lyan Suiza, Tubig At Langis revolves around Irene (played by Cristine Reyes) a struggling single mom.

She reconnects with her first love and high school sweetheart Natoy (played by Zanjoe Marudo) and the two eventually got married.
Conflict arises when Natoy's family members oppose their relationship.

Dionne Monsato stands out on the show for portraying Lucy, Natoy's sister. Her objective on the show? Make everyone's live miserable!

The couple face marital problems when Irene fails to conceive a child for Natoy. This prompted Natoy to have an affair with Clara (played by Isabelle Daza), who accidentally becomes pregnant. 

As a result, numerous catfights take place between Irene, Clara, and Lucy. This even leaves us wondering, is Dionne's face insured?



Here are 10 of the best confrontation scenes on Tubig At Langis in no particular order:


The Scene: Mother's Anger. Nothing beats the wrath of a mother. In this scene, Irene confronts Lucy regarding her treatment of her and her son Mico. The argument escalates until Irene delivered a stern warning while holding Lucy's neck as if to choke her.

Irene told Natoy's sister, "Ikaw, pag kinakausap ka ng maayos, sumagot ka! 'Wag kang barubal! Buhay ang pinag-uusapan natin dito, a, buhay ng anak ko! Naintindihan mo?"

The irate wife continued with this threat: "Gusto mo sabuyan kita ng tinola diyan?!"

We will never look at tinola the same way again.


ADVERTISEMENT - CONTINUE READING BELOW

The Scene: Legal Wife. Irene caught Natoy and Clara having a sweet moment. Her husband was talking to his unborn child inside Clara's tummy.

Lucy arrives at the house and pokes fun at their situation. When Lucy demands attention from Irene, she responded by whacking Lucy's face.

Irene retorted, "Ayan! dinededma pa ba kita?!"

The legal wife shouted, "Ikaw, Natoy, asawa kita! Akin ka!" 



The Scene: Catfight. Lucy filed a case against Domeng (played by Lito Pimentel) and accused him of killing their mother Conching (played by Vivian Velez).

After a court hearing, Lucy made another grand entrance, causing Irene to be irritated.

"Ito ang pasabog!" declared Irene before landing a crisp slap on her rival's face.

After the two women took turns slapping each other, a catfight ensued with them pulling each other's hair.



The Scene: Lucy versus Irene. Lucy got her revenge when Irene visited the funeral of Mamang (played by Vivian Velez). An emotional Lucy went straight to Irene and gave her the best sabunutan scene in the series. Surprisingly though, Irene's hair looks smooth again even after being assaulted by Lucy.



The Scene: Clara versus Irene. Clara and Irene really don't care where they are when they're fighting. In this case, Clara confronts Irene inside a supermarket as the legal wife stressed her hold over Natoy. However, Irene won't just back down as she warned her rival: "Hindi kasing haba ng kalandian mo ang pasensiya ko!"

They exchange slaps and Irene shouts, "Gusto mo pa ng isa? Nang magising ka sa katotohanan!"



The Scene: Losing Patience. When Irene gets tired of using her hands, she'll definitely use anything around her as a weapon.

For this particular scene, Irene was in-charge of the christening of baby Nathan (Clara's son with Natoy). Being a very "hands-on" and "perfectionist" client, Clara overrides the instructions of Irene and changed the setup of the venue. Irene lost her cool and picks up a wine glass to use as a weapon. Don't worry, no physical contact happened between them but Irene did smash the wine glass out of anger.


ADVERTISEMENT - CONTINUE READING BELOW

The Scene. Clara hits Irene. If Irene chose a wine glass, Clara's weapon of choice is an umbrella. She attacked an unarmed Irene using an umbrella in this nasty confrontation scene. However, it is the pregnant Clara who ended up in the hospital because of bleeding.



The Scene: Painful Words. Another confrontation scene that made it to our list is Clara and Irene's exchange of painful words and powerful slaps. Clara accuses Irene of taking her son Nathan away from her. In her anger, Clara described her rival as "desperada." Irene denies her allegations and told her, "Ina ka nga pero hindi mo kayang magpaka-ina."



The Scene: Thrown Out. During her son's birthday party, Clara overhears her rival describing herself as "Mommy Irene." As a result, Clara tries to forcibly take her son who was being carried by Irene.

Natoy's sister Lucy insults Clara, "Inggit ka lang kasi hindi ka imbitado sa party ng sarili mong anak!"

Lucy slaps Clara and a tug-of-war takes place as they try to take the baby to safety.

This outburst was the last straw for Natoy and he called Clara as "salot." In the end, Natoy threw her out in the streets.



The Scene. Big Trouble. Probably the best confrontation scene so far in Tubig at Langis is Irene and Clara's sampalan x sabutuan scene by the beach. Irene caught Clara once again seducing her husband. In a snap, she went beast mode, attacking Clara and pulling her by the hair from the beach all the way back to the hotel. For this scene, the best line went to Clara. Irene warned her, "Kahit anong display mo, hinding hindi ka na papatulan ng asawa ko!" Clara replied, "Talaga?! May nangyari sa amin kagabi."

Natoy's guilty face said it all.



PEPsters, what is your favorite confrontation scene from Tubig at Langis? Share your thoughts in the comments section below!


ADVERTISEMENT - CONTINUE READING BELOW
(Gif from Tumblr)