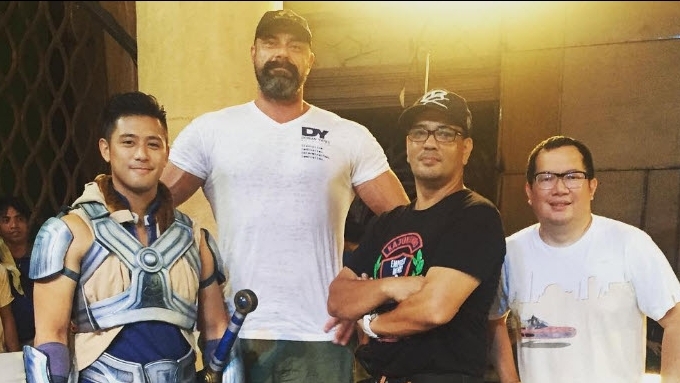 ---

This is what happens when a knight of Westeros meets a warrior of Encantadia!
Australia actor Conan Stevens paid a visit to the set of GMA-7's upcoming telefantasya Encantadia 2016.

Conan is known for his portrayal of a knight named Gregor Clegane or "The Mountain" on HBO's Emmy award-winning fantasy-drama series Game of Thrones. 
No details as to why the Aussie actor visited the stars of the Pinoy telefantasya but the trip was enough to excite fans of GoT and Encantadia.
Actor Rocco Nacino, who portrays Aquil in the upcoming requel (remake + sequel), had the chance to have his photo taken with the Hollywood actor.

The Kapuso star uploaded the photo on his Instagram account today, June 7, with the caption: "So the mountain from the Game of Thrones visited us today. What would happen if i fought him one on one kaya? great meeting you Conan! #GameofThronesMeetsEncantadia"

Encantadia's director Mark Reyes also uploaded his photo with Conan on his personal Instagram account.

His caption: "Guess who showed up at #Encantadia ? The Mountain from GOT season 1 #GameOfThronesMeetsEncantadia #AintNoMountainHighEnough #encantadiks #gmanetwork"