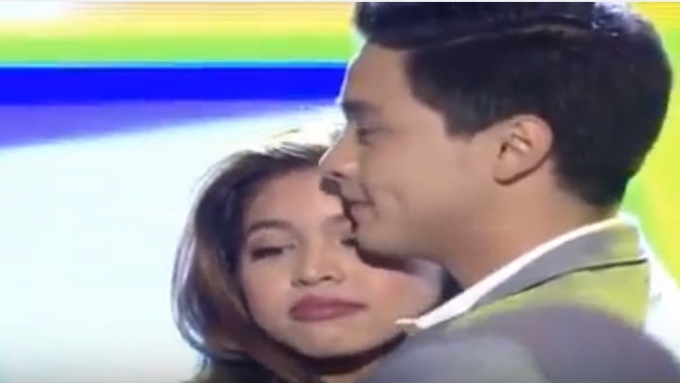 ---

Maine Mendoza described Alden Richards as her "inspiration" during the June 16 episode of Eat Bulaga.

On this day, Maine performed the theme song of their upcoming movie titled Imagine You and Me.

This June 16 marks the 11th monthsary celebration of the "accidental" love team of AlDub.

Maine and Alden greeted each other "Happy 48th Weeksary" during the Kalyeserye segment of Eat Bulaga.

Before Maine performed the theme song on stage, Alden asked her:

"Ready ka na ba?"

She responded, "Ewan ko. Ready na ba ako?"

Alden then gave her advice by saying, "Isipin mo...ifeel mo ang lyrics ng song.

"Isipin mo lang ang inspirasyon mo. Sino ba inspirasyon mo?"

Maine quickly answered, "Yung tinitingnan ko. Siyempre ikaw."

After a few minutes, AlDub Nation finally had the chance to hear the theme song that contained lyrics such as: "It would be nice to have you in my life / Imagine you and me, together eternally / And I hope you see I would love to love you"

Afterwards, Maine happily announced, "Mapapanood niyo na ang kuwento ni Andrew at Gara."

Viewers also had a chance to get a sneak peek of the upcoming AlDub movie that was shot in Como, Italy.

After her performance, Alden gave Maine a hug and gave her a tender kiss on the head.




SHARE THIS STORY Imagine You and Me" data-url="https://www.pep.ph/guide/tv/23848/maine-calls-alden-as-her-inspiration-performs-theme-song-of-emimagine-you-and-meem" data-desc="Maine Mendoza described Alden Richards as her "inspiration" during the 11th monthsary celebration of AlDub on Kalyeserye." data-image="https://contents.pep.ph/images2/guide/2016-06-16_14:43:33_Aldub-kiss-theme-song.jpg"> Imagine You and Me" data-url="https://www.pep.ph/guide/tv/23848/maine-calls-alden-as-her-inspiration-performs-theme-song-of-emimagine-you-and-meem" data-desc="Maine Mendoza described Alden Richards as her "inspiration" during the 11th monthsary celebration of AlDub on Kalyeserye." data-image="https://contents.pep.ph/images2/guide/2016-06-16_14:43:33_Aldub-kiss-theme-song.jpg"> Imagine You and Me" data-url="https://www.pep.ph/guide/tv/23848/maine-calls-alden-as-her-inspiration-performs-theme-song-of-emimagine-you-and-meem" data-desc="Maine Mendoza described Alden Richards as her "inspiration" during the 11th monthsary celebration of AlDub on Kalyeserye." data-image="https://contents.pep.ph/images2/guide/2016-06-16_14:43:33_Aldub-kiss-theme-song.jpg">
SHARE THIS STORY
Imagine You and Me" data-url="https://www.pep.ph/guide/tv/23848/maine-calls-alden-as-her-inspiration-performs-theme-song-of-emimagine-you-and-meem" data-desc="Maine Mendoza described Alden Richards as her "inspiration" during the 11th monthsary celebration of AlDub on Kalyeserye." data-image="https://contents.pep.ph/images2/guide/2016-06-16_14:43:33_Aldub-kiss-theme-song.jpg"> Imagine You and Me" data-url="https://www.pep.ph/guide/tv/23848/maine-calls-alden-as-her-inspiration-performs-theme-song-of-emimagine-you-and-meem" data-desc="Maine Mendoza described Alden Richards as her "inspiration" during the 11th monthsary celebration of AlDub on Kalyeserye." data-image="https://contents.pep.ph/images2/guide/2016-06-16_14:43:33_Aldub-kiss-theme-song.jpg"> Imagine You and Me" data-url="https://www.pep.ph/guide/tv/23848/maine-calls-alden-as-her-inspiration-performs-theme-song-of-emimagine-you-and-meem" data-desc="Maine Mendoza described Alden Richards as her "inspiration" during the 11th monthsary celebration of AlDub on Kalyeserye." data-image="https://contents.pep.ph/images2/guide/2016-06-16_14:43:33_Aldub-kiss-theme-song.jpg"> Imagine You and Me" data-url="https://www.pep.ph/guide/tv/23848/maine-calls-alden-as-her-inspiration-performs-theme-song-of-emimagine-you-and-meem" data-desc="Maine Mendoza described Alden Richards as her "inspiration" during the 11th monthsary celebration of AlDub on Kalyeserye." data-image="https://contents.pep.ph/images2/guide/2016-06-16_14:43:33_Aldub-kiss-theme-song.jpg">