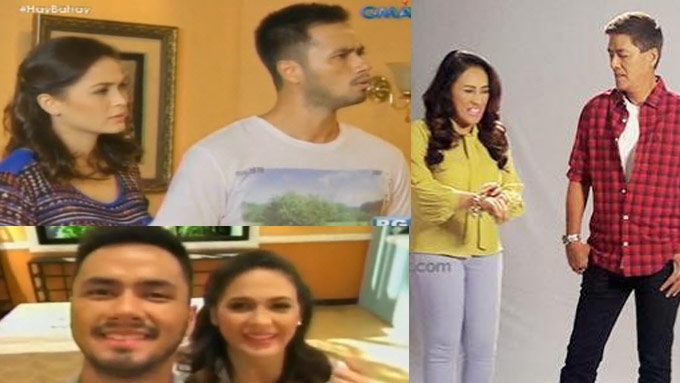 ---

The average Filipino family has changed a lot since the days of well-loved family sitcom John en Marsha. The husband is no longer sole breadwinner. In this day and age of woman empowerment, the wife also brings home the bacon.

In the case of GMA-7's new sitcom Hay Bahay, husband and wife can apply – and get approved – for a bank housing loan. This is exactly what happened to newlyweds Yoyo (Oyo Sotto) and Batch (Oyo's real-life wife Kristine Hermosa).

The couple thinks they struck gold. The house is well-furnished, is right at the center of everything, and spacious. The sole toilet is a non-issue. After all, they plan to renovate the place.

So they post a for-rent notice, complete with a virtual tour of the house, on social media. This attracts food blogger Vio (Vic Sotto) and events coordinator Lav (Ai-Ai delas Alas), who are looking for a new place to stay in.

It is too late when Vio and Lav find out about the toilet problem. They hastily signed the rental contract in their excitement to live in what they think is their dream house.

This is where the sitcom's push and pull starts, not just for Vio and Lav, but for the young couple, who must deal with their own issues as well.

Kristine, in her showbiz comeback and first foray into comedy, has yet to crack a joke or figure in a funny situation, so it's too early to say if she caught her real-life father-in-law Vic's comedic timing.

Whatever comedy talent she has remains hidden for now, since her scenes are confined to sweet moments with Yoyo, and frequent trips to the toilet just when the story reaches a turning point.

Oyo's role is also way too serious for now to fall under the comedy category.


SEASONED COMEDIANS IN COMMAND. The seasoned comedians (including Wally Bayola as Sikat and Jose Manalo as Mael) are still in command. Lav uses reverse psychology on a woman who threatens hers and Sikat's safety, and resorts to it again as she tries to gain entry into the house.

For all his sophistication, Vio (with Mael) measures the room's size, not with steel tape, but using the manual method dyaryo bote ambulant vendors are familiar with.

If suspension of disbelief is what you're after, you'll get tons of it in the pilot episode. Prepare to toss aside expectations about locking your front door when strangers are outside, or inquiring about important amenities like toilets when renting a place.

This just isn't the place for these.


GOOD OLD VALUES. But it's the place for good old values. You fall in line and wait for your turn.

You don't lie about a problem, or just keep quiet about it when pushed against the wall. But you never ever tarnish the truth.

Yoyo is the perfect husband as he thinks of Batch's welfare before making a big decision.

For all its areas of improvement, Hay Bahay makes you feel good at the end of the day. It teems with the optimism and the happy vibes Filipinos are known for. It shows our never-say-die spirit when facing problems, and our love for family.

All the characters are related. Sikat is Lav's younger brother and Mael is Vio's cousin. They may crack jokes at each other's expense. But at the end of the day, they have each other's back.

That's how Filipino, and relatable this new GMA sitcom is. Directed by Bibeth Orteza, Hay Bahay airs Sunday nights on GMA-7 after 24 Oras Weekend.

Let's hope the scenes get more realistic as the sitcom moves along.



Ed's Note: The "PEP Review" section carries the views of individual reviewers, and does not necessarily reflect the views of the PEP editorial staff.




ADVERTISEMENT - CONTINUE READING BELOW