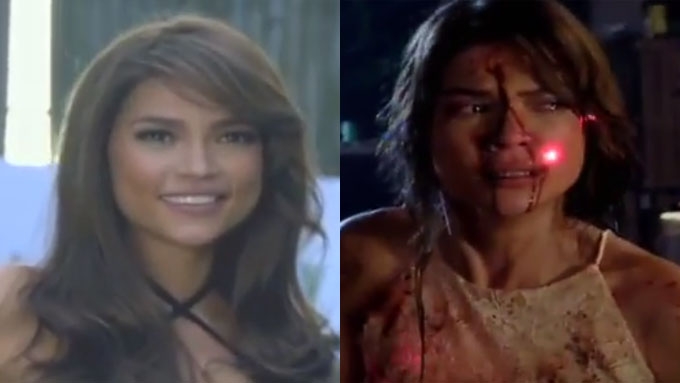 IMAGE Screengrab from GMA
---

The TV adaptation of Vilma Santos's 1992 award-winning film Sinungaling Mong Puso aired its pilot episode on July 18 with Rhian Ramos reprising the lead role.
The episode opened when policemen caught Clara (Rhian Ramos) covered in blood, after killing a guy who was not shown onscreen.
The whole episode then focused on Clara's back story. She started off as a beauty queen who's about to get married to her five-year boyfriend Eric (Paolo Contis). However, their wedding did not push through after Clara caught Eric having sex with another woman in the condo unit they shared.
Clara finds solace in her newfound friend Roman (Rafael Rosell), the husband of her deceased friend Ledda (Ryza Cenon). Clara and Roman eventually develop a romance of their own.
Future episodes will show how Clara struggles as Roman's wife because of his infidelity. Viewers will also get to see her life change when she meets Jason (Kiko Estrada).
In the pilot episode alone, Rhian has already shed a lot of tears, and there will definitely be more dramatic moments in future episodes.

Sinungaling Mong Puso airs 3:30 pm after Magkaibang Mundo on GMA-7's Afternoon Prime.
PEP presents five highlights from the pilot episode of Sinungaling Mong Puso:


Clara and Roman's first meeting during the wake of Ledda.
The death of Roman's wife Ledda paves the way for the widower to meet Clara, his wife's college best friend. Sparks flew when the two shook hands as Clara gave her condolences.
Clara and Roman then shared a moment together during the wake when the former shared stories about her friendship with Ledda, how they drifted apart, and saw each other for the first time again after their college years.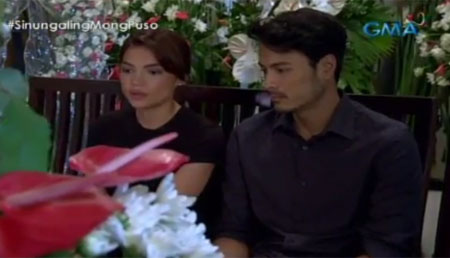 It can be observed that Roman listens intently to Clara's stories and often stares at her, hinting about their future love story.
ADVERTISEMENT - CONTINUE READING BELOW
They would meet up again weeks later in the showroom of Ledda's furniture shop, which Roman already manages after the death of his wife.



Clara catches her fiance Eric having sex with another woman inside their house.


At the start of the episode, it was already pointed out what will happen to the relationship of Eric and Clara, when she caught her fiance making out with a woman at the backstage of a beauty pageant. However, Clara decided not to make a big fuss out of it.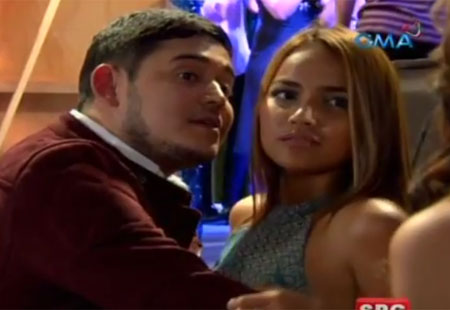 Clara and Eric then started fixing the condo unit they will live in. The two even promised that they will make the most out of their time, following Ledda's death, even though Eric did not seem to take it seriously.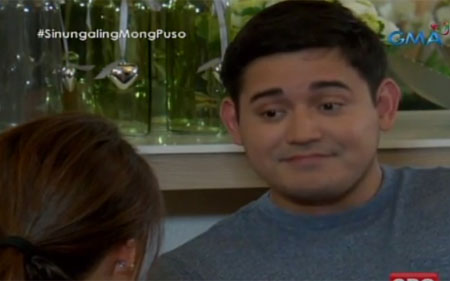 Their five-year relationship finally ended when Clara caught Eric having sex with another woman in their condo unit.
Clara angrily told her fiance, "Kahit once, twice, thrice, or ilang beses mo pa ginawa 'yan, walang magbabago sa fact na niloko mo ako, binastos mo ako!"
Eric defended himself and tried to pacify the situation. "Sex lang 'yan. Sex, okay? Ikaw naman ang mahal ko, di ba?"
But Clara wouldn't calm down, prompting Eric to break up with her.



Roman consoles Clara upon seeing her heartbroken.

When the king-size bed was delivered to her house, the heartbroken lady broke down into tears. Good thing, Roman joined the delivery crew and gave Clara the comfort that she needed.
Roman consoled her by saying, "Isipin mo na lang that this could be the beginning of something new."


Thus, Clara decided to leave behind the condo unit, the wedding ring, and move on with her life.



Clara and Roman enter into a romantic relationship.
After the heartbreaking moments in both Clara and Roman's lives, they became close and help each other move on. They would go out together, and ventured into partnerships since Clara is also an interior designer.
Almost a year after Ledda's death, Roman followed Clara when she visited the venue of her supposed wedding.

Roman consoled the tearful Clara, and told her to calm down and move on. He then asked her out for dinner.


ADVERTISEMENT - CONTINUE READING BELOW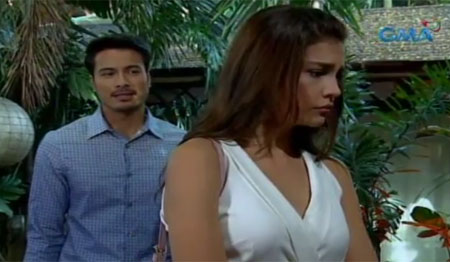 Still vulnerable because of her heartache, Clara said no to Roman. But he still tried to convinced her and admitted, "Clara, gusto kita."
As the episode ended, preview scenes in Sinungaling Mong Puso showed that Clara and Roman will get married, and that the guy's parents are not in favor of their relationship.



The opening scene where Clara killed a man.
Sinungaling Mong Puso opened with an event in the present where Clara had bloodstains in her face while holding a knife. A dead man (whose face was not shown) could be seen on the floor, covered in blood.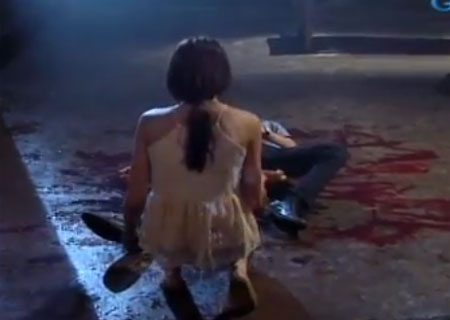 Those who watched the original movie Sinungaling Mong Puso might be reminded of an iconic scene from the 1992 film. The original Clara (Vilma Santos) fired numerous gunshots at Roman (Gabby Concepcion) until he was bathed in blood while pigs try to devour him.
In future episodes of the Kapuso show, viewers can look forward to seeing how the characters Jason (Kiko Estrada) and Hannah (Jazz Ocampo) will affect the lives of the couple.



THE VERDICT. Rhian Ramos definitely showed a different side of her, as she plays a more mature character in Sinungaling Mong Puso.

Her Clara character is very far from the way she portrayed Jade in The Rich Man's Daughter.

Clara is more refined and more serious while she faces more struggles in her life, aside from the fact that she is ready to settle down.
Rhian's facial expressions clearly depict the emotions of her character. She veers away from her conyo-ish, sosy way of speaking, which she showed in her previous characters, particularly when she played a rich woman in TRMD and Sosy Problems.

Her financial struggles and her economic status was established by showing that she joined beauty pageants. However, her job as an interior designer wasn't clearly presented.
Rhian flaunted her sexy, FHM-ready body in the first part of the episode when she wore a swimsuit for a pageant. In real life, the 25-year-old actress made her debut as an FHM Philippines cover girl for the magazine's July 2016 issue.

Viewers can look forward to her daring scenes with her leading men throughout the show's 16-18 week run.


ADVERTISEMENT - CONTINUE READING BELOW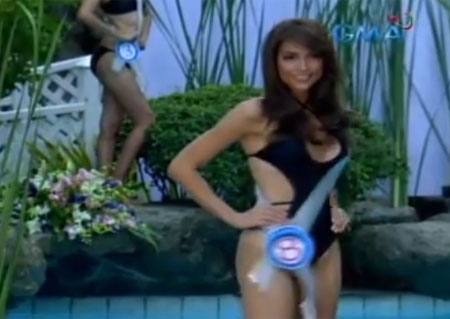 Rafael, on the other hand, is believable as Clara's knight in shining armor. Some may say that he did not make an effort to look sad in the scene where his wife died, but this could lay the foundation for twists in his character that will be unraveled as the series progresses.

It is also exciting to see Rafael take on his first kontrabida role once Roman unleashes his true colors: a womanizer who resorts to violence.
The cinematography and camera movements are also commendable.

Director Ricky Davao and his team know how to maximize their resources, especially since it is well-known that daytime shows have smaller budgets compared to primetime shows.

He knows how to handle Rhian's close-ups and manages to make her look beautiful even while she is in tears.

Rafael is also established to be a thoughtful gentleman, a guy any girl would be lucky to have.

Through deliberate camera shots, viewers are able to catch important details such as Clara's wedding ring, or the two wine glasses she found on the table before catching her husband with someone in bed.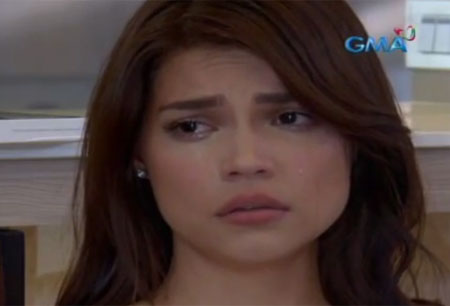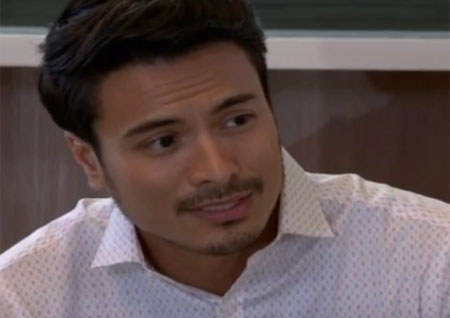 However, the musical scoring does not help much in the series. It can be too distracting since there are times when the music is louder than character's dialogues. There were also times when scoring was needed but there was just dead air. Hopefully, these can be resolved in future episodes.
Scriptwriters must also be careful when it comes to pacing, as some of the scenes in the pilot episode seem to be too fast-paced.
The TV version is definitely making good use of the original story done by Jake Tordesillas (who serves as the creative manager of the series). It still offers a compelling tale of lovers torn dealing with problems of infidelity and age differences. It is not something new in Philippine TV, but the writers try to present it in such a way that it can be considered as a cut above the rest, especially when it comes to the bold dialogues and glossy camerawork.
ADVERTISEMENT - CONTINUE READING BELOW
We hope Sinungaling Mong Puso will be able to sustain its good start.

The creators of this TV version must take care since afternoon shows are more vulnerable to dragging and repetitive storylines, most of which were already seen in other afternoon and primetime shows in the Philippines.



Ed's Note: The 'PEP Review' section carries the views of individual reviewers, and does not necessarily reflect the views of the PEP editorial team.